You are here
Gray Butte During the Storm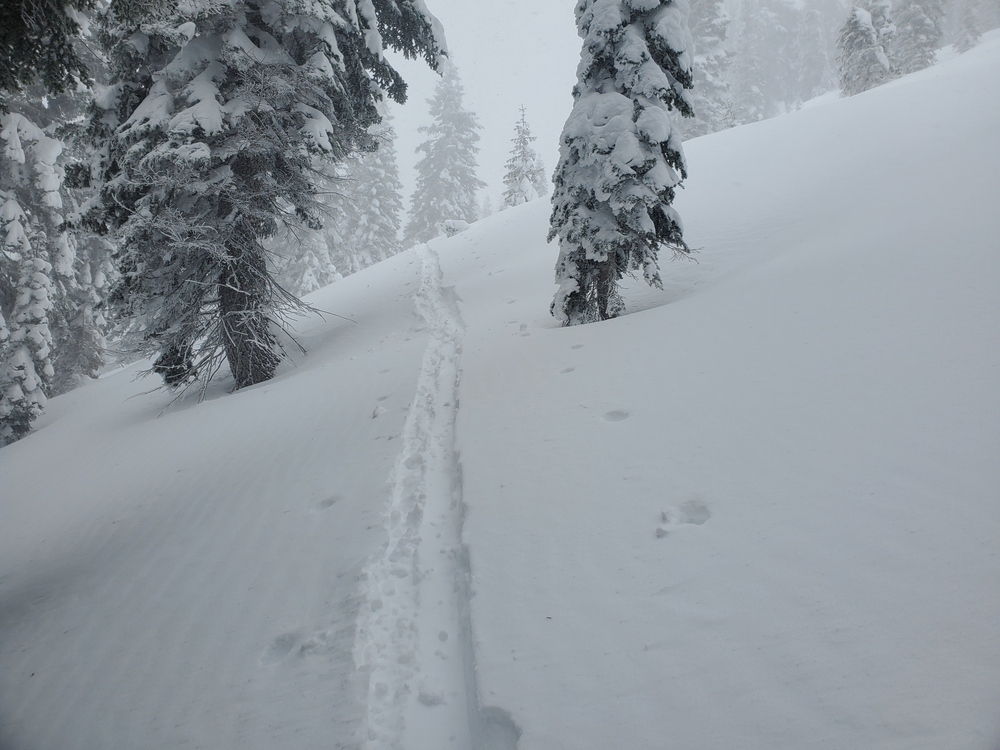 Location Name:
Gray Butte
Date and time of observation:
Mon, 01/03/2022 - 1:00pm
Observation made by:
Forecaster
Location Map
96067
Mount Shasta
,
CA
United States
41° 20' 42.1152" N, 122° 11' 45.1716" W
California US
Snowpack Observations
Details
On a tour around Gray Butte in the early afternoon during the storm, about 3-4 inches of new snow had fallen and plenty was blowing near and above treeline. West and southwest winds were strong (20-25 mi/hr). Temperatures were in the low 20s. Old cornices were unreactive and new growth had barely begun. About 6 inch soft slabs were forming in leeward areas and blocking snow was seen when skinning through them.
The main concern near and below treeline was the thin, soft crust formed during the freezing fog event from last Tuesday. Snow above and below this crust was low density, even sugary. Easy failures could be achieved just below this crust. Soft, cohesive snow triggered on ski cuts. This crust was widespread.
Above treeline observations were not obtained due to stormy conditions, but we know from prior observations that the crust of concern disappears with elevation and snow surfaces become more wind hardened.
Similar conditions were seen west of Interstate 5.
The gates at Castle Lake Road and Everitt Memorial Highway were open when we checked at 4 p.m. Some snow removal operations had commenced though plan on difficult road conditions if attempting to access parking areas at the ends of these roads.
Photos
Videos
Weather Observations
Statistics
Cloud Cover:
100% of the sky covered by clouds
Accumulation rate:
Greater than 1 in. per hour
Air temperature:
Below Freezing
Air temperature trend:
Static