You are here
Gray Butte - Mid Storm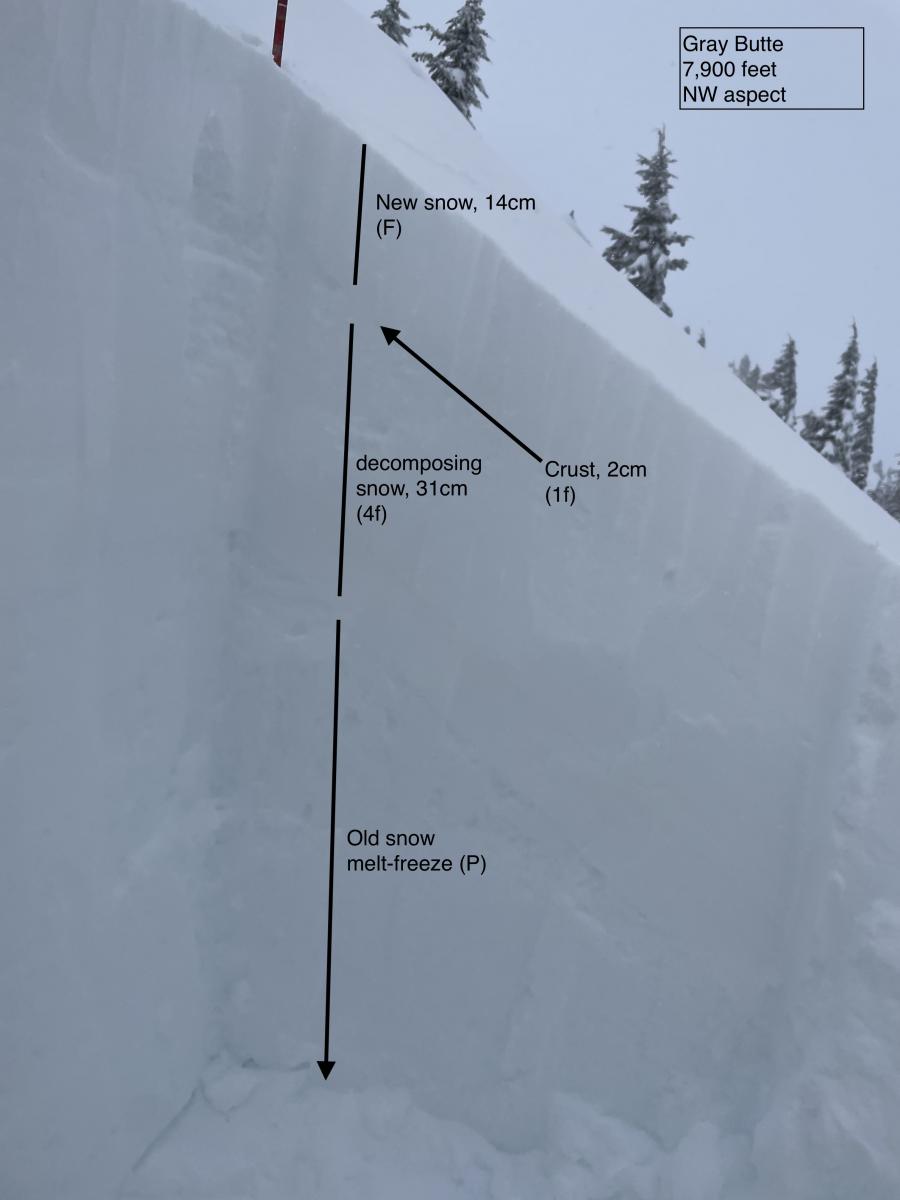 Location Name:
Gray Butte
Date and time of observation:
Sun, 03/19/2023 - 12:00pm
Observation made by:
Forecaster
Red Flags:
Recent avalanche activity
Recent loading by new snow, wind, or rain
Obvious avalanche path
Location Map
96067
Mount Shasta
,
CA
United States
41° 21' 2.0196" N, 122° 11' 33.396" W
California US
Snowpack Observations
Details
Observations from the northwest face of Gray Butte

Snowy conditions with poor visibility were experienced throughout the outing. Wind remained light out of the south. Observed snow level was around 4,800 feet. As of 12pm, the average new snow accumulation is about five to six inches. Some leeward areas held closer to 10 inches. 

As suspected, the new snow is laying on top of the old solar crust on all observed terrain. The thickness and supportability of the crust varies depending on aspect. Solar aspects hold a far thicker punchable crust, while northerly terrain has a very thin and sometimes unnoticeable crust.

There were a few signs of instability on northerly terrain. The most obvious were the easily triggered dry-loose avalanches due to ski cuts. These dry-loose avalanches could entrain moderate amounts of snow and run up to 100 feet. Some cracking and slab characteristics were also observed on steeper convexities under skis. 

Two pits were dug today. Both were at 7,900 feet at opposite sides of a ridgeline. 
The first pit was on a northwest aspect. As mentioned, five inches of new snow was found sitting on top of the old surface crust. On compression tests, failure occurred on tap 12 with a sudden collapse at the new snow - old crust interface (down 14cm). This result was replicated two more times.
The second pit was on a southeast aspect. This held a far thicker crust (6cm) and more new snow (17cm) compared to pit #1. Upon compression test, failure occurred on isolation just below the old crust. On ECT, failure also occurred on isolation.
Observation Location: Northwest face of Gray Butte
Elevation: 7,900 feet
Date: 20230319
Time: 1200
Observer: S. Clairmont and E. Falconer
Sky Conditions: Obscured (X)
Current Precipitation: Type - SN, Rate - S-1
Air Temperature: 25 °F
Total Snow Depth (HS): 194 in (493 cm)
24-hour New Snow Depth (HN24): 4 in (10 cm)
Wind Direction: S
Wind Speed: Light (L), 1-16 mi/hr, twigs in motion
Column & Block Tests:

Slope Angle & Aspect 30º, NW
CT12 [SP] ↓ 5 in (14 cm)
Photos
Weather Observations
Statistics
Cloud Cover:
100% of the sky covered by clouds
Accumulation rate:
Less than 1 in. per hour
Air temperature:
Below Freezing
Air temperature trend:
Static