You are here
Gray Butte - New Snow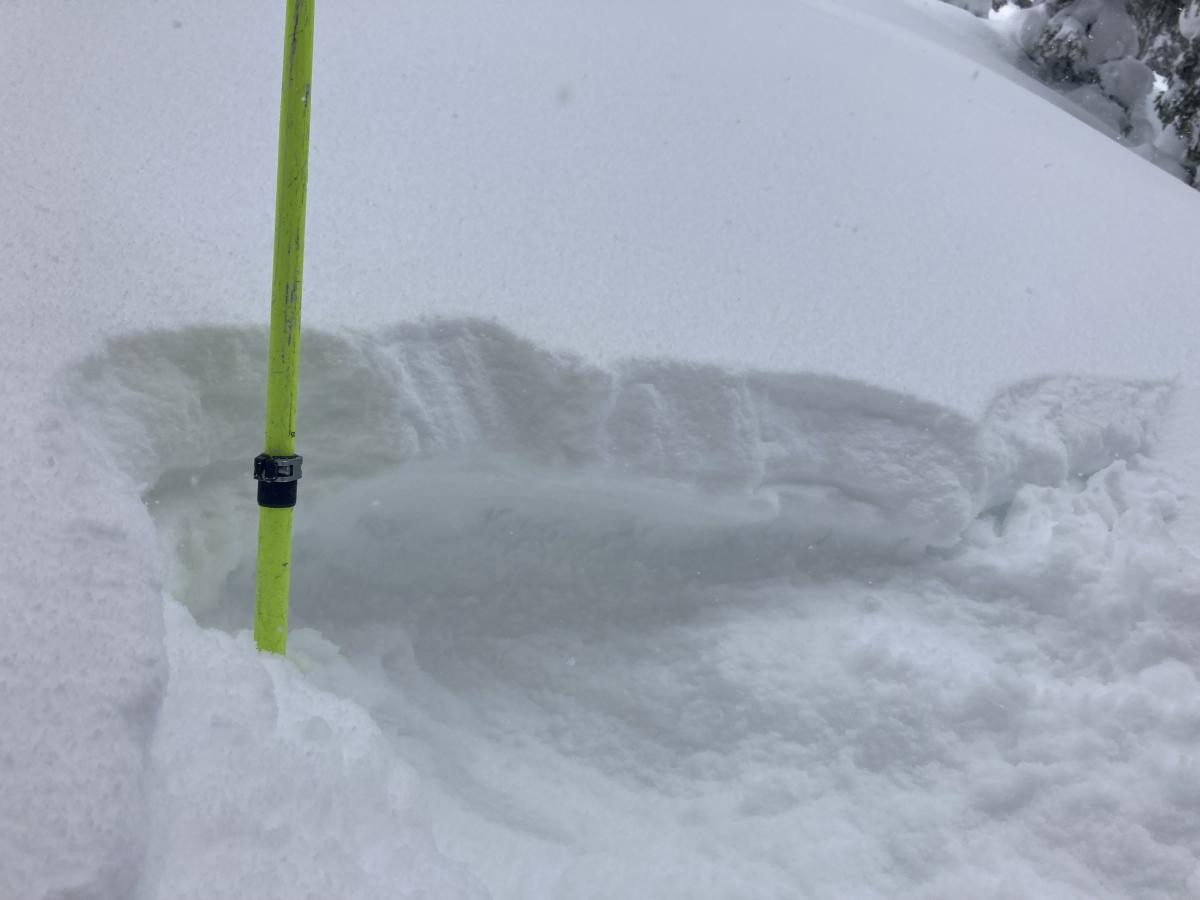 Location Name:
Gray Butte
Date and time of observation:
Sun, 02/26/2023 - 1:00pm
Observation made by:
Forecaster
Red Flags:
Recent loading by new snow, wind, or rain
Location Map
96067
Mount Shasta
,
CA
United States
41° 20' 42.3852" N, 122° 11' 52.4328" W
California US
Snowpack Observations
Details
Observations from the Gray butte area

Snow has returned to Mount Shasta. Road conditions to Mount Shasta Ski Park began to deteriorate as snowfall intensity increased later in the morning.

Below treeline, the February 24th snow has continued settling, becoming slightly more supportable on skis. Moderate snowfall rates were encountered throughout the outing, with increased intensity at higher elevation. Precipitation consisted of small snowflakes and graupel. Winds remained moderate out of the west, transporting snow onto leeward aspects. A thin melt freeze surface crust has formed overnight with the cooling temperatures. The surface crust is thicker on solar aspects.

Near treeline, three to four inches of new snow was found on the surface crust (Measured around 12pm).

Above treeline, visibility was very poor. Blowing snow was evident.

No signs of snowpack instability or avalanches were observed today. However, on solar aspects, the new snow showed no signs of bonding to the firm melt freeze crust underneath. This may be a problem in the coming days. 
Observation Location: Gray Butte
Elevation: 7,500 feet
Date: 20230226
Time: 1300
Observer: S. Clairmont
Sky Conditions: Obscured (X)
Current Precipitation: Type - SN to GR, Rate - S2
Air Temperature: 17 °F
Total Snow Depth (HS): 140 in (356 cm)
24-hour New Snow Depth (HN24): 4 in (10 cm)
Wind Direction: S | SW 
Wind Speed: Moderate (M), 17-25 mi/hr, small trees sway
Photos
Weather Observations
Statistics
Cloud Cover:
100% of the sky covered by clouds
Accumulation rate:
Greater than 1 in. per hour
Air temperature:
Below Freezing
Air temperature trend:
Cooling