You are here
Gray Butte - Round Two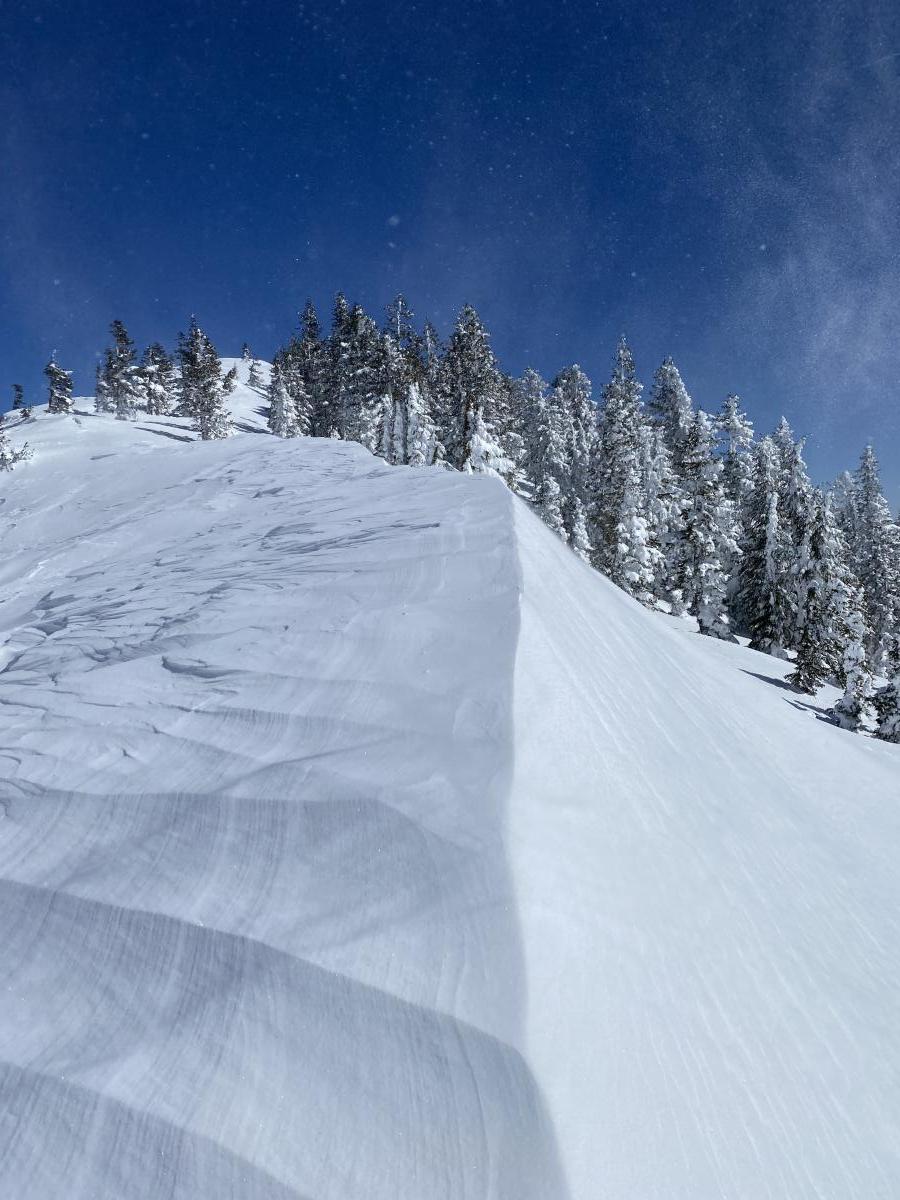 Location Name:
Gray Butte
Date and time of observation:
Wed, 03/01/2023 - 10:30am
Observation made by:
Forecaster
Location Map
96067
Mount Shasta
,
CA
United States
41° 20' 57.1848" N, 122° 11' 34.7676" W
California US
Snowpack Observations
Details
Though we got a bit of a reprieve from the snow today, the wind has not relented.
On our way up to the top of Gray Butte wind texturing was everywhere. Still relatively soft, the snow has clearly been sculpted by high winds the last few hundred meters before treeline. Thankfully though, we found no evidence of shooting cracks, whumphing, or any other red flags besides the omnipresent winds.
As we gained the ridgeline the gusts hit us in force. Though they seem to almost be shifting by the day, the winds are firmly coming out of the north and northwest for the time being. Once we hit the true top of Gray Butte the clouds decided to part and give us the views of Mt Shasta that we'd been waiting to see.
Not only does the upper mountain finally look like it's well and truly plastered, we were surprised by what we didn't see. Given the massive amounts of snow and high winds the last few days, we were expecting to see evidence of natural avalanches in the form of visible crowns. We didn't see a single one. Nothing coming off of Sargent's Ridge, nothing in OSB, and nothing we could see off Casaval or the Trinity Chutes. Pleasantly surprised!
The howling winds have added a wind-crust layer to all the north facing slopes off of Gray Butte, at least the exposed sections we looked at. Though we didn't get anything to move with our stomping and moving around, the potential still exists with the continued high winds and plenty of new snow for transport.
Observation Location: Gray Butte
Elevation: 8,000 ft
Date: 20230301
Time: 1030
Observer: C Glaubman
Sky Conditions: Broken, in and out of clouds
Current Precipitation: None
Air Temperature: Below Freezing
Surface Penetration: 5-8 inches
Wind Direction: N | NW |
Wind Speed: Moderate (M), 17-25 mi/hr, small trees sway
Photos
Videos

img-7376.mov
Weather Observations
Statistics
Cloud Cover:
50% of the sky covered by clouds
Air temperature:
Below Freezing
Wind Direction:
Northwest