You are here
Gray Rocks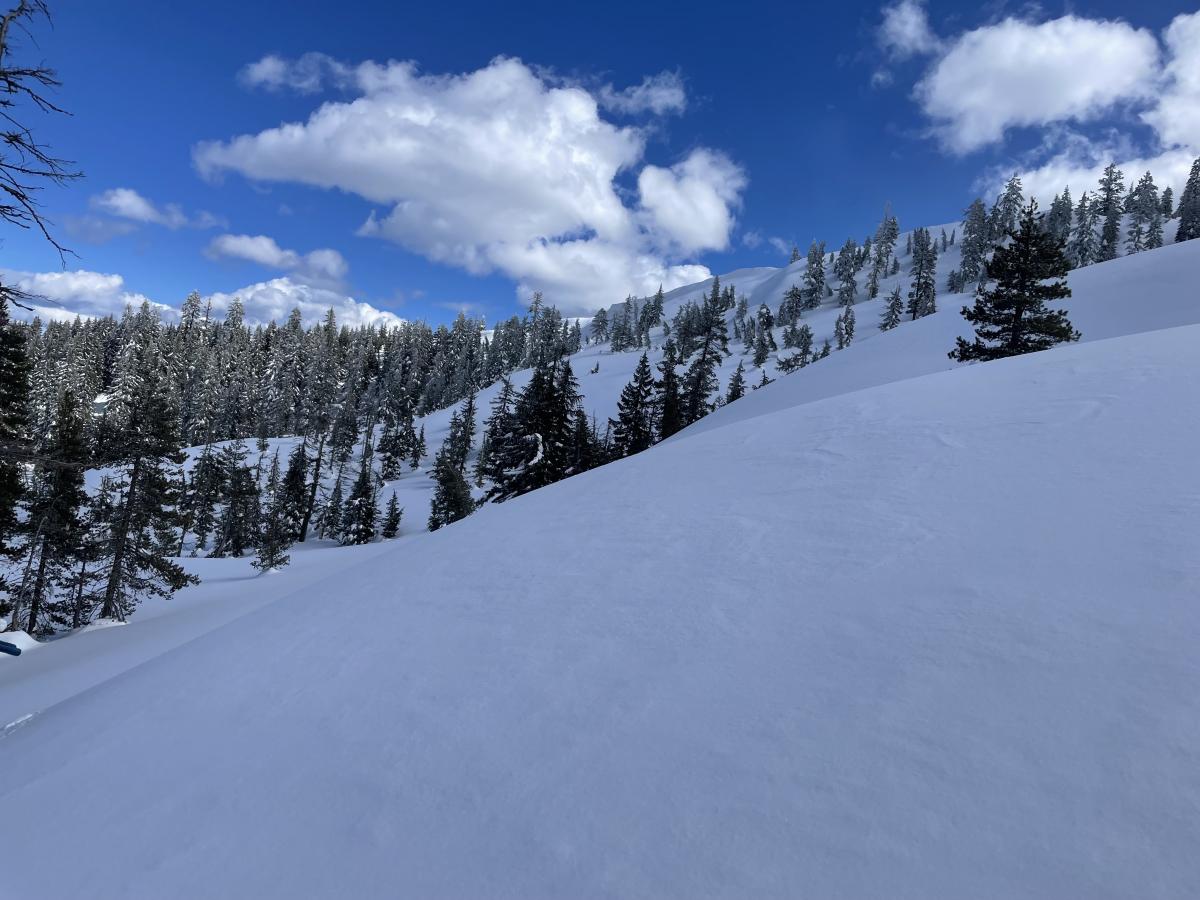 Location Name:
Gray Rocks
Date and time of observation:
Sun, 03/26/2023 - 12:00pm
Observation made by:
Forecaster
Location Map
96067
Mount Shasta
,
CA
United States
41° 12' 56.2752" N, 122° 25' 2.7696" W
California US
Snowpack Observations
Details
Eric and I made our way to the Gray Rocks area to conduct the monthly snow survey. The road to Castle Lake still only contains one very narrow lane to the Methodist camp. The gate is still closed. 
Weather trends:
Sky cover was mostly clear with some passing clouds. Temperatures remained quite cold through the morning, rising above freezing in the afternoon. Winds were surprisingly light out of the north.
Around one to two inches of new snow blanketed all aspects. The new snow is relatively low-density.
Snowpack observations:
Southerly aspects contained a series of crusts, the most prominent being at the surface. All southerly terrain had about one inch of new snow on top of a very firm crust, making travel and skiing slightly unpleasant.
Northerly aspects were significantly softer. Though still containing a slight surface crust, soft snow can still be found in the most shaded of areas. 
The new low-density snow remained mostly cold and dry, and beside the most sunny of aspects beginning to warm.
East facing terrain features still held some variable surfaces due to wind effect.
Slight cracking was observed between ski tracks. Some old avalanche debris was still visible on north and east facing aspects. Beside the cracking, no significant signs of instability or recent avalanche activity was observed. 
On the way out, the one lane road had melted into large stretches of pavement between snow patches. 
Observation Location: Gray Rocks
Elevation: 6,200 feet
Date: 20230326
Time: 1200
Observer: S. Clairmont, E. Falconer
Sky Conditions: Few (FEW) 
Current Precipitation: Type - NO
Air Temperature: 25 °F
Total Snow Depth (HS): 160 in (406 cm)
24-hour New Snow Depth (HN24): 2 in (5 cm)
Wind Direction: NW
Wind Speed: Light (L), 1-16 mi/hr, twigs in motion
Photos
Weather Observations
Statistics
Cloud Cover:
25% of the sky covered by clouds
Air temperature:
Below Freezing
Air temperature trend:
Warming
Wind Direction:
Northwest