You are here
Green Butte Ridge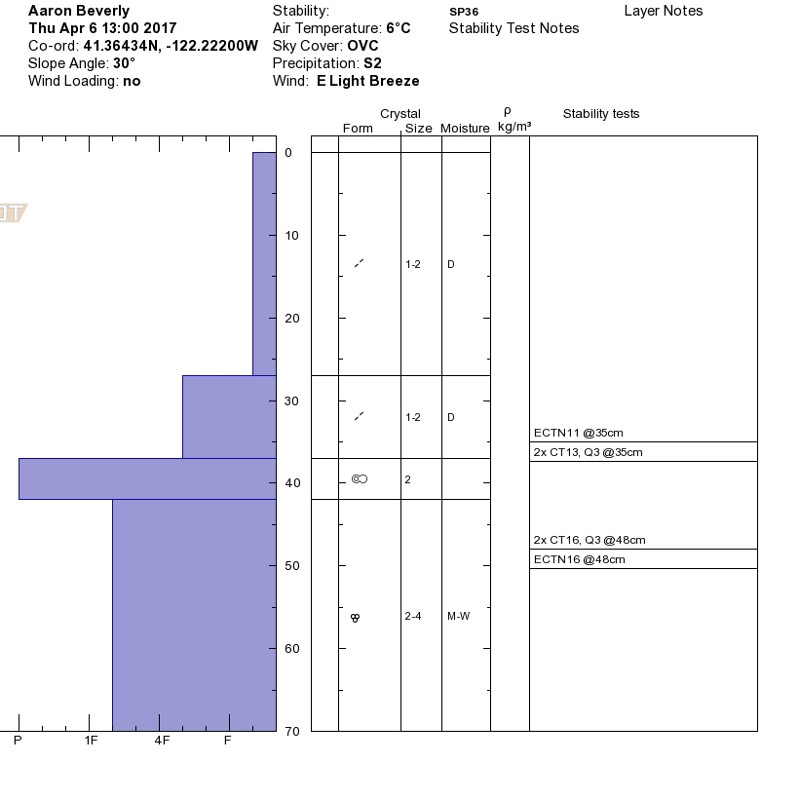 Location Name:
Green Butte Ridge
Date and time of observation:
Thu, 04/06/2017 - 8:00pm
Observation made by:
Professional Observer
Red Flags:
Recent loading by new snow, wind, or rain
Location Map
United States
41° 21' 51.624" N, 122° 13' 19.2" W
US
Snowpack Observations
Details
Height of New Snow (HN): 36 cm
New snow was bonding well with the old snow. Old snow was a melt-freeze crust. No concerning signs of instability from CT and ECT tests. No propagation. No storm slab issues.
Wind was blowing from the east and southeast. Wind speeds were moderate to strong. Evidence of windloading was seen on west and southwest aspects. Wind slabs on small rollovers were up to 10 inches and reactive with with a ski cut, though propagation did not extend beyond ski length. Wind transport of snow was occuring below, near, and above treeline.
Snow Pit Photos
Weather Observations
Statistics
Cloud Cover:
100% of the sky covered by clouds
Accumulation rate:
Less than 1 in. per hour
Air temperature:
Above Freezing
Air temperature trend:
Static