You are here
Green Butte Ridge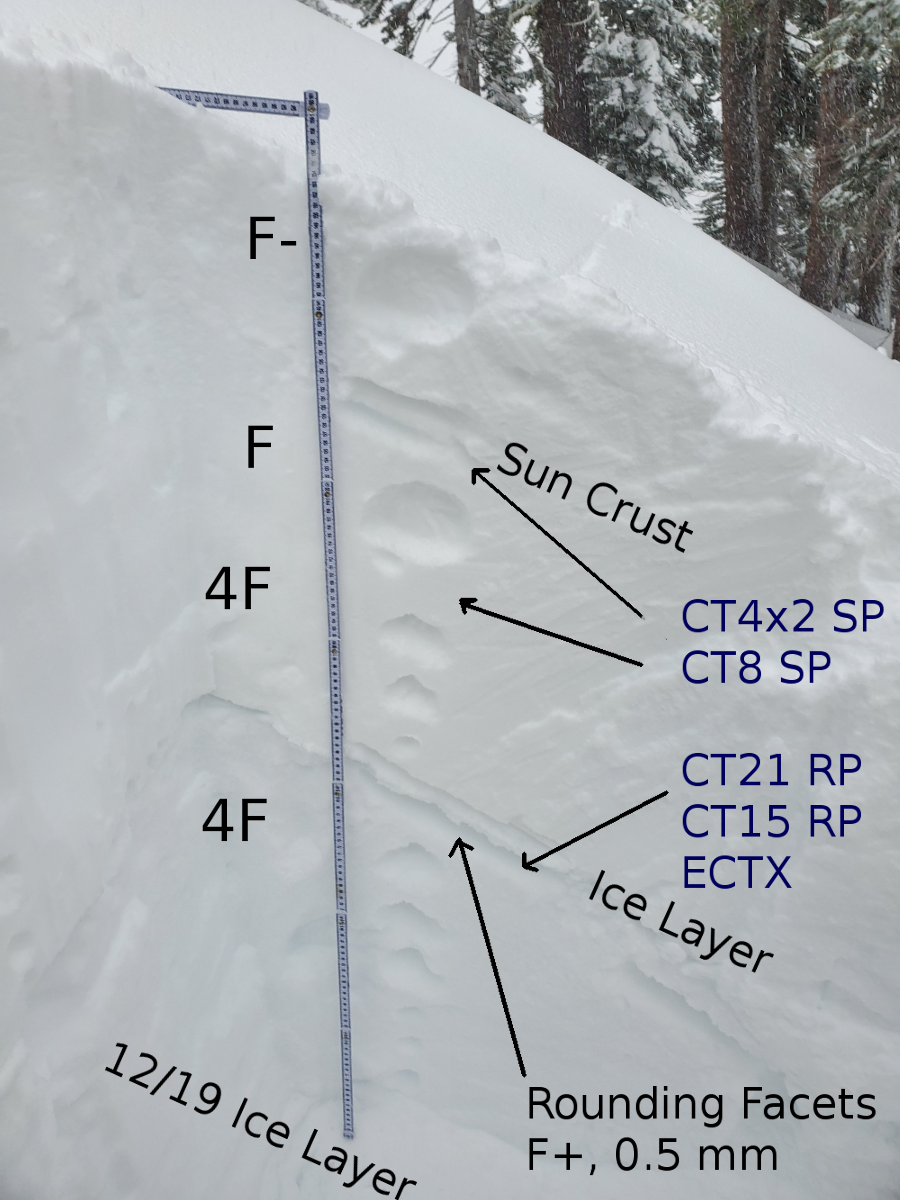 Location Name:
Green Butte Ridge
Date and time of observation:
Tue, 01/21/2020 - 3:00pm
Observation made by:
Forecaster
Red Flags:
Recent loading by new snow, wind, or rain
Location Map
96067
Mount Shasta
,
CA
United States
41° 21' 55.5912" N, 122° 13' 29.316" W
California US
Snowpack Observations
Details
Observations on Green Butte Ridge:
TIME: 20200121 - 15:00
ASPECT: Northwest
ELEVATION: 7,900 ft
SKY: Obscured
PRECIPITATION: S1-S2 (1-2 cm/hr)
BLOWING SNOW: No
TEMPERATURE: 25°F
BOOT / SKI PENENTRATION: 60 cm (24 in) , 20 cm (8 in)
HEIGHT OF SNOW (HS): 195 cm (77 in)
HEIGHT OF STORM SNOW (HST): 15 cm (6 in)
WIND: Calm to light, variable direction
COLUMN & BLOCK TESTS:

CT4x2 ↓ 20 cm SP
CT21 ↓ 78 cm RP
CT15 ↓ 78 cm SP
CT8 ↓ 40 cm SP
ECTX
Three to six inches of new snow was seen touring from Bunny Flat above treeline on Green Butte Ridge. Blocking, cracking, and column tests indicated the possible presence of a storm slab breaking just below a sun crust below the new / old snow interface. A sugary faceted layer with 0.5 mm grains exists below an ice crust about 78 cm down. Failures on this layer were moderate to hard. No notable ECT failures were achieved.
No signs of a wind slab problem were seen. Snow surfaces below, near, and above treeline had no wind affect. Winds were unusually calm to light.
Photos
Videos
Weather Observations
Statistics
Cloud Cover:
100% of the sky covered by clouds
Accumulation rate:
Less than 1 in. per hour
Air temperature:
Below Freezing
Air temperature trend:
Warming