You are here
Green Butte Ridge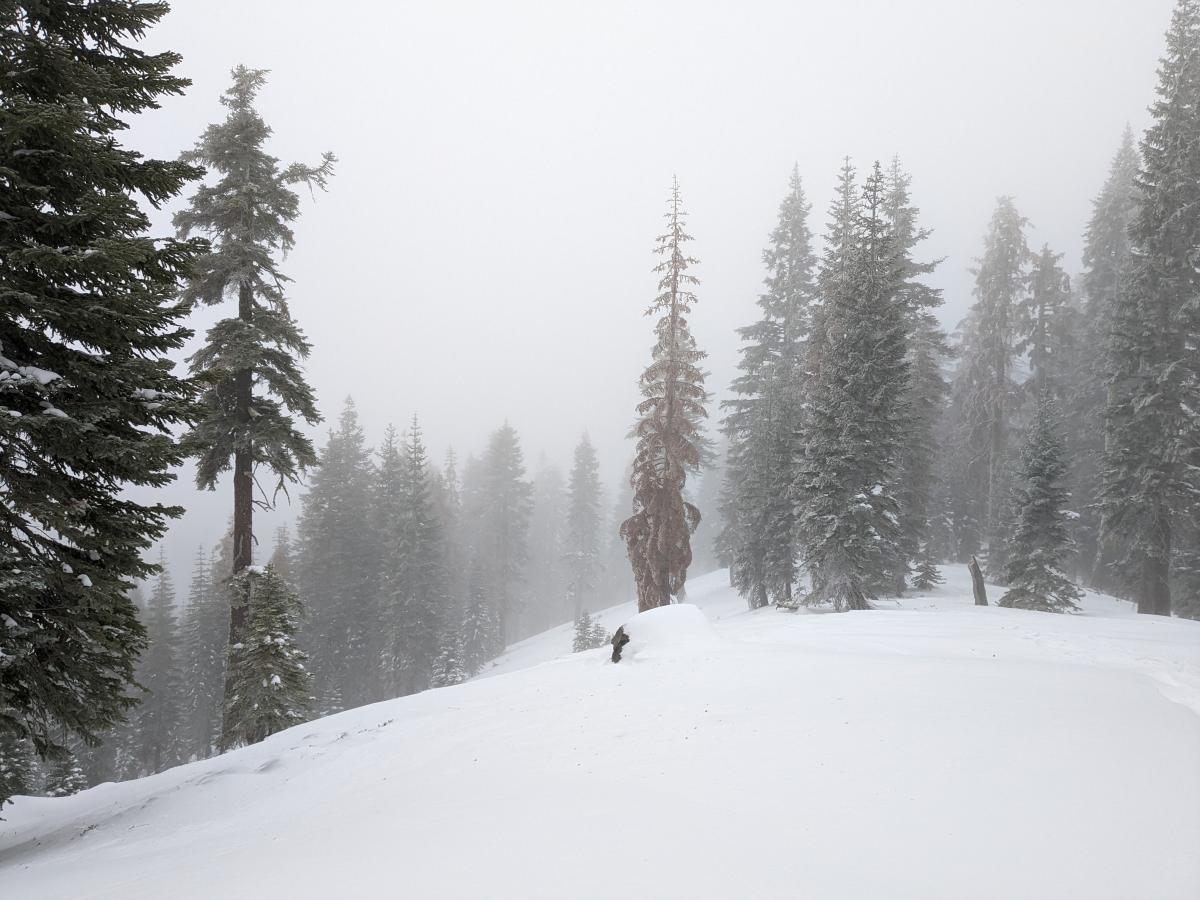 Location Name:
Green Butte Ridge
Date and time of observation:
Sat, 12/03/2022 - 1:15pm
Observation made by:
Forecaster
Red Flags:
Recent loading by new snow, wind, or rain
Location Map
96067
Mount Shasta
,
CA
United States
41° 22' 7.9464" N, 122° 13' 11.4312" W
California US
Snowpack Observations
Details
Today's objectives were to examine the overall snow coverage, see how the recent new snow is bonding, and find the extent of the wind slab problem from this morning's forecast. Forecasters went to the near treeline zone on Green Butte Ridge to explore some wind-affected slopes. On the way, foggy and low visibility conditions were experienced below and near treeline. The wet conditions at Bunny Flat Trailhead gradually became snow and frozen rain near treeline. Shallowly buried and easily struck ground hazards were found while skinning below treeline as well as on leeward slopes near treeline. Significant wind transported snow was observed both near and above treeline.
A snowpit dug on a southwest aspect on a wind-loaded slope near treeline found 64 cm (25 in) of both new and wind-transported snow--much more snow than the 43 cm (17 in) reported over the past 3 days at the Old Ski Bowl weather station. This was a good reminder how wind can transport and deposit more than 10 times the amount of snow that falls from the sky! In general, this 64 cm (25 in) new snow was soft and unconsolidated with minimal slab properties. Small, sugary, faceted snow was found on the top side of the November 9-29, 2022 melt-freeze crust. This sugary, faceted snow wasn't a concern today due to the low-density, unconsolidated snow above. Numerous compression tests found resistant planar cracking at inconsistent points within this new 64 cm of snow. Extended column tests found sudden failures but no propagation due to poor slab quality. No signs of natural avalanches were observed and small test slopes were resistant to sliding.
While descending our splitboard line back to the trailhead, good skiing was found in wind-deposited pockets near treeline and throughout the below treeline zone. Ski penetration was 23 cm (9 in) below treeline. Shallowly buried hazards were avoided using careful route-finding.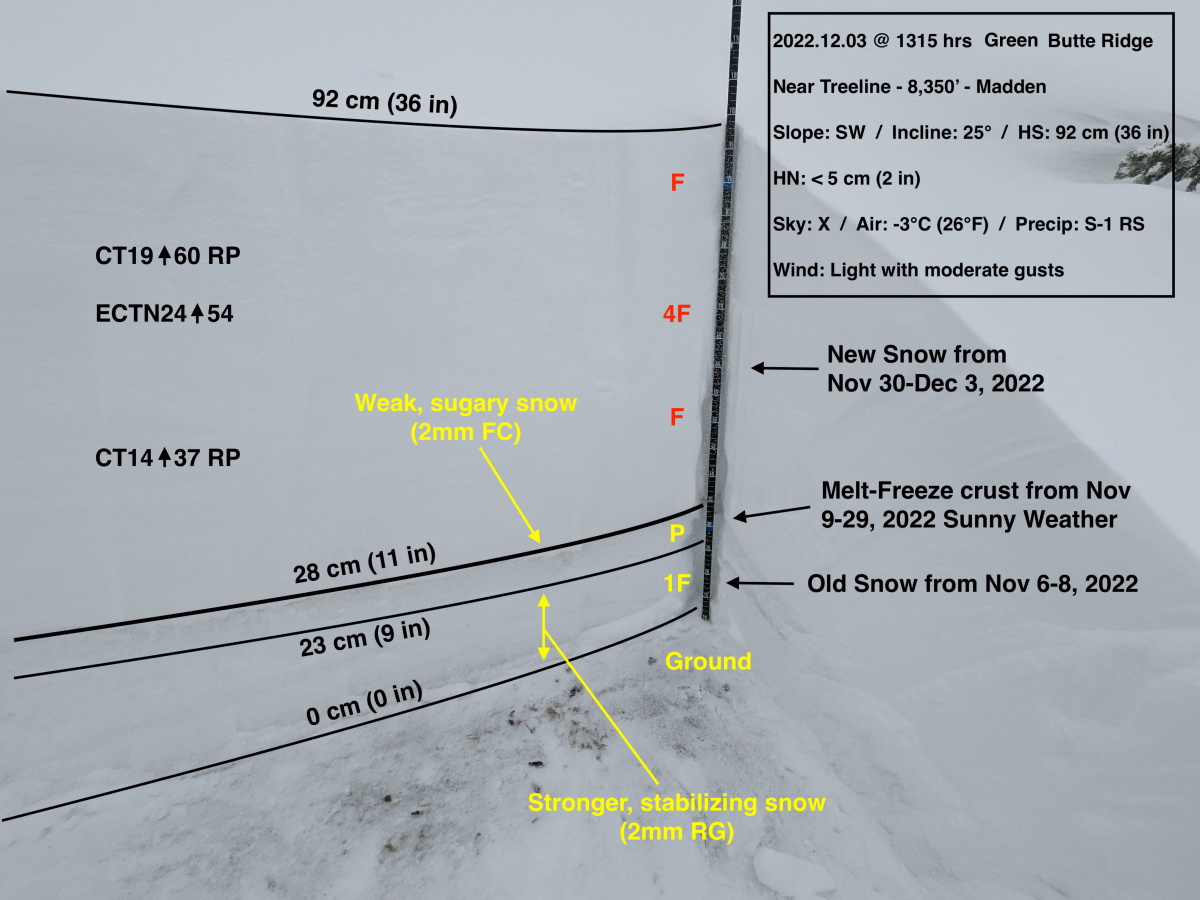 Observation Location: Green Butte Ridge NTL
Elevation: 8,350'
Date: 20221203
Time: 1315hrs
Observer: Michael Madden
Sky Conditions: Obscured (X)
Current Precipitation: Type - RS, Rate - S-1
Air Temperature: 26°F (-3°C)
Surface Penetration: Ski penetration 23 cm (9 in)
Total Snow Depth (HS): 92 cm (36 in)
Wind Direction: SE-S
Wind Speed: Light (L), 1-16 mi/hr to Moderate (M), 17-25 mi/hr
Photos
Videos

blowing_snow_and_saltation_btl_20221203.mp4
Weather Observations
Statistics