You are here
Green Butte Ridge, Avalanche Gulch, Sun Bowl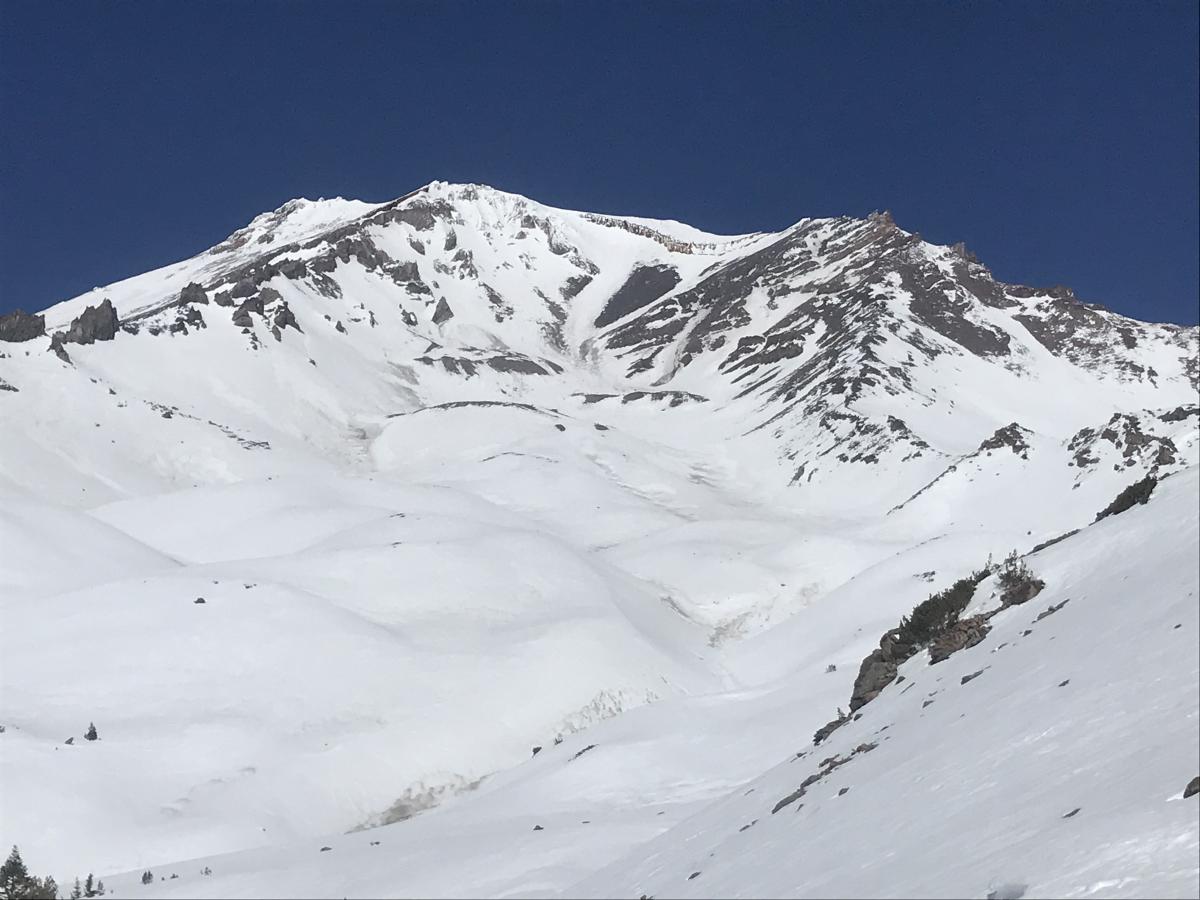 Location Name:
Mount Shasta
Date and time of observation:
Wed, 03/04/2020 - 1:35pm
Observation made by:
Forecaster
Location Map
96067
Mount Shasta
,
CA
United States
41° 22' 10.8732" N, 122° 13' 9.8472" W
California US
Snowpack Observations
Details
Most are aware that February has been dry, very dry and in fact the driest on record since 1948 (NWS). Despite the looks of it, a handful of nice turns are still to be had on Mount Shasta.  The avalanche danger has been stuck on LOW for quite sometime. Overnight re-freeze hasn't been the most stellar as of late, but despite this, snow conditions are still supportable below, near and above treeline throughout the day. All solar exposed aspects softened below 8,500 feet, my high point for the afternoon. Shady, westerly and northerly aspects were softish, albeit still a bit crusty at 1330 hours. Below treeline, snow surfaces are pretty rough and littered with tree debris. Tree wells are exposed up to +/- 7,500 feet. Near treeline is transitional with smoother snow attained with elevation. Above treeline the smoothest and cleanest snow can be found. With that said, ridgelines are rocky and exposed, as is The Heart and moraine convexities. Dirt and rocks have littered the snowpack in gullies and depressions. Large, exposed patches of rock (yep, you guessed it) STILL exist on all aspects of the mountain. Sun Bowl and Powder Bowl are sunny, not powdery and holding soft, corn turns.  The weather was quite nice, winds have been dead calm and temps warm. Don't let a dismal winter get you down. Go soak up some sun. It will snow again, someday. One can still ski to, and launch from (snowmobiles) Bunny Flat.
Photos
Weather Observations
Statistics
Air temperature:
Above Freezing
Air temperature trend:
Cooling