You are here
Green Butte Ridge - New Snow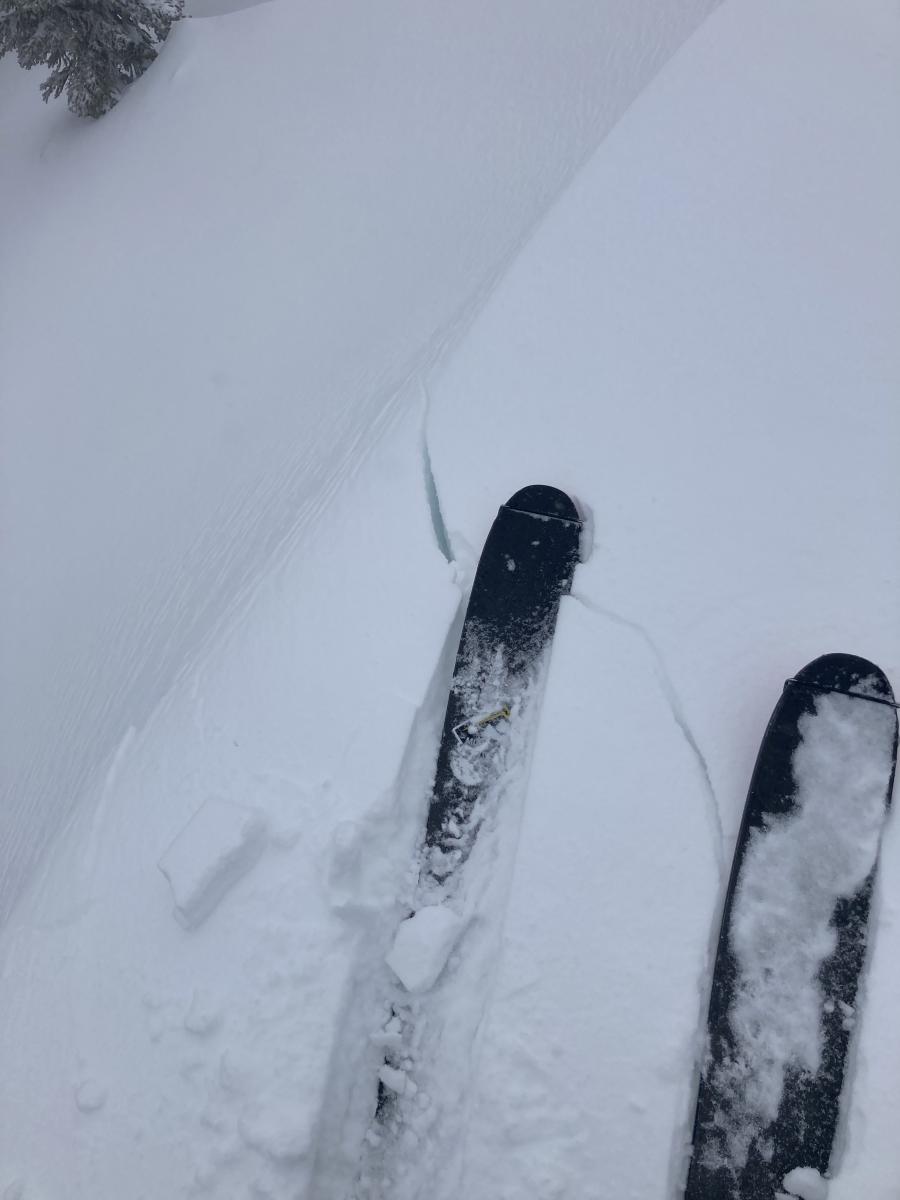 Location Name:
Green Butte
Date and time of observation:
Fri, 02/03/2023 - 12:00pm
Observation made by:
Forecaster
Red Flags:
Whumphing noises, shooting cracks, or collapsing
Recent loading by new snow, wind, or rain
Location Map
United States
41° 22' 5.6532" N, 122° 13' 18.5016" W
US
Snowpack Observations
Details
This morning, Nick, Hayden, and I chose to ascend Green Butte ridge to assess snow and wind trends of the current storm. Overall, the observed new snow coverage greatly varied based on aspect and terrain features. 
Below treeline, snow surface conditions were wind effected as low as Bunny Flat parking lot. There was 2–3 inches of new snow in wind sheltered areas. Under the new snow is a TON of branches, limbs, leaves and other blown material from all the recent wind.
Near treeline, leeward (northerly) aspect nolls and slopes had wind transported snow of up to 12 inches. Southerly facing slopes had an inch to a trace of new snow on top of very hard melt freeze old snow.
Above treeline, moderate cornice growth, cracking off of skis, and increased wind were all signs of rising instability, particularly on northerly facing terrain.
Visibility was poor above treeline, primarily due to blowing snow.
Snowfall and visibility lightened on the way down. It appears this storm is short-lived, likely on its way out. 
Observation Location: Green Butte Ridge
Elevation: 8,200 feet
Date: 20230203
Time: 1200
Observer: S. Clairmont and N. Meyers
Sky Conditions: Obscured (X)
Current Precipitation: Type - SN, Rate - S-1
Air Temperature: 21 °F
Surface Penetration: Ski penetration (PS) = 3 in (7 cm)
Total Snow Depth (HS): 127 in (323 cm)
24-hour New Snow Depth (HN24): 2.3 in (6 cm)
Wind Direction: SW
Wind Speed: Moderate (M), 17-25 mi/hr, small trees sway
Photos
Weather Observations
Statistics
Cloud Cover:
100% of the sky covered by clouds
Accumulation rate:
Less than 1 in. per hour
Air temperature:
Below Freezing
Air temperature trend:
Cooling
Wind Direction:
Southwest