You are here
Green Butte Ridge / Old Ski Bowl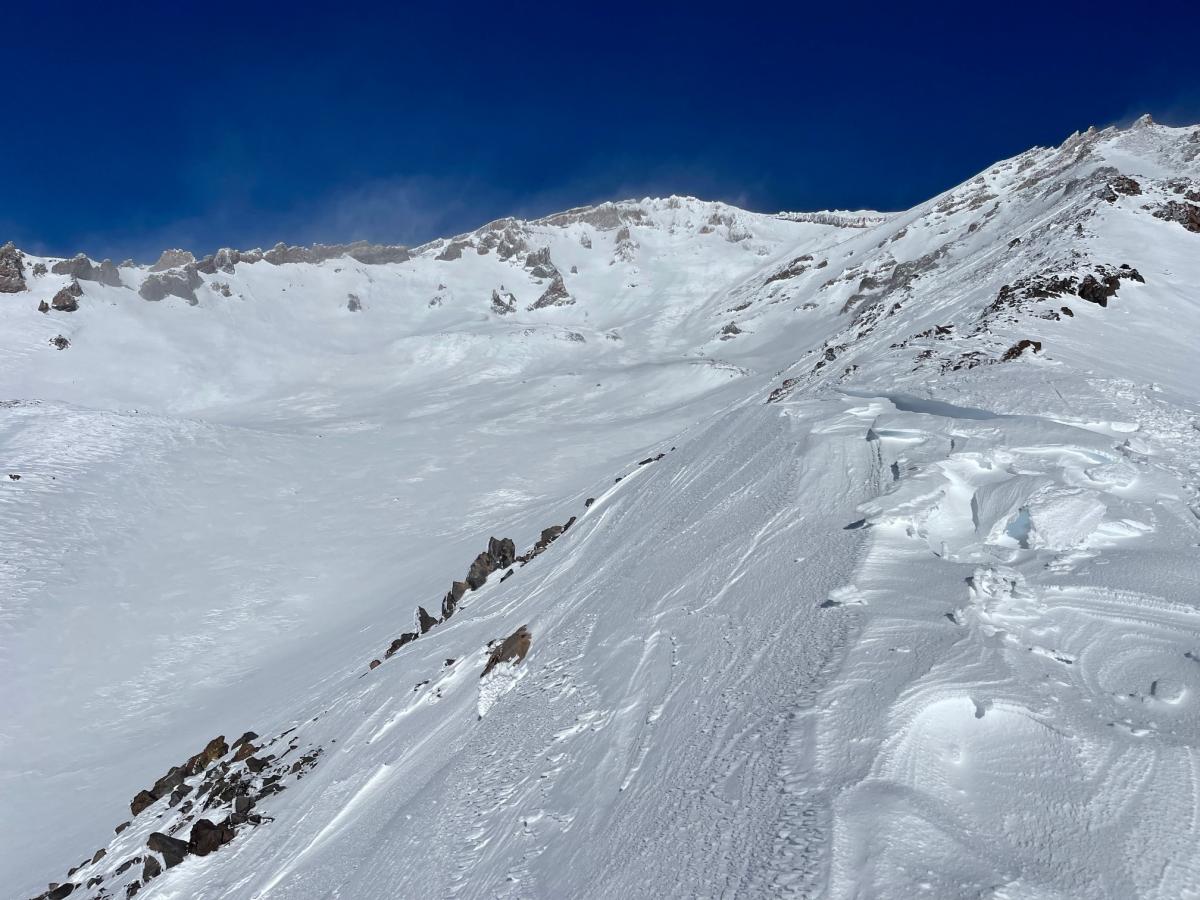 Location Name:
Green Butte Ridge / Old Ski Bowl
Date and time of observation:
Wed, 12/21/2022 - 1:30pm
Observation made by:
Forecaster
Location Map
96067
Mount Shasta
,
CA
United States
41° 23' 1.4964" N, 122° 12' 28.9584" W
California US
Snowpack Observations
Details
A wide-ranging snowmobile tour from Bunny Flat to 10,000 feet on Green Butte Ridge (Wilderness/OSV boundary) and Gray Butte area. It's a smorgasbord of surface conditions out there. Shady, protected northerly aspects hold soft snow. Easterly aspects are a mix of crusts and soft snow. Souths and wests are crusted and heavily wind affected. Strong wind out of the west/northwest was prevalent above treeline and especially on the upper mountain. Wind blowing snow was active, but leeward slopes did not observe much wind slab build-up. 

A cloud and fog deck dominated at 6,000 to 7,000 foot elevation. Clear, blue skies were above.

A pit was dug on a leeward wind slab, southeast facing, above treeline, ~9,800 feet. Weak, sugary snow still exists at the base of the snowpack, but we have not seen an avalanche fail on this layer. A weak layer ~8 inches down from the surface was observed during compression and extended column tests. The low density layer of snow fractured (Q2) with moderate force (10-20 taps from elbow). A wind slab avalanche on a slope scale is unlikely with this weak layer.
Observation Location: Old Ski Bowl / Green Butte Ridge / Gray Butte
Elevation: 6,950 feet to 10,000 feet
Date: Winter Solstice 12.21.22
Time: 1000 to 1430 hours
Observer: N Meyers
Sky Conditions: Clear (CLR) 
Current Precipitation: Type - NO 
Air Temperature: 37 °F
Surface Penetration: Variable, boot pen: 5-15 inches
Total Snow Depth (HS): 52 inches
24-hour New Snow Depth (HN24): 0
24-hour New Snow Water Equivalent (HN24W): 0
Wind Direction: W | NW
Wind Speed: Moderate (M), 17-25 mi/hr with strong gusts (S), 26-38 mi/hr
Stability Tests: CT12↓20cm / ECTN13↓20cm - Shear quality: Q2
Photos
Videos
Weather Observations
Details
Cloud deck 6,000 to 7,000 feet
Clear skies above
Temps above freezing
Strong W/NW wind transporting snow above treeline
Statistics
Air temperature:
Above Freezing
Air temperature trend:
Warming