You are here
Green Butte Ridge in Old Ski Bowl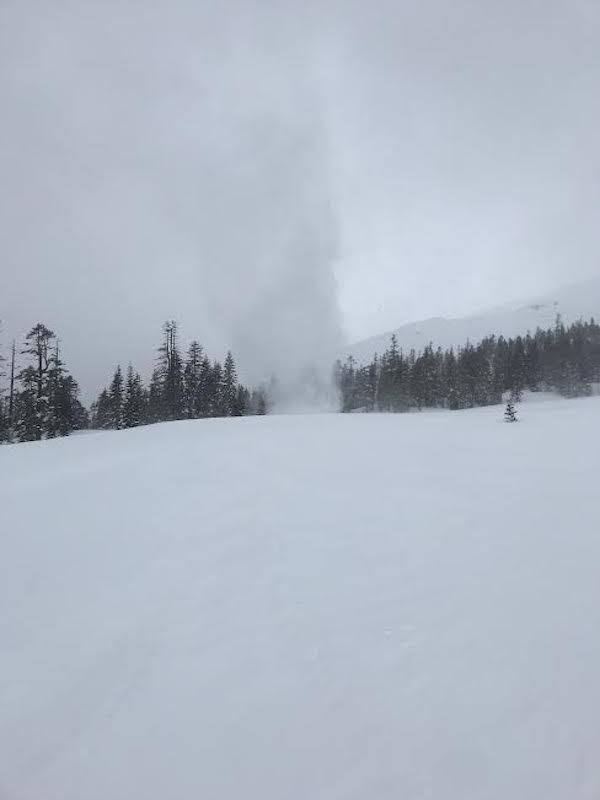 Location Name:
Old Ski Bowl
Date and time of observation:
Mon, 04/03/2023 - 1:01pm
Observation made by:
Forecaster
Red Flags:
Whumphing noises, shooting cracks, or collapsing
Recent loading by new snow, wind, or rain
Location Map
96067
Mount Shasta
,
CA
United States
41° 21' 55.2168" N, 122° 12' 25.1388" W
California US
Snowpack Observations
Details
The venue for today's observation was the Old Ski Bowl. Sam and I set out to see how the wind slab problem was developing near and above treeline. Additionally, we began chipping away at snow removal for the Bunny Flat facilities. Shout out to the folks who have been up there shoveling. You are appreciated!
Northwest winds were actively loading slopes near and above treeline at moderate speeds with strong gusts. Wind drifts five to eight inches deep on southerly slopes were observed on top of a uniform crust. Around specific terrain features like beneath cliffs bands and protected rollovers, larger amounts of drifted snow existed. These were the most sensitive locations we observed this problem. Slopes above treeline were being actively wind-loaded. Blowing snow was experienced throughout the day and our snowmobile tracks became completely re-filled over a couple of hours. Signs of previous wind effect were stark along ridgelines and wind-exposed areas. Two to four inches of fresh snow existed on the ground near treeline with higher amounts likely at the upper elevations. Graupel fell semi consistently over the outing at mixed rates. Overcast cloudy skies with active winds and below freezing temperatures made for a legitimate wintertime vibe.
Observation Location: Green Butte 
Elevation: 8,000 feet 
Date: 2023.03.03
Time: 1230
Observer: E.Falconer S.Clairmont 
Sky Conditions:  Broken (BKN) | Overcast (OVC) | Obscured (X)]
Current Precipitation: Type - GR / Rate - S1
Air Temperature: 15 °F
Surface Penetration: Snowmobile penetration (PS) = 12 in (20 cm), boot penetration (PF) = 14 in (35 cm)
Total Snow Depth (HS): 40 in (100 cm)
Wind Direction: N-NW
Wind Speed:  Moderate (M), 17-25 mi/hr, small trees sway | Strong (S), 26-38 mi/hr, whole trees in motion 
Column & Block Tests:

Slope Angle & Aspect 20º, SE 
ECTX
Photos
Weather Observations
Statistics
Cloud Cover:
100% of the sky covered by clouds
Accumulation rate:
Less than 1 in. per hour
Air temperature:
Below Freezing
Air temperature trend:
Cooling
Wind Direction:
Northwest