You are here
Green Butte Ridge (Powder Bowl)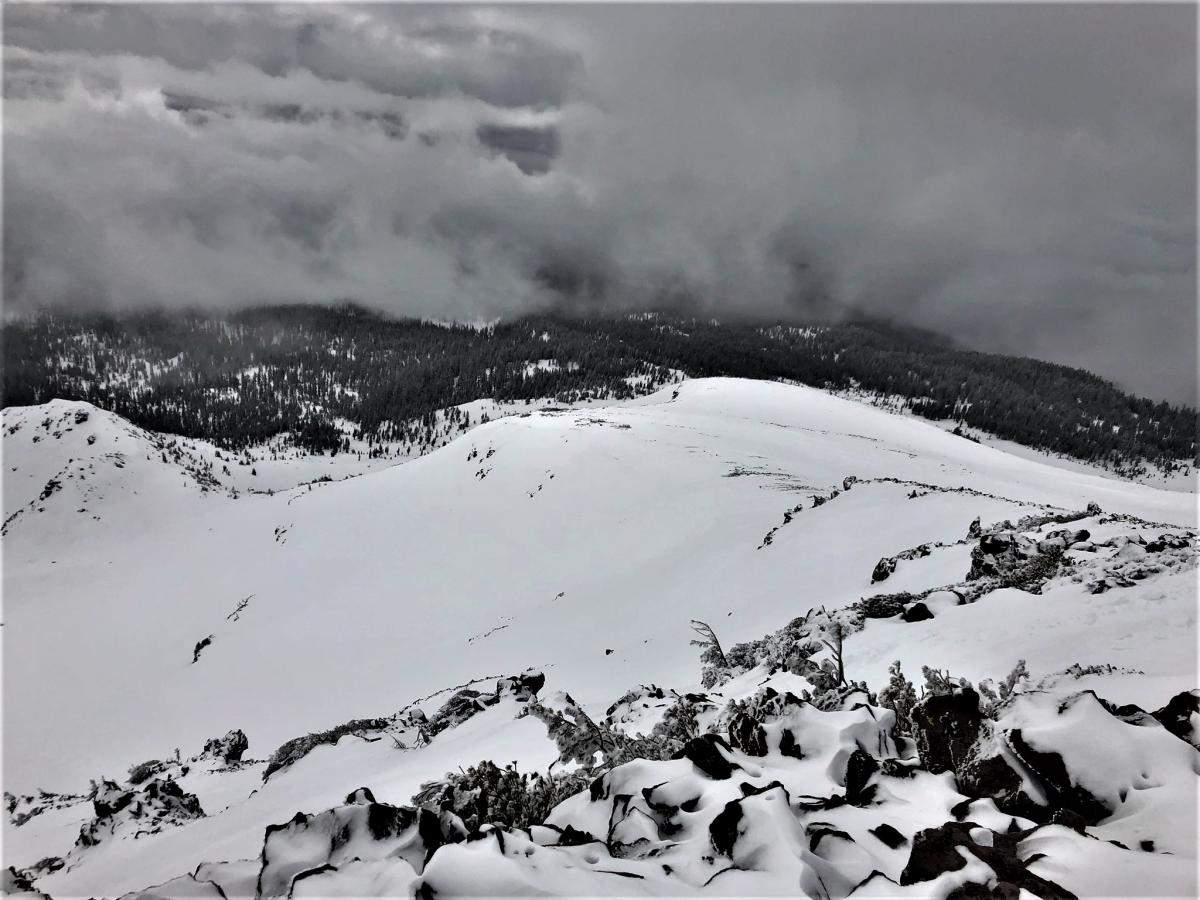 Location Name:
Green Butte Ridge
Date and time of observation:
Sat, 03/07/2020 - 12:30pm
Observation made by:
Forecaster
Red Flags:
Recent avalanche activity
Whumphing noises, shooting cracks, or collapsing
Recent loading by new snow, wind, or rain
Obvious avalanche path
Location Map
96067
Mount Shasta
,
CA
United States
41° 22' 18.4332" N, 122° 12' 43.4304" W
California US
Snowpack Observations
Details
Observations on Green Butte, Powder Bowl:
TIME: 20200307 - 1100 to 1300
ASPECT: Northeast
ELEVATION: 9,000 Feet
SKY: Obscured
PRECIPITATION: Very light snowfall S-1 (<1 cm/hr) 
BLOWING SNOW: Yes moderate blowing snow loading easterly aspects
TEMPERATURE: 25°F
BOOT / SKI PENETRATION: Boot 3-5 inches (7-12 cm), Ski 2-3 inches (5-7 cm) 
HEIGHT OF SNOW (HS): BTL-40 inches (100 cm) NTL- 55 inches (140 cm) ATL- 45 inches (115 cm)
HEIGHT OF STORM SNOW (HST): 5 inches (12 cm)
WIND: Fresh breeze 19-24 mi/hr NNW
On a tour from Bunny Flat to the top of Green Butte, the new snow was three to five inches deep. Below and near treeline, the snow was light and unconsolidated and barely covers old pockmarks, rocks, and bushes. The old snowpack below is firm and icy. Above treeline, productive westerly winds were actively loading east and N-NE-E facing terrain.  Minor blocking and cracking were observed along the ridgeline on easterly facing test slopes.  I triggered a small wind slab avalanche below a cornice near the top of Powder Bowl. This slide (SS, AC/c, R1D1) failed on a density change 6 inches down and propagated to approximately 10 feet wide and ran 20 feet downslope.  This avalanche was relatively small and inconsequential, but it was big enough to sweep an unaware skier off their feet.
Photos
Weather Observations
Statistics
Cloud Cover:
100% of the sky covered by clouds
Accumulation rate:
Less than 1 in. per hour
Air temperature:
Below Freezing
Air temperature trend:
Warming
Wind Direction:
Northwest