You are here
Green Butte - Storm Day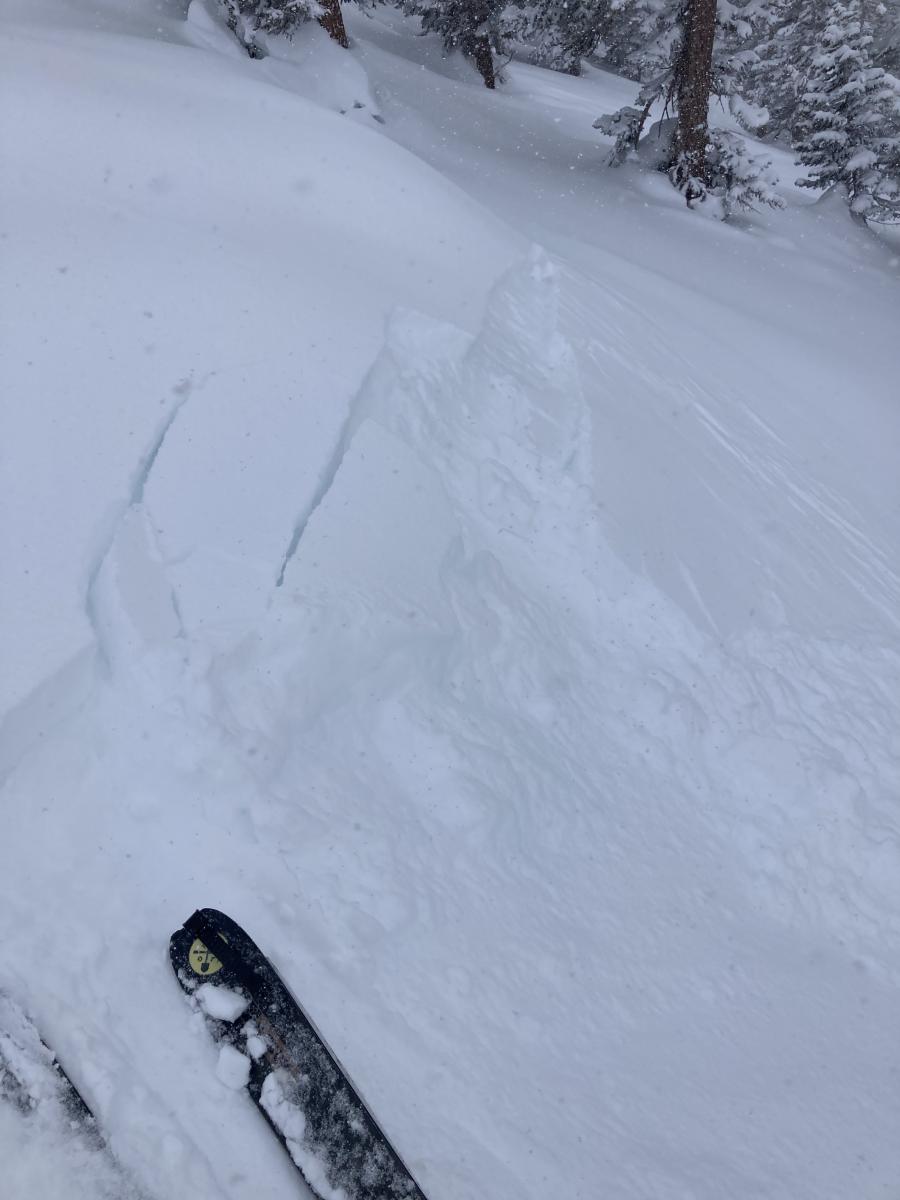 Location Name:
Green Butte Ridge
Date and time of observation:
Sat, 03/04/2023 - 1:00pm
Observation made by:
Forecaster
Red Flags:
Whumphing noises, shooting cracks, or collapsing
Recent loading by new snow, wind, or rain
Location Map
96067
Mount Shasta
,
CA
United States
41° 22' 5.4156" N, 122° 13' 18.5304" W
California US
Snowpack Observations
Details
Signs of instability were very obvious today. Strong winds, moderate to high snow accumulation rates, cracking, and triggering of storm slab avalanches were all prevalent during today's tour. These red flags were found below, near, and above treeline.
Visibility remained poor while on the mountain. Upper Mount Shasta was completely obscured from view above treeline. Orientation became challenging once leaving the trees. The sun made an appearance around 2pm.
Snow accumulation rates were around 1 inch per hour. New snow totals varied on aspect and terrain feature. Windward features had three inches, while other areas showed closer to eight inches.
Wind remained moderate out of the southeast, with strong gusts near and above treeline. These winds were actively transporting new snow to leeward terrain features. 
Numerous storm slab avalanches were intentionally triggered on test slopes with W-S-E aspects. These avalanches slid on the new snow old snow interface. The old snow presented with a firm but punchable surface crust to which the new slow could easily slide.
Temperatures remained cold throughout the outing, keeping the snow cold and dry.



 
Observation Location: Green Butte Ridge
Elevation: 8,200 feet
Date: 20230304
Time: 1300
Observer: S. Clairmont
Sky Conditions: Obscured (X)
Current Precipitation: Type - SN, Rate - S2
Air Temperature: 15 °F
Surface Penetration: Ski penetration (PS) = 6 in (15 cm)
Total Snow Depth (HS): 157 in (399 cm)
24-hour New Snow Depth (HN24): 6 in (15 cm)
Wind Direction: SE
Wind Speed: Moderate (M), 17-25 mi/hr, small trees sway
Photos
Weather Observations
Statistics
Cloud Cover:
100% of the sky covered by clouds
Accumulation rate:
Greater than 1 in. per hour
Air temperature:
Below Freezing
Air temperature trend:
Cooling
Wind Direction:
Southeast