You are here
Lower Casaval Ridge, Avalanche Gulch Skiing and General Update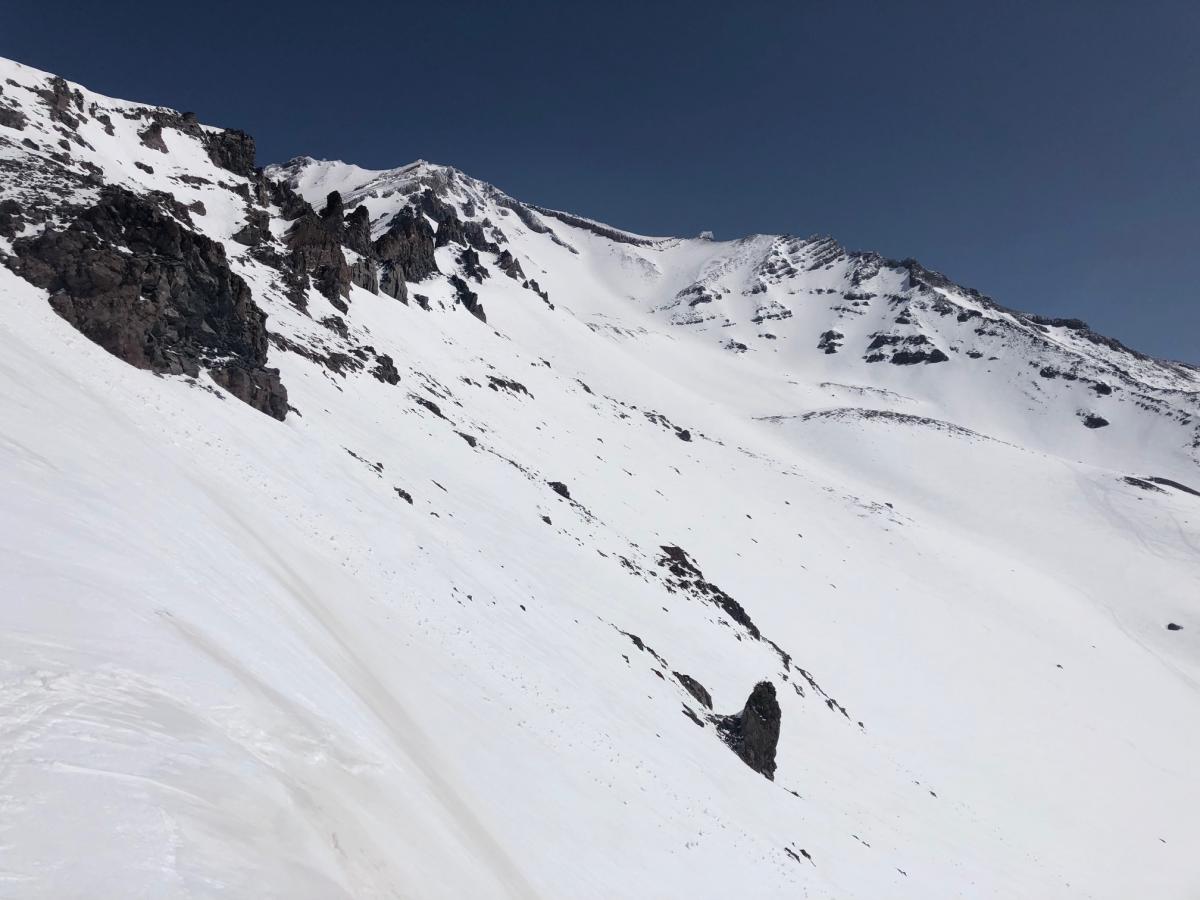 Date and time of observation:
Wed, 04/27/2022 - 10:00am
Observation made by:
Climbing Ranger
Location Map
96067
Mount Shasta
,
CA
United States
41° 23' 7.314" N, 122° 12' 53.9712" W
California US
Snowpack Observations
Details
4.28.22 - (All photos by Sean Malee)
A handful of photos from a half day ski tour up Casaval Ridge with a descent into Avalanche Gulch.  As many have gleaned, Mt Shasta received a healthy dollup of snow over the course of a couple weeks, mid to late April. Approximately 30-40 inches of snow was recorded by the Old Ski Bowl weather station. 
The new snow has consolidated considerably and is going fast. Fresh snow, this time of year, typically does not hang around for long. That said, the skiing and climbing conditions are very good and coverage is holding. One can ski all the way to/from the Bunny Flat parking lot. For climbers, the post-holing situation has become less so, and a well traveled boot pack is established up the main Avalanche Gulch route. For other routes, do not expect a boot pack and some post-holing is still possible. (See photo of boot penetration on Casaval Ridge) At this point, we are on the fence recommending snow shoes or not for climbers that are not skiing. I think you could get away without them, especially if you hike and climb in the morning hours. 
The rime ice hazard has diminished some, but a few lingering chunks of ice remain on some rocks up higher on the mountain. Be heads up for that, as well as isolated rockfall. Overall. rock and ice overhead hazard is minimal at this time.
The skiing is good, especially on the aspects getting that good 'ol California sun. It's up to you to play the aspect, elevation, time of day game...it all depends on the temps, wind, weather. Get your turns in now though, because conditions will dwindle fast and we will be back to the rocky mess soon. Right now, the corn skiing is good and the snow has a bit of texture.
Water is available at the Shasta Alpine Hut (Horse Camp) and the restrooms are open. A caretaker has been on duty. One must melt snow for water anywhere else on the mountain. Don't underestimate how much fuel it takes to melt snow for your crew. Bring extra.
April and May can bring erratic weather on Mt. Shasta. Conditions are good, but always keep an eye to the sky and check the forecast before climbing. DO NOT climb into a whiteout, and try not to get caught in a whiteout on the upper mountain. It's very easy to descend off the wrong side of the mountain in limited visibilty conditions. Carry navigation tools in case you get disoriented. Our weather tab has several great links for weather, including the rec forecast and discussion.
All other trailheads are still closed at this time, but we will scout them and post an update soon. You are welcome to access the MS Wilderness from other trailheads, but miles of snow covered roads should be expected. 
Photos
Weather Observations
Details
Statistics
Air temperature:
Above Freezing
Air temperature trend:
Warming