You are here
Lower Green Butte Ridge, Avalanche Gulch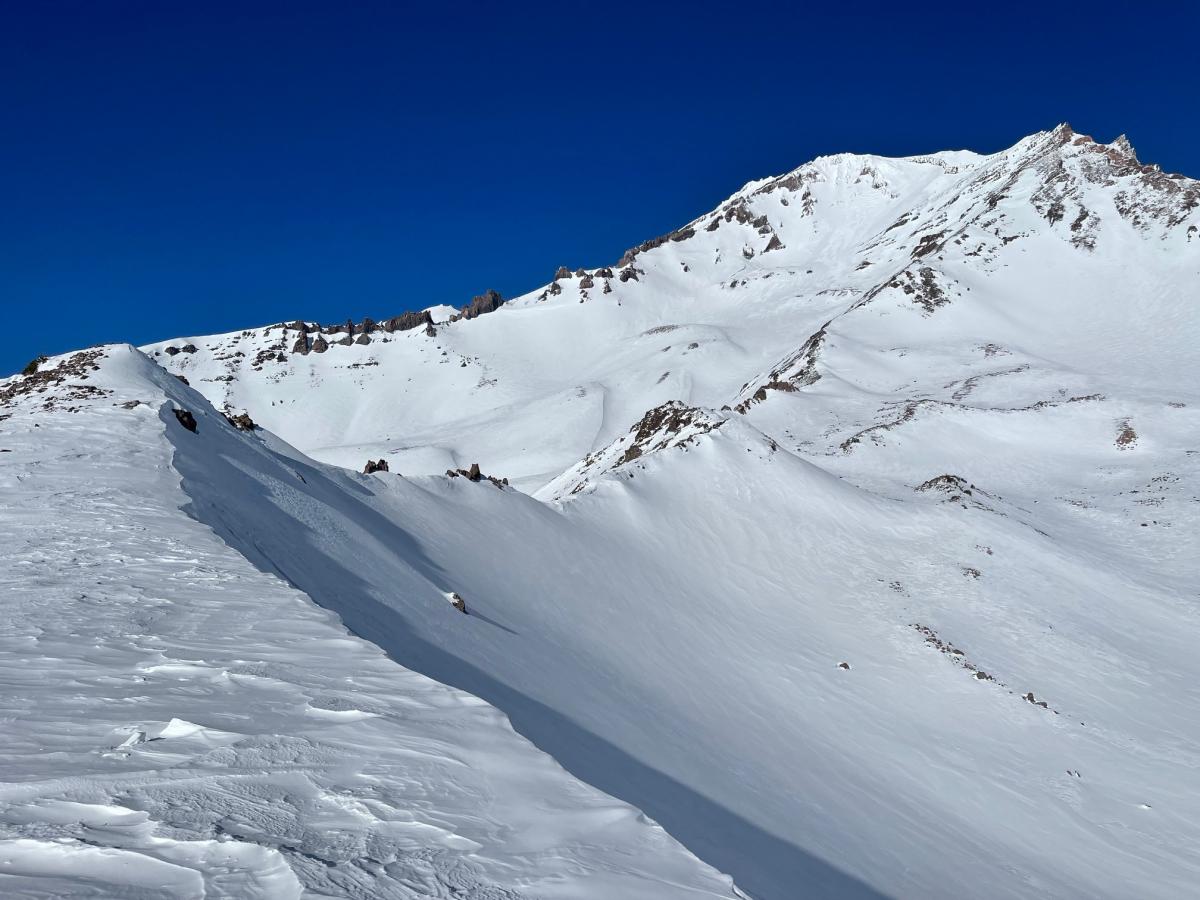 Location Name:
Lower Green Butte Ridge, Avalanche Gulch
Date and time of observation:
Fri, 01/14/2022 - 1:30pm
Observation made by:
Forecaster
Location Map
96067
Mount Shasta
,
CA
United States
41° 22' 23.0304" N, 122° 12' 37.4832" W
California US
Snowpack Observations
Details
A mid-day tour up lower Green Butte Ridge from Bunny Flat. Temperatures were warm today, as expected. Highs at treeline reached 47 degrees F. Near and above treeline, a moderate easterly wind dominated, with stronger gusts that would make ya wobble here and there. At Bunny Flat below treeline, it was suns-out, guns-out, flip-flops on and frosty soda pops in hand, very warm for this time of year.
No loose-wet activity or wind loading was observed. The snowpack averages 65-75 inches. Snow surfaces are all over the board: aka - variable. Along windward ridges and up higher on the mountain, smooth, icy snow is making for eye-opening slip and fall potential. Know how to use an ice axe and crampons. Self-arrest is an essential mountain skill and should happen fast. This slip/fall hazard should be kept in mind on steep slopes.
Rime ice is plastered to the Trinity Chutes and Redbanks area. You don't need to know where those places are necessarily, just look up and beat feat through any area with rime ice as overhead hazard. These warm days, that stuff loves to flake off the rocks and tumble down onto blissful climbers. Wear a helmet.
Other snow surfaces down lower are more friendly. Expect some smooth, corn-like snow, a few lingering crusts, wind affected snow, etc. The skiing was not bad down Powder Bowl. 
Photos
Weather Observations
Details
Sunny, warm. Windy near and above treeline, out of the east.
Statistics
Air temperature:
Above Freezing
Air temperature trend:
Warming