You are here
Merry Christmas! Observations from around the area...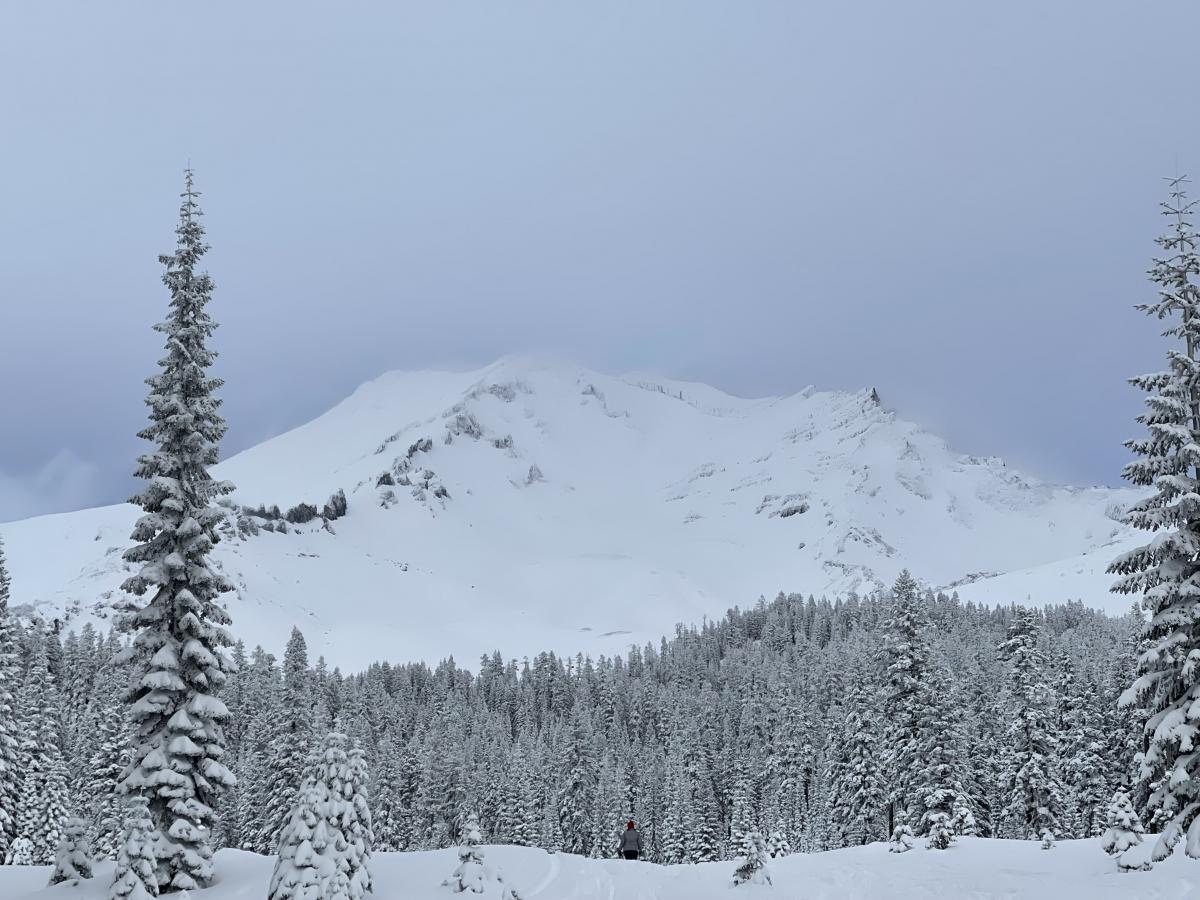 Location Name:
Mount Shasta, Castle Lake and MS Ski Park
Date and time of observation:
Sat, 12/25/2021 - 1:30pm
Observation made by:
Public
Red Flags:
Whumphing noises, shooting cracks, or collapsing
Recent loading by new snow, wind, or rain
Location Map
96067
Mount Shasta
,
CA
United States
41° 20' 5.6904" N, 122° 11' 38.0616" W
California US
Snowpack Observations
Details
Despite the continued winter storm warning, it was another day of pretty quiet weather with mixed clouds and blue sky. Westerly wind continues to do its thing above treeline and remains the area of most concern for avalanche risk. Some areas have been getting hammered, others not so much. It's just the way it is with a big 'ol mountain like Shasta...it creates eddies and mild wind speeds in some areas and increases wind speeds in others. As one travels on the mountain, it's important to pay attention to the wind, wind blowing snow and where that snow is going. Again, some areas could be wind loaded and touchy, some not so much. Easterly aspects are expected to be the most suspect. Watch out for cross-loaded slopes and unusual loading patterns in areas where wind speeds are the highest.
Near treeline (7,500 feet) on Shasta this morning, MSAC snowmobile ambassadors reported 12 inches of new snow near treeline along the old T-bar line (over the past 24 hours) and 47 inches total snow depth. This is compared to 5 inches recorded at the nearby Old Ski Bowl snow depth sensor and 69 inches total height of snow. So, some variability in snow coverage and new snow totals.
Up near the Mt. Shasta Ski Park, an off duty forecaster noted several red flags (see pictures) including wind blowing snow, fragile cornices and cracking/blocking along ridgelines. Moderate west wind (~20 mi/hr) was efficiently transporting new snow and loading easterly slopes. This is likely the case for other slopes near and above treeline that are getting blasted by the west wind. Gray Butte weather station continues to report average wind speeds of ~20 mi/hr with gusts 30-40 mi/hr, W-NW.
No natural or human triggered avalanches have been reported, but today felt like a day one could be triggered. The sun did come out for some time, which always helps consolidate the new snow on the south side of the mountain. West wind is expected to continue into Sunday (12/26), along with more snow and chilly temps.
Over on the west side, our Friends group executive director Casey G. reported about 3 to 4 inches of new snow on the road leading up to Castle Lake. No other notables were shared.
Photos
Weather Observations
Details
https://www.shastaavalanche.org/page/gray-butte-ski-bowl-weather-station-synopsis 
Gray Butte (8,000 feet) and Old Ski Bowl (7,600 feet) synopsis over last 24 hours. Both of these weather stations are on Mt. Shasta.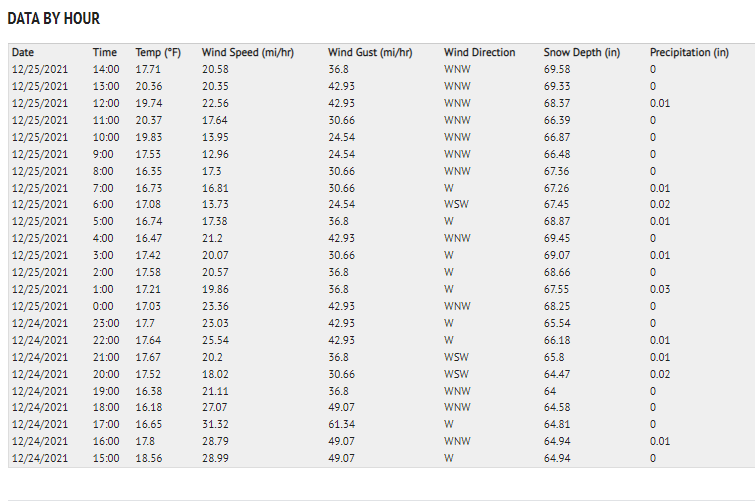 Statistics
Cloud Cover:
25% of the sky covered by clouds
Air temperature:
Below Freezing
Air temperature trend:
Cooling