You are here
Mist and freezing fog turning to snow on Green Butte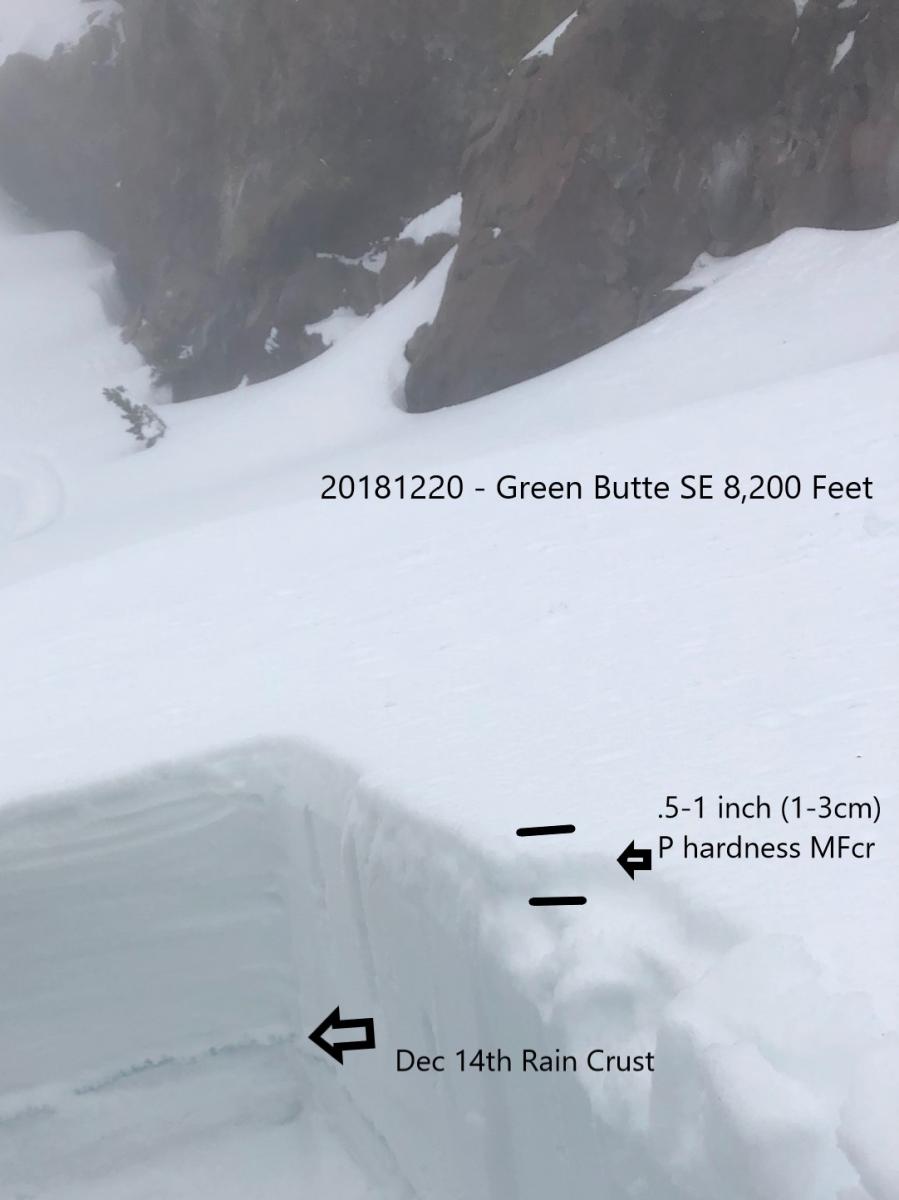 Location Name:
Gray Butte
Date and time of observation:
Thu, 12/20/2018 - 2:22pm
Observation made by:
Public
Red Flags:
Recent loading by new snow, wind, or rain
Location Map
Green Butte
96067
Mount Shasta
,
CA
United States
41° 21' 52.7148" N, 122° 12' 22.3524" W
California US
Snowpack Observations
Details
At 3 p.m. this afternoon, mist and freezing rain was observed above Bunny Flat. This signaled that the new storm was beginning to take form.  Little accumulation was noted however at that time. The snowpack is currently 50-55 inches deep (120-140cm) at 8,200 feet.  Snow textures consisted of a P hardness crust (see picture below) atop 4F-1F softer snow. There was 14 inches (35-40cm) of snow above the Dec 14th rain crust.
Compression tests showed easy results failing under the new surface crust and moderate results on a density change 6-8 inches (15-20cm) down from the surface. Extended Colum test confirmed this with an ECTN12 at 8in (21cm) deep result. Fracture character for all stability test was resistant planar (RP).
Visibility was very poor and no avalanches or obvious signs of instability were observed. 
Photos
Weather Observations
Details
Clouds, fog and low visibility was observed at all elevations this afternoon. Misty rain slowly turned to snow at about 7,500 feet within the 2-3 p.m. hour. Air temp was measured at 30 degrees. There was a light to moderate SW Wind. Higher up, a steady 10-20 mi/hr westerly wind was felt.
Statistics
Cloud Cover:
100% of the sky covered by clouds
Precipitation:
Mixed rain and snow
Accumulation rate:
Less than 1 in. per hour
Air temperature:
Below Freezing
Air temperature trend:
Cooling
Wind Direction:
Southwest