You are here
More Ice Observations from Avalanche Gulch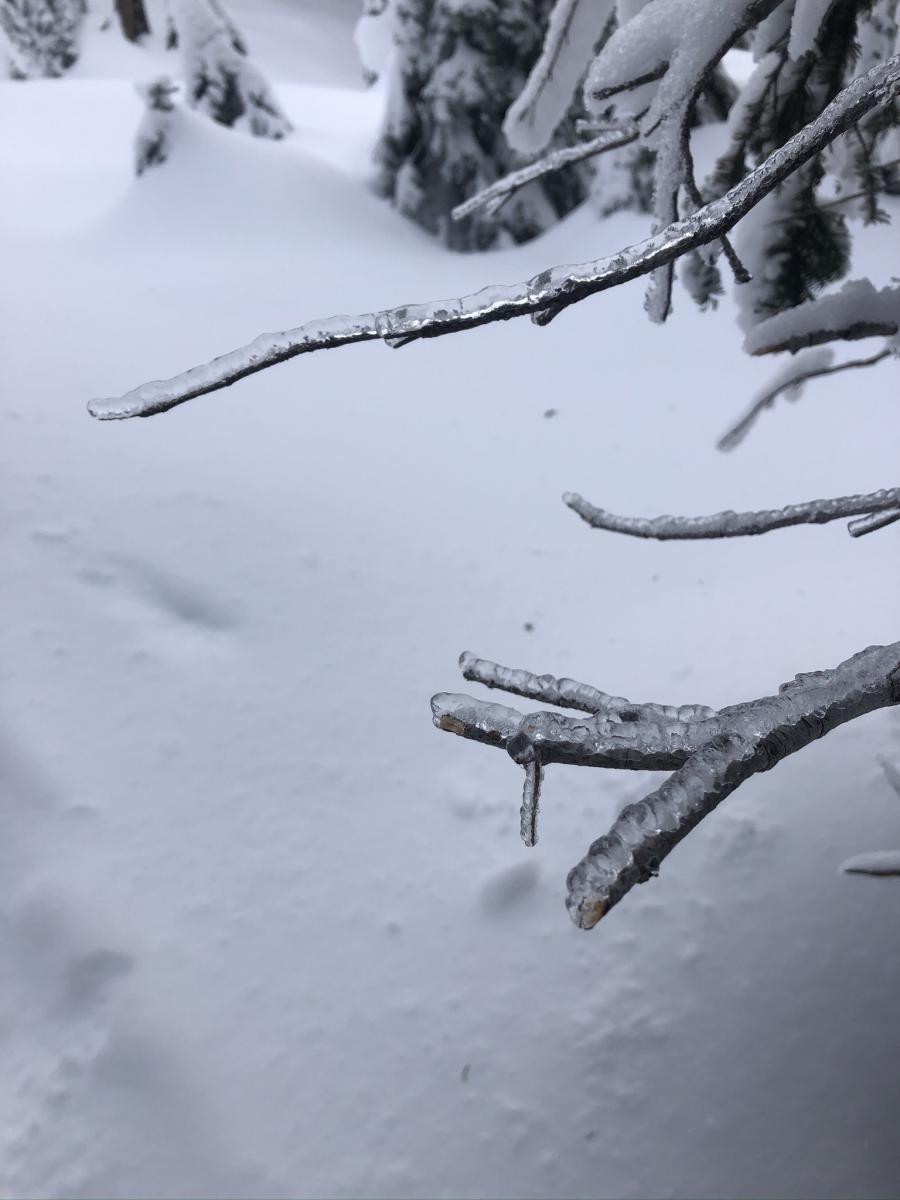 Location Name:
Avalanche Gulch, Mt Shasta
Date and time of observation:
Sat, 12/21/2019 - 11:30am
Observation made by:
Forecaster
Location Map
96067
Mount Shasta
,
CA
United States
41° 22' 31.7676" N, 122° 13' 19.1964" W
California US
Snowpack Observations
Details
20191221 - 1100 hrs - Sorenson

Avalanche Gulch via Bunny Flat : 7,000 - 8,400 feet / Below, Near and Above Treeline terrain
SKY: Broken - Dense cloud layer hanging around 9,000 feet, swirling and fast moving clouds, lenticular clouds handing above 12,000 feet on Mount Shasta
PRECIPITATION: None
BLOWING SNOW: None, no snow available for transport due to ice lens cap on snowpack, large ice pieces and limbs were being blown from trees 
AIR TEMP: 23.5 deg F
SURFACE PEN: impenetrable with skis above 7,200 feet, 6 to 20 inch boot penetrations. 
HEIGHT OF SNOWPACK: 40 to 50 inches 
HEIGHT OF NEW SNOW: 6-12 inches
WIND: Strong to gale force wind gusts and periods of light to moderate wind out of the south and east.
NOTES:  The widespread ice lens 1/8th to 1/4th inch thick made any snow travel to gather observations a real chore today.  The ice rendered the use of climbing skins ineffective and impractical. Even with the aid of ski crampons progress was slow. When one resorted to boot packing inconsistent boot penetrations ranging from ankle to knee deep with sharp icy shrapnel made for an overall difficult experience.  You had to brace and duck when strong to gale force wind gusts blew through.  Whole trees would sway sending ice and tree branches crashing to the ground followed by periods of calmer winds. 
An average of 45 inches of snow was measured at 8,300 feet in Avalanche Gulch. A variety of crusts and snow harnesses exists below the widespread ice lens. Some areas host .5 to 1.5 inches of pencel hard snow that is stuck below the ice with fist to 4 finger hard snow and a number of crusts below that. In other areas the pencel hard snow is absent with the fist to 4 finger hard snow laying directly under the ice.  Much uncertainty remains as to how the current snowpack will handle future snow loads. 
Photos
Weather Observations
Statistics
Cloud Cover:
75% of the sky covered by clouds
Air temperature:
Below Freezing
Air temperature trend:
Cooling
Wind Direction:
Southeast