You are here
Mount Shasta - Above Treeline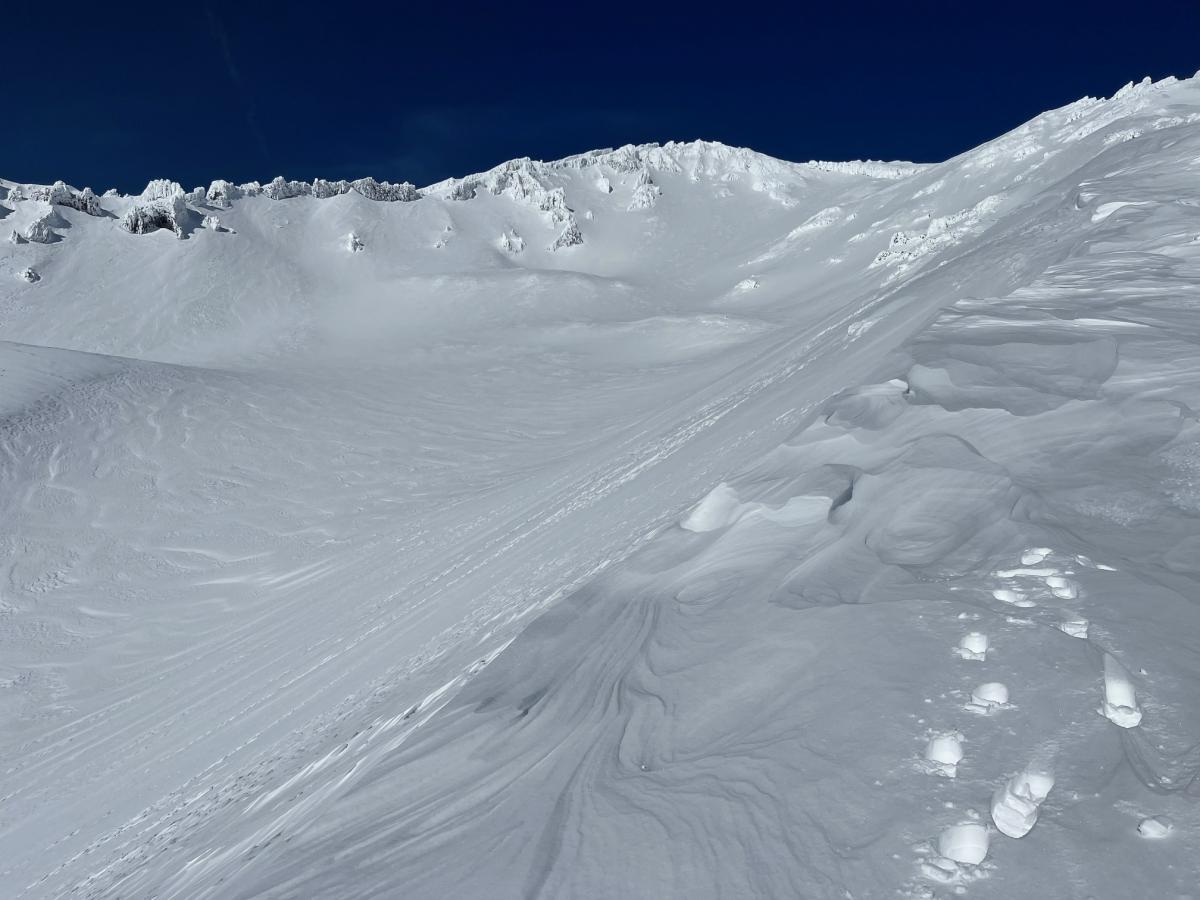 Location Name:
Mount Shasta
Date and time of observation:
Fri, 01/20/2023 - 1:30pm
Observation made by:
Forecaster
Location Map
96067
Mount Shasta
,
CA
United States
41° 23' 2.1948" N, 122° 12' 28.5516" W
California US
Snowpack Observations
Details
A gorgeous day on Mount Shasta yesterday. Access via the Everitt Memorial Highway and Castle Lake roads is still closed. Siskiyou County is working to open the roads as soon as possible. The struggle remains with equipment breaking down and very deep snow. A 16-foot drift exists at Windy Point, just below Bunny Flat. 

Red flags of avalanche danger across the forecast area have been hard to come by. Snow from the incessant storms during the first few weeks of January has settled out nicely. Snow surfaces below and near treeline remain smooth and soft. A few sun crusts are beginning to form on sunny aspects. Surface hoar is widespread in low-lying areas. Snow and rime plastered trees started to unload yesterday, mid-afternoon. Above treeline, the recent north wind has done a number on the snowpack. Widespread wind textured snow dominates. While plenty of wind slabs exist on the landscape, slabs have been unreactive to trigger. Yesterday, the wind was light at 10,000 feet on Green Butte Ridge. Overall, Mount Shasta is completely plastered in snow and rime and looking quite beautiful! In the last 24 hours, temperatures have ranged from 13° to 31° F. Wind has blown primarily out of the WNW and ENE, averaging 7 mi/hr with gusts to 36 mi/hr. Snow on the ground near treeline measures ~147 inches. 
Observation Location: Above treeline on Mount Shasta
Elevation: Town to 10,000 feet
Date: 20230121
Time: 1100-1500 hours
Observer: Meyers
Sky Conditions: Clear (CLR)
Current Precipitation: Type - NO
Air Temperature:  High of 31°F at 1600 hours
Surface Penetration: Snowmobile penetration (PS) = 6 in, boot penetration (PF) = 6-12 in, less in wind compacted snow above treeline. 
Total Snow Depth (HS): ~147 in
24-hour New Snow Depth (HN24): none
24-hour New Snow Water Equivalent (HN24W): none
Wind Direction: E | NE & W | NW
Wind Speed: Calm (C), 0 mi/hr to Light (L), 1-16 mi/hr, twigs in motion
Photos
Weather Observations
Details
Weather data from near treeline over the past three days:



Statistics
Air temperature:
Below Freezing
Air temperature trend:
Warming
Wind Direction:
Northwest