You are here
Mount Shasta - South Side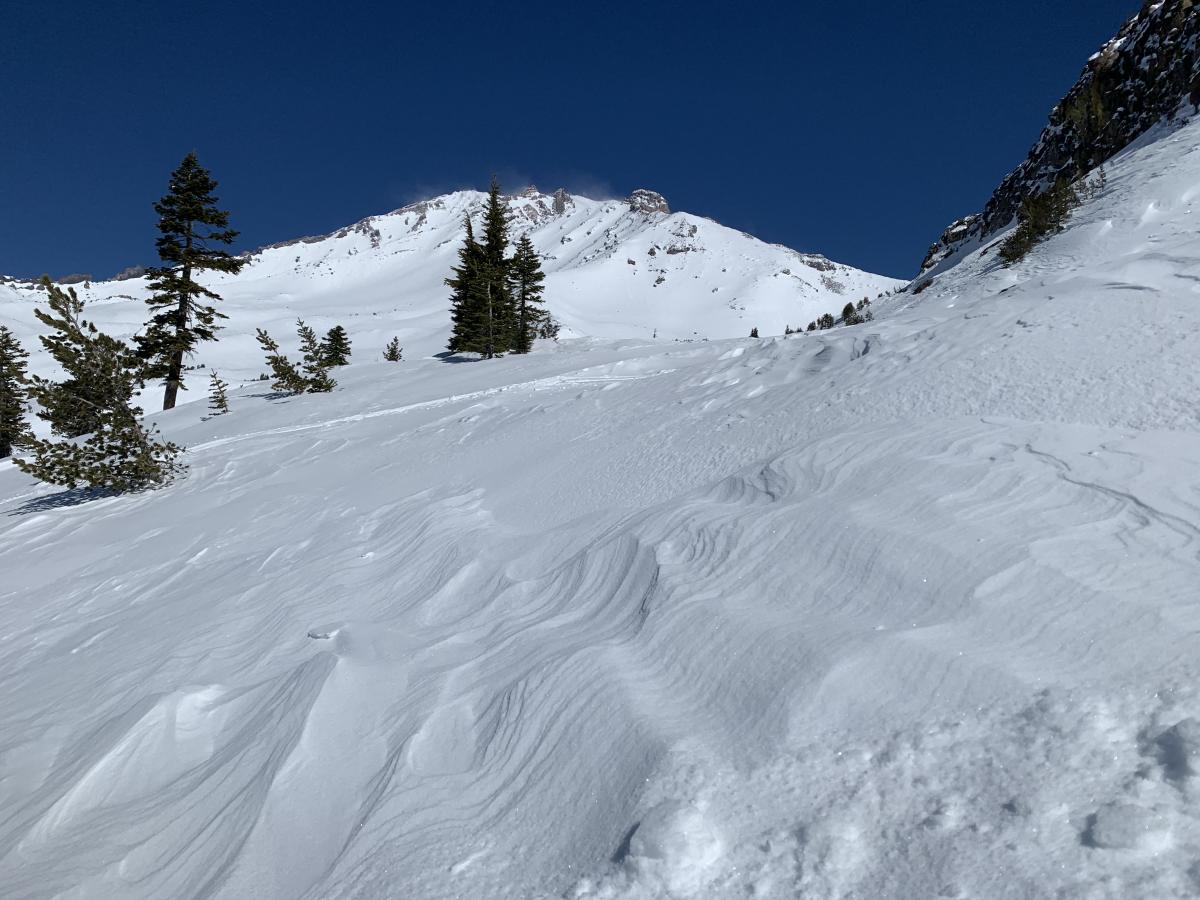 Location Name:
Mount Shasta
Date and time of observation:
Fri, 03/12/2021 - 9:30am
Observation made by:
Forecaster
Red Flags:
Recent loading by new snow, wind, or rain
Rapid warming
Location Map
96067
Mount Shasta
,
CA
United States
41° 21' 58.0788" N, 122° 11' 56.526" W
California US
Snowpack Observations
Details
A day of full sun and temperatures several degrees warmer than yesterday. Winds died down considerably near and below treeline, but left behind plenty of evidence of past destruction. Strong wind was visible (blowing snow) on the upper mountain, well above treeline, along Sargents and Green Butte ridges, Redbanks and the Summit Plateau. Did not see any new avalanches, but found plenty of deep, hollow wind drifts well over 2 feet deep on SE-S-SW aspects. A 2-3 inch wind crust formed over the new snow in wind exposed areas, capping off the soft, fist hard storm snow below. The crust (slab) could be easily triggered upon isolation in pit tests. This shallow slab rests on top of soft snow and if an avalanche was triggered, if large enough could easily gouge into deeper snow layers. Snow surfaces are smooth in some locations and wind affected in others. A sun crust can be found at lower elevations below treeline. Did not observe any rollerballs, but was off the mountain around noon. 
Observation Location: South Side Mt Shasta
Elevation: 6950 to 9000 feet
Date: 20210312
Time: 0900-1200
Observer: N Meyers
Sky Conditions: Clear (CLR) 
Current Precipitation: NO 
Air Temperature: 36 °F at noon, warming
Surface Penetration: Knee to thigh deep in most areas
Total Snow Depth (HS): 90 in (228 cm)
24-hour New Snow Depth (HN24): 0 in (0 cm)
24-hour New Snow Water Equivalent (HN24W): 0 in (0 cm)
Wind Direction: N | NE | E | SE
Wind Speed: Below treeline: Calm (C), 0 mi/hr / Near and above treeline: Light (L), 1-16 mi/hr, twigs in motion /

Upper mountain: Strong (S), 26-38 mi/hr, whole trees in motion 
Photos
Weather Observations
Details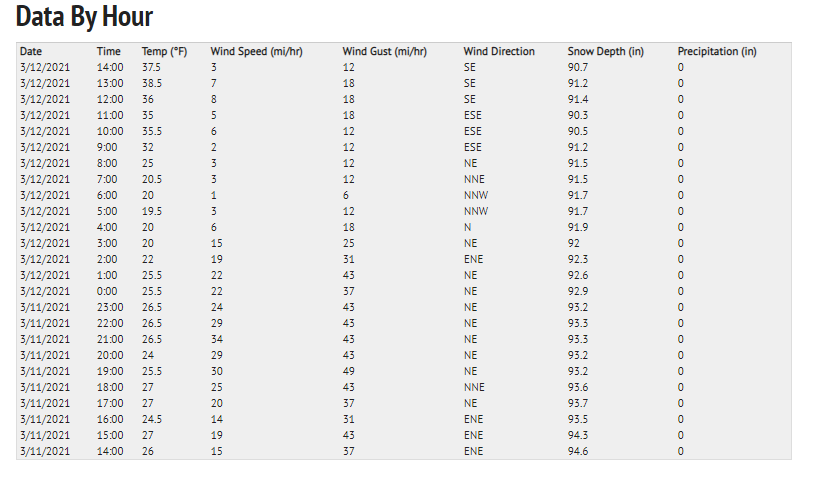 Statistics
Air temperature:
Above Freezing
Air temperature trend:
Warming
Wind Direction:
Northeast