You are here
Natural Avalanches off Southeast Side of Gray Butte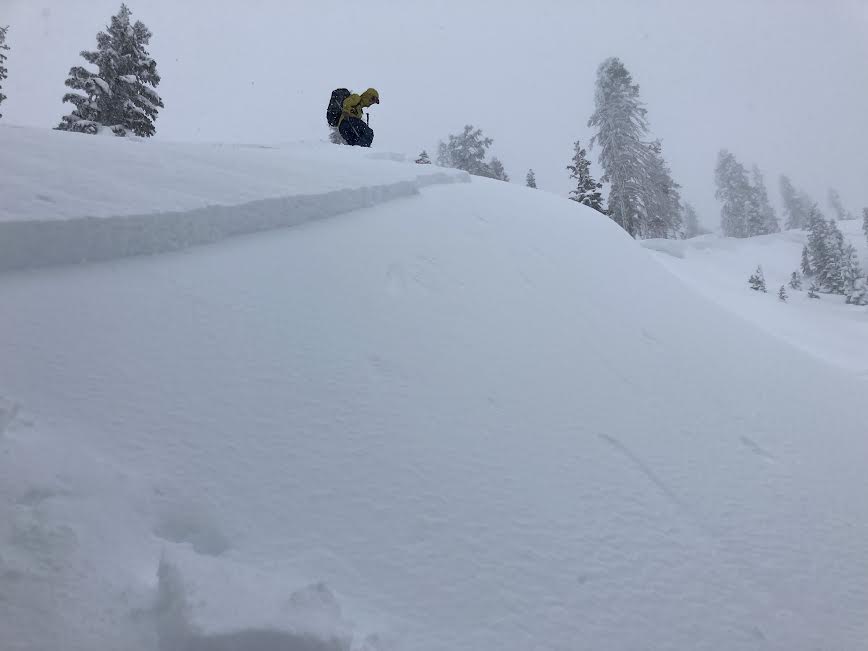 Location Name:
Gray Butte
Date and time of observation:
Mon, 03/13/2023 - 11:30am
Observation made by:
Forecaster
Red Flags:
Recent avalanche activity
Whumphing noises, shooting cracks, or collapsing
Recent loading by new snow, wind, or rain
Location Map
96067
Mount Shasta
,
CA
United States
41° 20' 34.2636" N, 122° 11' 11.6016" W
California US
Snowpack Observations
Details
Today's Observation was taken from the southeast aspect of Gray Butte at 7,000 feet.
We encountered red flags the moment we stepped into the backcountry. Two natural storm slab avalanches were spotted on convex slopes steeper than 30 degrees near treeline. These slides looked like they had occurred hours before our arrival.  A test slope reviled easy initiation of a storm slab with a well-connected crown wrapping around a convex terrain feature. We observed snow running fast and far downhill. The snowpack displayed a upside-down structure with heavier snow on top of lighter snow. Stability tests identified two weak interfaces within the top 30 cm of the snowpack with easy to moderate force. Strong west and southwest winds were howling, blowing snow onto leeward slopes with extreme gusts. Rain transitioned to snow at 6,300 feet. Above that, surfaces were dense and heavy, becoming more loaded and saturated from the wind and snowfall. Below the snow line, rain had moistened the snowpack creating sticky and wet conditions. At 5,000 feet and below the top five inches of the snowpack was heavily saturated with water. Rain runnels were observed on all aspects. A boot penetration to the upper thigh was experienced and signs of wet-loose activity on steep slopes were observed.            
Observation Location: Gray Butte southeast aspect 
Elevation: 7,000 feet
Date: 2023.03.13
Time: 1130
Observer: E.Falconer S.Clairmont 
Sky Conditions:  Overcast (OVC) | Obscured (X)]
Current Precipitation: Type -  RA ,SN, / Rate - S-1 | S1 
Air Temperature: 30 °F
Surface Penetration: Ski penetration (PS) = 12 in (15 cm), boot penetration (PF) = 58 in (150 cm)
Total Snow Depth (HS): 67 in (170 cm)
24-hour New Snow Depth (HN24): 4 in (10 cm)
Wind Direction:   SW 
Wind Speed: Strong (S), 26-38 mi/hr, whole trees in motion | Extreme (X), > 38 mi/hr, gale force]
Column & Block Tests:

Slope Angle & Aspect (30º, SE 
ECTX
CT 4 -↓10 cm (4 in)—RP
CT 12 – ↓25 cm (10 in)—RP
PST 80/100 
Photos
Weather Observations
Statistics
Cloud Cover:
100% of the sky covered by clouds
Precipitation:
Mixed rain and snow
Accumulation rate:
Less than 1 in. per hour
Air temperature:
Above Freezing
Air temperature trend:
Warming
Wind Direction:
Southwest