You are here
Natural Wet Loose Avalanche Cycle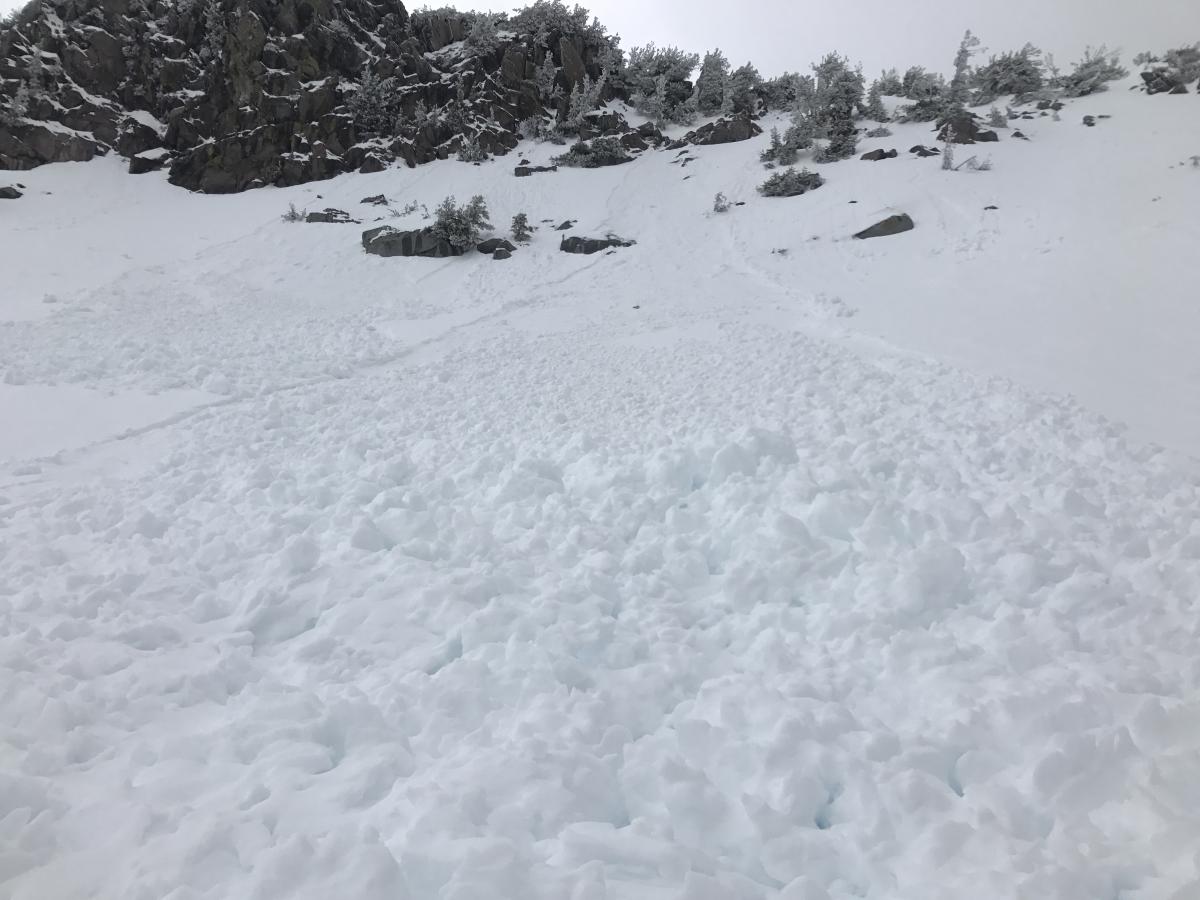 Location Name:
Old Ski Bowl
Date and time of observation:
Sat, 04/07/2018 - 8:30pm
Observation made by:
Forecaster
Red Flags:
Recent avalanche activityRecent loading by new snow, wind, or rainRapid warming
Location Map
96067
Mount Shasta
,
CA
United States
41° 21' 44.9172" N, 122° 11' 39.2388" W
California US
Snowpack Observations
Details
A natural wet loose avalanche cycle occurred at the tail end of our recent storm. Numerous natural wet loose avalanches were observed on E-SE-S-SW-W-NW aspects between 7,000-9,000 ft on the south side of Mount Shasta on Gray Butte, Green Butte, Yellow Butte and in Sun Bowl. All avalanches were destructive size 1 (relatively harmless). The avalanches failed within the 6 inches of recent wet storm snow. Mostly likely, the storm snow was rained on overnight on 04/06 causing the avalanche cycle. The avalanches ran 100-600 vertical feet. They all initiated at a point, and entrained snow as they flowed downhill. Debris piles were 1-2 ft deep.
Additionally, a stout rain crust 1-2 inches thick has formed 8,000 ft and higher. The rain crust is supportable and very slick. The rain crust exists as the snow surface up to at least 9,000 ft and likley exists at higher elevations as well. Rain runnels were observed up to 8,500 ft. Snowmobile travel above 8,500 ft was extremely difficult due to the slick rain crust. At elevations 7,800 ft and below, 6 inches of wet sloppy snow exists at the snow surface.
Photos
Videos
Weather Observations
Details
Clouds obscured the mountain for the entire day. Brief windows allowed visibility up to 9,500 ft at times. Strong to extreme southwest winds blew throughout the afternoon. Light and intermittent rain and snow fell but no new snow accumulated.
Statistics
Cloud Cover:
100% of the sky covered by clouds
Precipitation:
Mixed rain and snow
Accumulation rate:
Less than 1 in. per hour
Air temperature:
Above Freezing
Air temperature trend:
Static
Wind Direction:
Southwest