You are here
New Crust And New Snow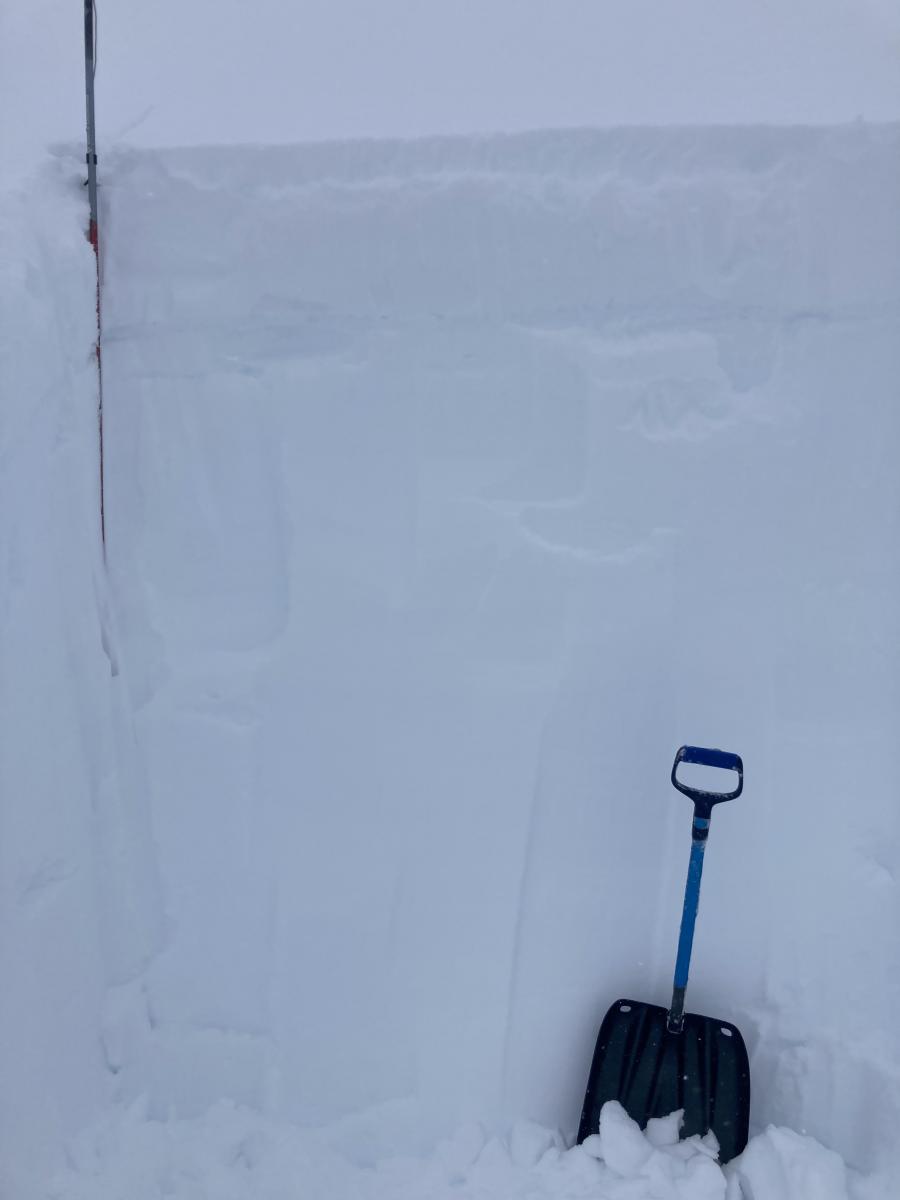 Location Name:
Northwest aspect of Gray Butte
Date and time of observation:
Fri, 01/13/2023 - 2:00pm
Observation made by:
Forecaster
Red Flags:
Recent avalanche activity
Recent loading by new snow, wind, or rain
Rapid warming
Obvious avalanche path
Location Map
96067
Mount Shasta
,
CA
United States
41° 20' 53.9592" N, 122° 11' 42.8424" W
California US
Snowpack Observations
Details
After reading the forecast and the previous day's observations, I wanted to assess the snowpack for a potential new crust layer and how it was interacting with the new snow. I chose to ascend Gray Butte, where I could look at multiple aspects for the distribution of the crust. Lots of snow was encountered on the road up to Mount Shasta Ski Park. While heading up the lifts, it was snowing even harder. At one point, it was snowing at least an inch an hour (S2).

Up on Gray Butte, the crust became prevalent on all aspects. Skinning conditions became a little challenging with the new snow easily sliding on the very firm crust. Cornices had grown on the northerly aspects.

A pit was dug to further look at the new crust. The crust appears to be anywhere from 1 cm to 3 cm thick. Variance in thickness is probably due to the aspect and amount of warming that had occurred. About 12 inches of new snow was found on top of the crust. An ECT was performed, where full propagation occurred on tap 14 just below the new crust. 

While skiing down, I pushed multiple small point-release wet loose avalanches on steeper slopes. Though these were harmless, they could travel far and entrain lots of snow below.

On the way out, the snow became more saturated, and it appeared to be raining in the parking lot. 
Observation Location: Northwest aspect Gray Butte, just below the ridge
Elevation: 7800 feet
Date: 20230113
Time: 1400
Observer: S. Clairmont
Sky Conditions: Obscured (X)
Current Precipitation: Type - SN, Rate - S2
Air Temperature:  28 °F
Surface Penetration: Boot penetration (PF) = 48 in (122 cm)
Total Snow Depth (HS): 295 cm
24-hour New Snow Depth (HN24): 9 in (22 cm)
24-hour New Snow Water Equivalent (HN24W): 1.7 in (4.3 cm)
Wind Direction: SE
Wind Speed: Moderate (M), 17-25 mi/hr, small trees sway
Column & Block Tests:

Slope Angle & Aspect: 38º, NW
ECTP14 ↓ 14 in (35 cm)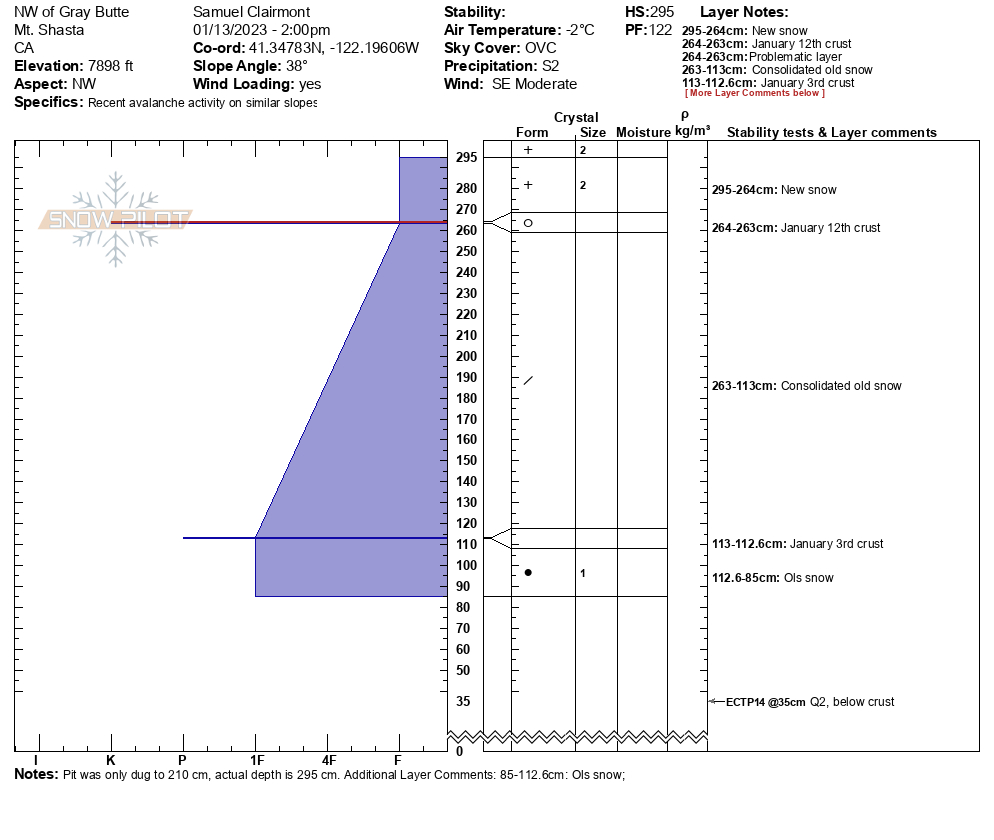 Photos
Weather Observations
Statistics
Cloud Cover:
100% of the sky covered by clouds
Accumulation rate:
Greater than 1 in. per hour
Air temperature:
Below Freezing
Air temperature trend:
Static
Wind Direction:
Southeast