You are here
New Snow and Conditions Report- Old Ski Bowl, Gray Butte,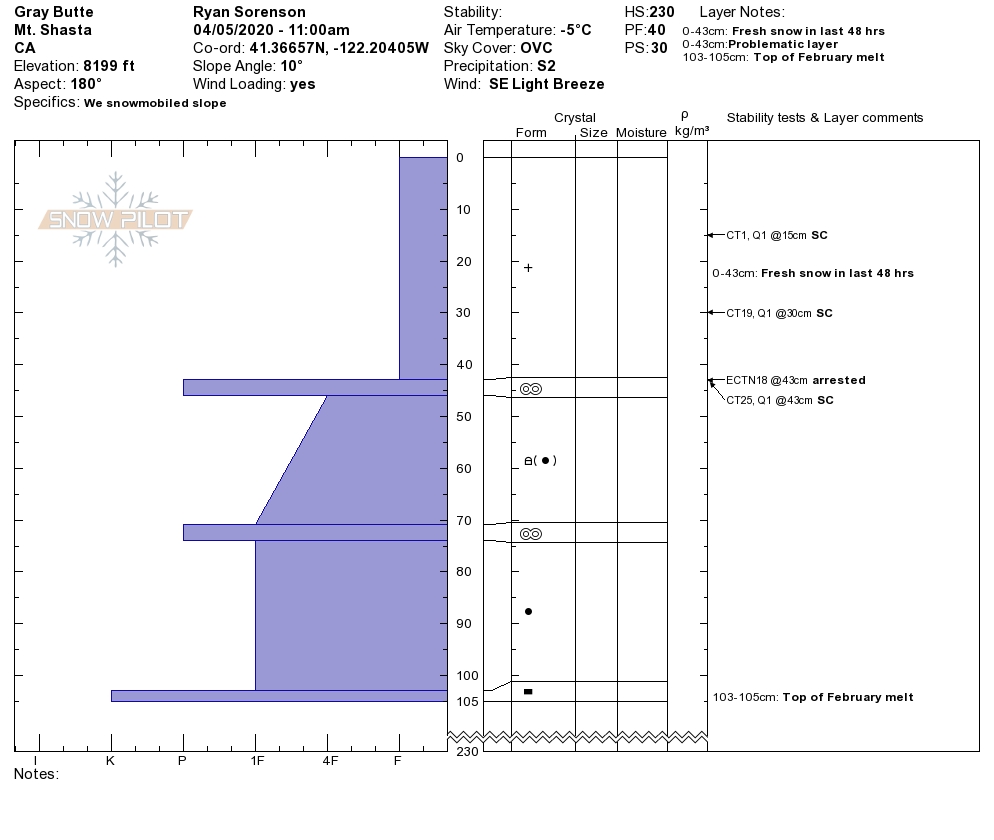 Location Name:
Gray Butte and Old Ski Bowl, Mount Shasta
Date and time of observation:
Sun, 04/05/2020 - 11:30am
Observation made by:
Forecaster
Red Flags:
Whumphing noises, shooting cracks, or collapsing
Recent loading by new snow, wind, or rain
Rapid warming
Location Map
96067
Mount Shasta
,
CA
United States
41° 22' 8.2884" N, 122° 13' 12.1476" W
California US
Snowpack Observations
Details
April 5th, 2020 (20200405) - 1000-1430 hrs - R Sorenson
Green Butte

SKY: Obscured

PRECIP: S2 - sporadic periods of light, moderate and heavy snowfall

WIND: Light, SE

BLOWING SNOW: Yes

AIR TEMP: 23 F

SURF PEN: Ski = 12 to 14 inches (30-35 cm), Boot = 16 inches (42 cm)
NOTES: 
Today we collected observations in Old Ski Bowl (OSB). It was snowing all day with low visibility, though there were a few brief clearing. Snowfall was sporadic with periods of light, moderate and heavy snowfall that seemed to change frequently. In a snow pit dug at 8,200 feet in OSB, we observed 16 inches of fresh snow over various crusts.  Colum test showed planar fractures within the new snow 6 and 11 inches deep as well as at the new/old snow interface 16 inches deep (CT1 ⬇ 15 cm SC, CT19 ⬇ 30 cm, CT25 ⬇ 43 cm, ECTN ⬇ 43 cm). After hearing about recent avalanche activity on Gray Butte (GB) from other skiers, we headed over there for observations. For more information see recent avalanche observations.
Weather Observations
Statistics
Cloud Cover:
100% of the sky covered by clouds
Accumulation rate:
Less than 1 in. per hour
Air temperature:
Below Freezing
Air temperature trend:
Cooling
Wind Direction:
Southeast