You are here
New Snow on Mt Shasta - Low Visibility, Freezing Fog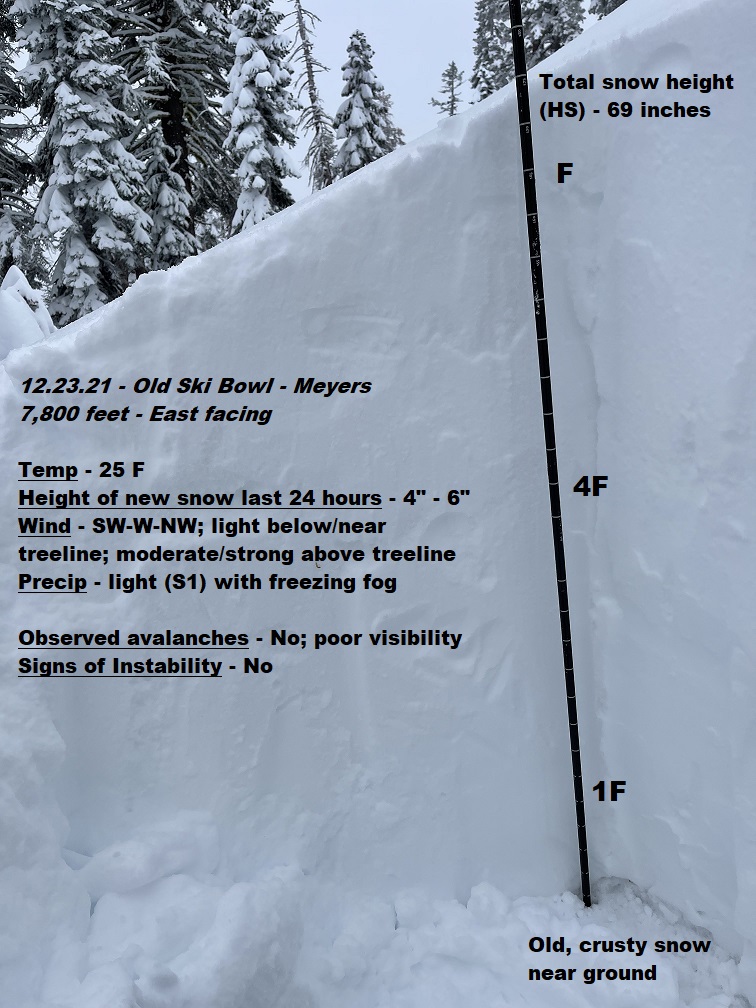 Location Name:
Power Lines to Old Ski Bowl
Date and time of observation:
Thu, 12/23/2021 - 4:00pm
Observation made by:
Forecaster
Red Flags:
Recent loading by new snow, wind, or rain
Location Map
96067
Mount Shasta
,
CA
United States
41° 21' 53.172" N, 122° 12' 23.9544" W
California US
Snowpack Observations
Details
A motor tour from town to 8,500 feet in the Old Ski Bowl to access storm snow conditions and overall avalanche risk. Despite below freezing temperatures from all weather stations for the day, it was a wet, soggy and foggy one. We observed rain in town and it was barely snowing at 4,000 feet at 1430 hours. Snow level was about 4,500 to 5,000 feet. Freezing fog stuck to your goggles and froze immediately, making for difficult visibility. New snow totals over the last 24 hours observed about 4-6 inches above 6,500 feet, though over a foot of new snow has accumulated in the last 3 days. Overall, about 60-70 inches remains on the ground near treeline on Mt. Shasta.
Due to poor visibility, above treeline terrain was mostly inaccessible. We dug a pit near treeline on an easterly aspect, in an area with no wind effect. Moderate to hard, non-planar failures (ECTN22/CT15) were induced about 20 inches down from the surface, at a density change interface. This weak layer was stubborn to trigger.
Wind blowing snow was non-existent near and below treeline, however wind speeds recorded from Gray Butte weather station indicated otherwise, with steady SW-W-NW winds blowing for most of the day. Plenty of snow remains available for transport above treeline and this was likely the case up high.
Near and below treeline, the freezing fog has created a half inch zipper crust of sort with soft (fist hard) snow below. Overall, the snowpack soaked up the moisture laden atmosphere today and while some dryer snow can be found at upper elevations, lower elevations is mashed tater-like. 
Observation Location: South Side Mt Shasta, Old McCloud Road to Old Ski Bowl via Power Lines
Elevation: Town to 8,500 feet
Date: 20211223
Time: 1600
Observer: Meyers
Sky Conditions: Obscured (X)]
Current Precipitation: Type - SN, Rate - S-1
Air Temperature: 25 °F
Surface Penetration: 1 - 2 feet boot penetration
Total Snow Depth (HS): 69 in (175 cm)
24-hour New Snow Depth (HN24): 4-6 in (10-15 cm)
24-hour New Snow Water Equivalent (HN24W):  .45 in
Wind Direction: SW | W | NW 
Wind Speed: Light (L) below and near treeline; Moderate (M) / Strong (S) above treeline
Column & Block Tests:

Slope Angle & Aspect: 25º, E
ECT[N|[22] ↓ [20] in (50 cm)
CT[12] [BRK] ↓ [20] in (50 cm)
Photos
Weather Observations
Statistics
Cloud Cover:
100% of the sky covered by clouds
Precipitation:
Mixed rain and snow
Accumulation rate:
Less than 1 in. per hour
Air temperature:
Below Freezing
Air temperature trend:
Cooling