You are here
New Snow, Storm Slabs - Gray Butte / Mt Shasta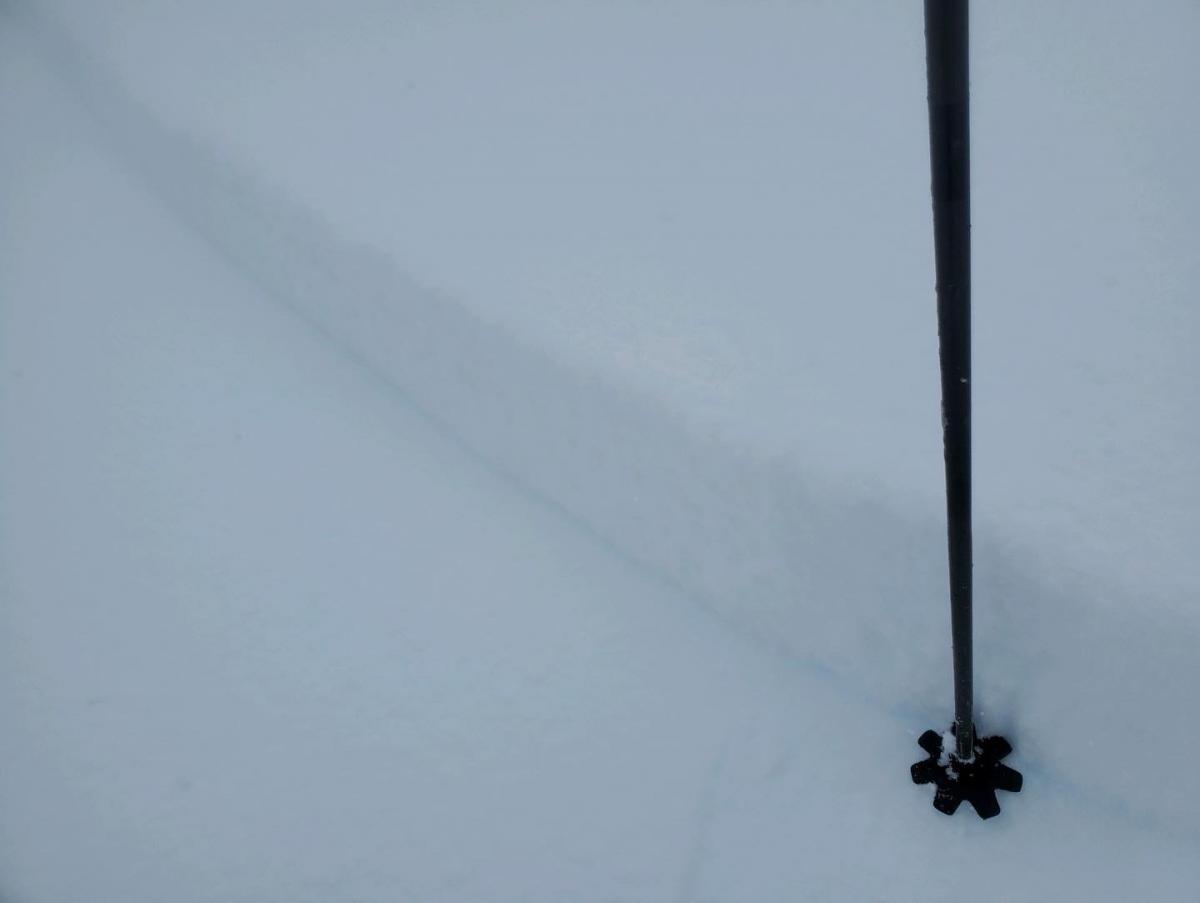 Location Name:
Mount Shasta
Date and time of observation:
Tue, 01/10/2023 - 4:00pm
Observation made by:
Forecaster
Red Flags:
Recent avalanche activity
Whumphing noises, shooting cracks, or collapsing
Recent loading by new snow, wind, or rain
Location Map
96067
Mount Shasta
,
CA
United States
41° 20' 57.7176" N, 122° 11' 33.0576" W
California US
Snowpack Observations
Details
After a 20-hour break in precipitation, yet another wave of wintry weather rolled in early today and brought a quick four to nine inches of new snow over a 12-hour period on Mt Shasta and Gray Butte. It was accompanied by SSE winds averaging 14 mi/hr. Storm slabs below and near treeline saw a quick spike in avalanche danger this morning. Shallow slabs easily sliced off a few small test slopes during the AM hours. By the afternoon, the snow already began to settle, visible by fresh settlement cracks around trees. Storm slabs were unreactive in the late afternoon. Near and above treeline, wind slabs are still a thing, and we're sensitive to cracking. Visibility was very poor. Ski and snow quality was exquisite. Red flags of avalanche danger were more subtle today, though still out there. The snow level hovered around 4,000 feet.

An older recent avalanche on the skiers left side of the west face of Gray Butte was found. This slide path isn't huge, but a frequent flyer with tree-sifted wind loading and a convex rollover over start zone of 38 degrees. If caught in this slide path, your chance of being wrapped around a tree is 100%. We will see spikes in avalanche danger with the continued storm jamboree impacting California. Stay on your toes out there.
Observation Location: Gray Butte
Elevation: 8,000 feet
Date: 20230110
Time: 1400-1630
Observer: Meyers, Anderson, Malee
Sky Conditions: Obscured (X) - heavy fog, whiteout, flat light, no visibility
Current Precipitation: Type - SN, Rate - S-1
Air Temperature:  29°F
Surface Penetration: Ski penetration (PS) = 2-4 in / boot penetration (PF) = 2 ft 
Total Snow Depth (HS): 137 in
24-hour New Snow Depth (HN24): 4-9 in 
24-hour New Snow Water Equivalent (HN24W): .82 in
Wind Direction: SE | S 
Wind Speed: Moderate (M), 17-25 mi/hr, small trees sway
Photos
Weather Observations
Details
Weather data from the last 24-hours, Gray Butte/Old Ski Bowl combined: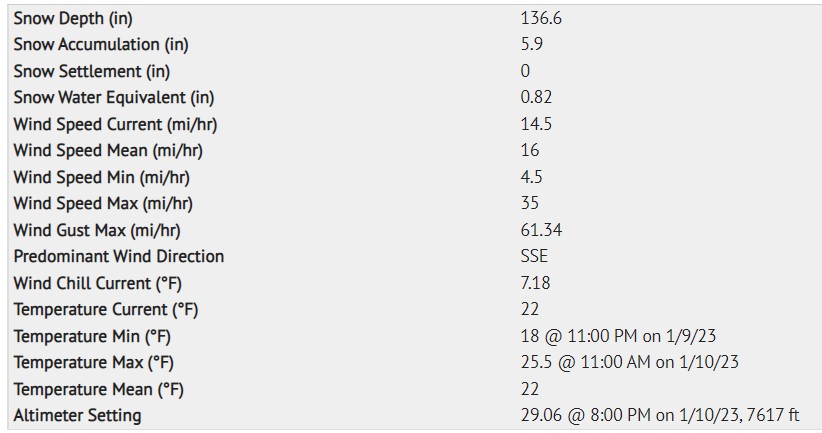 Statistics
Cloud Cover:
100% of the sky covered by clouds
Accumulation rate:
Less than 1 in. per hour
Air temperature:
Below Freezing
Air temperature trend:
Static
Wind Direction:
Southeast