You are here
New Years Eve - South Side Mt. Shasta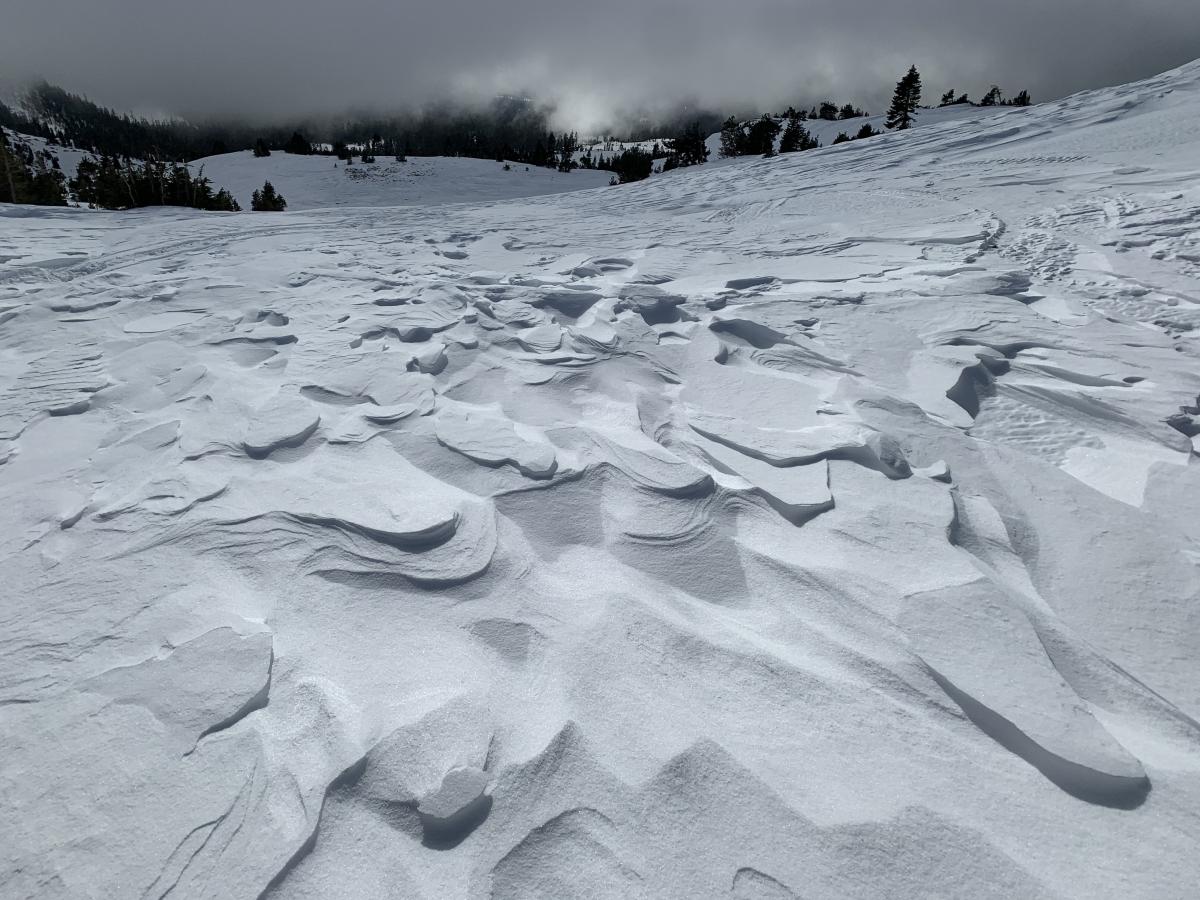 Location Name:
Mt. Shasta via Bunny Flat
Date and time of observation:
Thu, 12/31/2020 - 2:30pm
Observation made by:
Forecaster
Red Flags:
Recent loading by new snow, wind, or rain
Location Map
96067
Mount Shasta
,
CA
United States
41° 22' 2.7012" N, 122° 12' 6.6852" W
California US
Snowpack Observations
Details
... An afternoon snowmobile mission to the Old Ski Bowl to look at post storm conditions and install orange snowmobile boundary poles. This morning, Mt. Shasta was near the tail end of a 36-hour west/northwest wind event, with max gusts to 55 mi/hr. The 2-3 inches fresh snow overnight could be seen reeling off to the southeast early this morning from Mt. Shasta City. By late morning, the white, freshly coated mountain was back to salt and pepper. Rocks dominate most of the larger avalanche path starting zones on the mountain. Any avalanche activity would be localized to micro terrain. 
Observation Location: South Side - Old Ski Bowl 
Elevation: Up to 9,200 feet
Date: 20201231
Time: Afternoon hours
Observer: Nick Meyers
Sky Conditions: Scattered (SCT) 
Current Precipitation: NO 
Air Temperature: 26 °F at 1400 / Mean last 24 hrs: 22.5 °F
Surface Penetration: Not measured
Total Snow Depth (HS): ~29 in / 11.5 cm below-near treeline, less above treeline.
24-hour New Snow Depth (HN24): 2-3 in / 5-7 cm
24-hour New Snow Water Equivalent (HN24W):  0.28"
Wind Direction: W/NW until 1000 hrs, becoming calm and variable
Wind Speed: 12 mi/hr mean over last 3 days, max 55 mi/hr
Column & Block Tests: ECTN23@35 cm down / CT18@35 cm  -  Both non-planar breaks
Above treeline on Mt. Shasta, the wind has laid waste. See photos to check out what nearly 36 hours of W/NW wind will do to a snowpack. The couple inches of fresh snow overnight blew off the mountain. Some of it loaded onto low angle, southwesterly sides of moraines (photos). Drifts 1-2 feet deep were measured, sitting on top of old, crusty snow. An early morning observation noted minor cracking within small wind slabs on low angle terrain, Green Butte ridge, near treeline (see photo). Stability tests in the Old Ski Bowl found fist hard slabs requiring hard force to fail, with poor sheer quality and propagation. Major slide path starting zones are still devoid of snow.

Winds ceased completely mid-morning and nearly dead still conditions were experienced for the latter half of the day at mid-mountain elevations.

Near and below treeline observed minimal wind effect. Sliding/riding conditions were good, though shallow snow conditions persevere.  Gullies are the go-to for max snow depth and minimal wind-hammered snow. The deepest snow we've measure tops 35 inches, but not by much.
Photos
Weather Observations
Statistics
Cloud Cover:
50% of the sky covered by clouds
Air temperature:
Below Freezing
Air temperature trend:
Static
Wind Direction:
Northwest