You are here
Northgate Trailhead is OPEN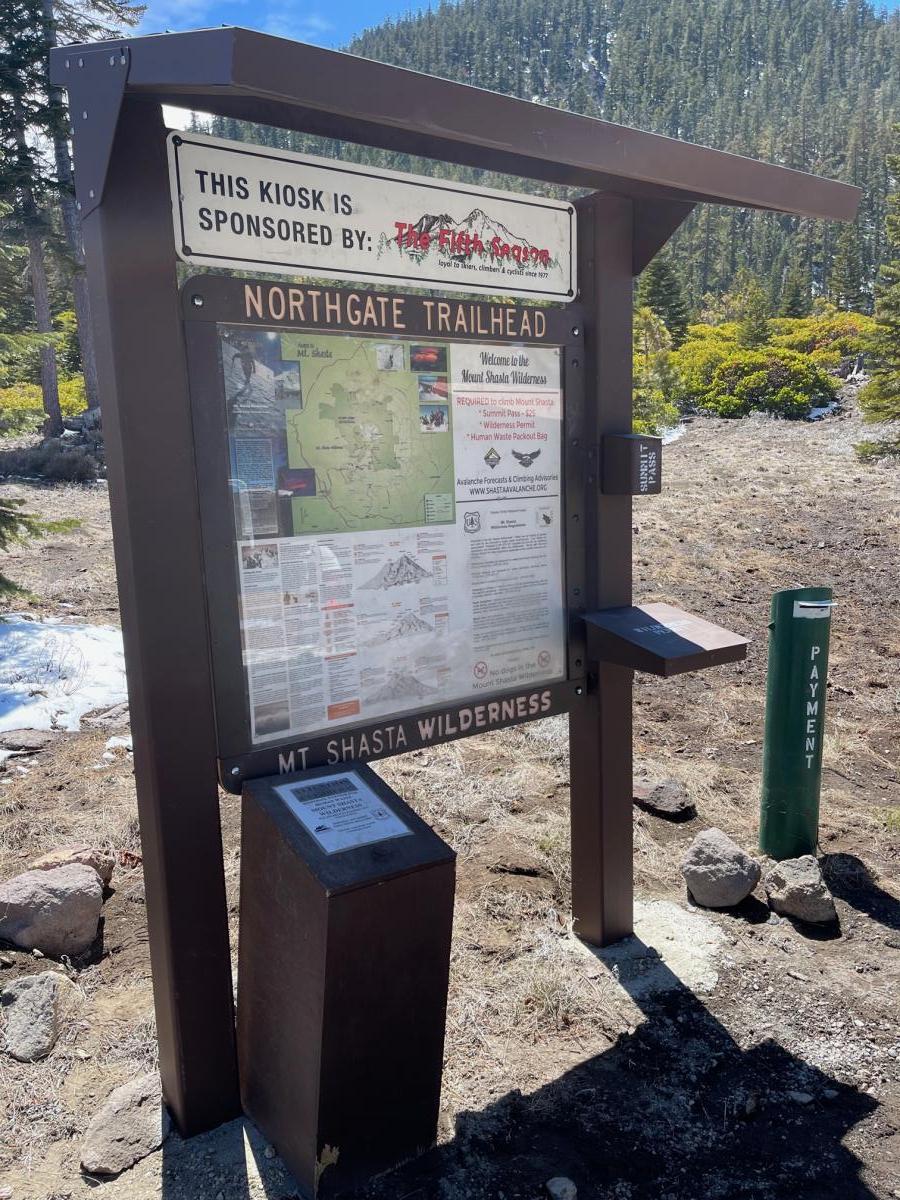 Date and time of observation:
Sat, 04/30/2022 - 3:30pm
Observation made by:
Climbing Ranger
Location Map
96067
Mount Shasta
,
CA
United States
41° 28' 6.9096" N, 122° 10' 26.3172" W
California US
Snowpack Observations
Details
Northside Update - 4.30.22 - Meyers
The Northgate trailhead is open and one can drive all the way in. A moderate to high clearance vehicle is recommended, especially for the last 4 miles. Four wheel drive isn't mandatory, unless any fresh snow falls this spring. Military Pass is still closed, so access is only from the highway 97. You cannot drive through to, or approach from, highway 89. 
Spoke to one group of skiers headed up yesterday (4.29) to climb and ski the Hotlum Glacier. We will see how their trip went and post some photos if they share. This is likely the first climbing group of the season to head up onto the mountain from this trailhead. 
Rangers have been viewing the routes on the north side from afar. Coverage is decent, though the north side is notoriously windy and also the rain shadow of the mountain...so it doesn't get nearly as much snow as the south and east sides. Numerous icy patches are visible on the Hotlum, Bolam and Whitney glaciers. The routes on this side of the mountain are not for novices and should be taken seriously. The icy patches are absolutely no fall zones. Fatalities have occurred from climbers slipping and falling on water ice. Self-arrest is very difficult, even for a seasoned pro. Either don't fall, or rope up.
Route finding, especially in limited visibility conditions, is more serious on the northside. Know your route, carry navigation tools and don't climb into a whiteout. The consequences of getting lost in glaciated terrain are much higher than on the south side.
There is no snow at the trailhead currently, so plan on walking a mile or two before more consistent snow is gained. It's unknown if there is flowing water at the usual 9,700 foot camp. Our guess is that it's not flowing.
Many have been asking about the Brewer Creek trailhead and routes, mainly the Hotlum/Wintun. The Brewer TH is still closed and has 10 miles of snow covered roads for the approach. To boot, a mudflow washed out the road a few miles before the trailhead last fall. The road was fixed, and then it washed out again. Mother Nature rules. So... either way, the Brewer TH is compromised until further notice. The road is a priority to fix this spring. All said, it is possible to ski the Hotlum/Wintun route from the Northgate trailhead, but very roundabout. A long traverse to and from is required. This traverse is snow and rock, skis on-skis off, skis on-skis off. The northside is generally not known for good skiing, but it is possible and now is the time. We hope you score!
Open trailheads on Mt Shasta have all the required items to climb the mountain. This includes: A summit pass ($25 - cash or check), wilderness permit (free) and WAG bag, also free. You can self issue these items at any open trailhead, 24/7. Trash and restroom services are available, too. Deposit your FULL human waste bags into the RED barrels. Know that it is REQUIRED to packout your human waste within the Mt. Shasta Wilderness. 
Safety and sanitation are two of our top management priorities. This applies not only to Mt. Shasta, but to any public lands. Responsible recreation is a thing, folks. Recreation is booming. Lead by example. Preserve these natural places you love so others can enjoy for the same reasons you do. Be safe, be clean, slow is smooth, smooth is fast! Happy climbing.
Photos
Weather Observations
Statistics