You are here
Old McCloud road to Old Ski Bowl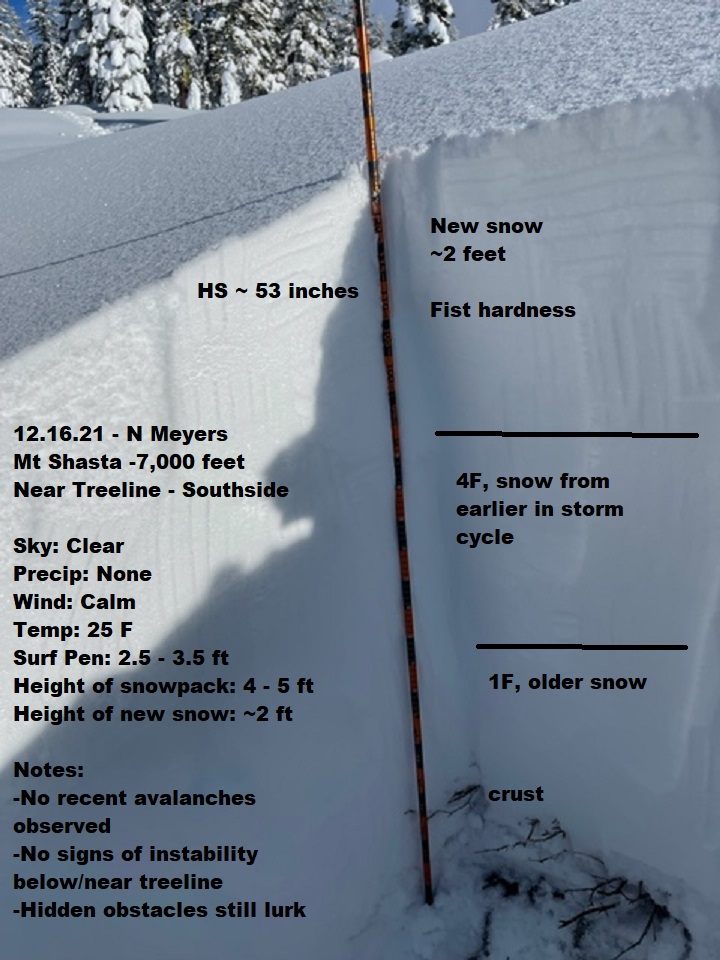 Location Name:
Mount Shasta
Date and time of observation:
Thu, 12/16/2021 - 11:30am
Observation made by:
Forecaster
Red Flags:
Recent loading by new snow, wind, or rain
Location Map
96067
Mount Shasta
,
CA
United States
41° 21' 9.4068" N, 122° 12' 28.0728" W
California US
Snowpack Observations
Details
Today's mission involved snow stability assessment and weather station repair. The Old Ski Bowl weather station went offline recently during the storm due to a radio communication malfunction. We are happy to report the repair mission was successful, and the weather station is back online!
Snow, weather and avalanche speaking, today was a clearing day, the day after the storm(s). The season opening storm cycle that began on 12/11/21, brought 48 inches of snow at treeline on Mt. Shasta.  That's 4 feet, and in some wind loaded areas, more. A brief hiatus in the storms took place late on the 13th, but then kicked back in on the evening of the 15th. Superb, southerly flow turned on the Shasta snow machine for the tail end of the cycle and brought 1-2 feet of additional, low density snow. 
Prior to all of this, most of the Shasta area had little to no snowpack, so yes, we've gone from zero to hero. The only areas that held any notable snowpack prior to this storm cycle was above 8,500 feet on Shasta itself. Now, we are in winter mode and while many obstacles are still just barely hidden, most everything is well covered. With a little settlement, we should be looking pretty good for the season. And with next week looking stormy, the stoke is high. For the next day or so, be careful carving too deep on your sled or skis as hard, hidden objects still lurk in the low density, bottomless snowpack. All the new snow is...DEEP.
No recent avalanches or signs of danger were observed today. Much of the snowpack has good anchoring from earthly objects still. Several inches of settlement has already occurred with a little low angle, California sun today. This will continue tomorrow with the warm-up expected. Avalanche danger will continue to diminish in most areas. Remain attentive for steep, wind loaded areas if you venture above treeline.
Observation Location: Southside Mt. Shasta, Near Treeline
Elevation: 7,000 feet
Date: 20211216
Time: 1530
Observer: N Meyers
Sky Conditions:Few (FEW) 
Current Precipitation: NO 
Air Temperature: 25 °F
Surface Penetration: Boot penetration (PF) = 3-4 ft
Total Snow Depth (HS): 4-5 ft
24-hour New Snow Depth (HN24): ~ 2 ft
24-hour New Snow Water Equivalent (HN24W): n/a
Wind Direction: S | SW  --> W | NW
Wind Speed: Calm below treeline, light gusts near treeline and moderate to strong wind above treeline
Column & Block Tests: No notable results, poor slab properties, right side up snowpack
Photos
Weather Observations
Statistics
Air temperature:
Below Freezing
Air temperature trend:
Warming