You are here
Old Ski Bowl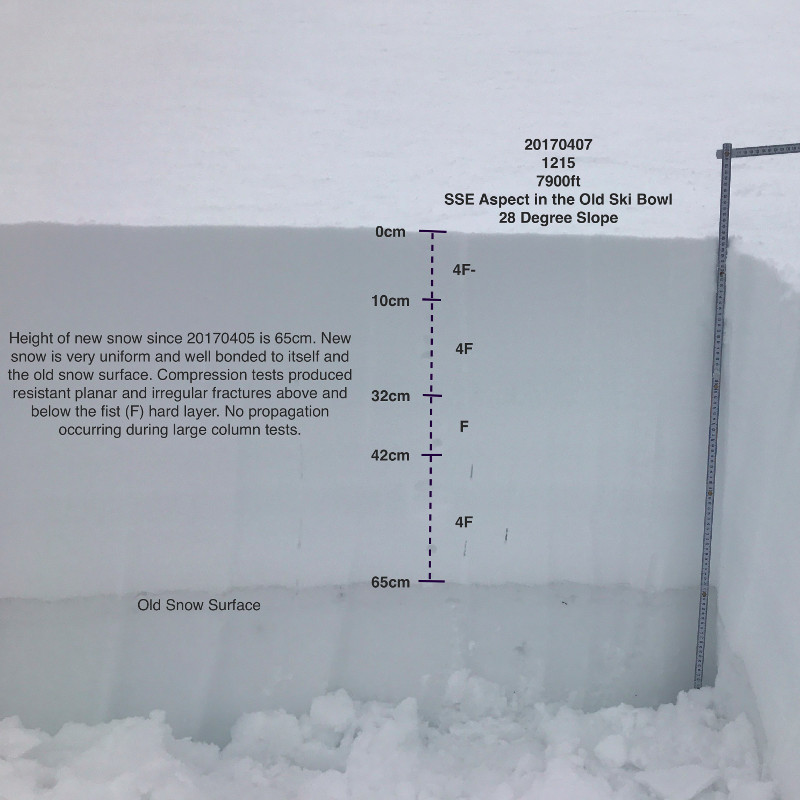 Location Name:
Old Ski Bowl
Date and time of observation:
Fri, 04/07/2017 - 7:15pm
Observation made by:
Forecaster
Red Flags:
Recent loading by new snow, wind, or rain
Location Map
United States
41° 21' 48.2796" N, 122° 12' 26.514" W
US
Snowpack Observations
Details
The height of new snow that has fallen over the past 48 hours totals 26 inches (65cm). The new snow has bonded well to the old snow surface and to itself. No avalanches, shooting cracks, or whumphs were observed during a ride from Sand Flat to 8000ft in the Old Ski Bowl. Several density breaks exist within the new snow, but no storm layers produced concerning results in stability tests. Compression tests produced resistant planar and irregular fractures within the storm snow, while extended column tests did not produce propagation. Recent winds have significantly affected snow surfaces, and wind slabs several feet thick were observed near and above treeline. 
Snow Pit Photos
Weather Observations
Details
Visibility steadily improved between 10am and 2pm, although the sky was mostly obscured throughout the day with intermittent snowfall. Winds were moderate with strong gusts, predominately blowing out of the south.
Statistics
Cloud Cover:
75% of the sky covered by clouds
Accumulation rate:
Less than 1 in. per hour
Air temperature:
Below Freezing
Air temperature trend:
Static