You are here
Old Ski Bowl to 10k feet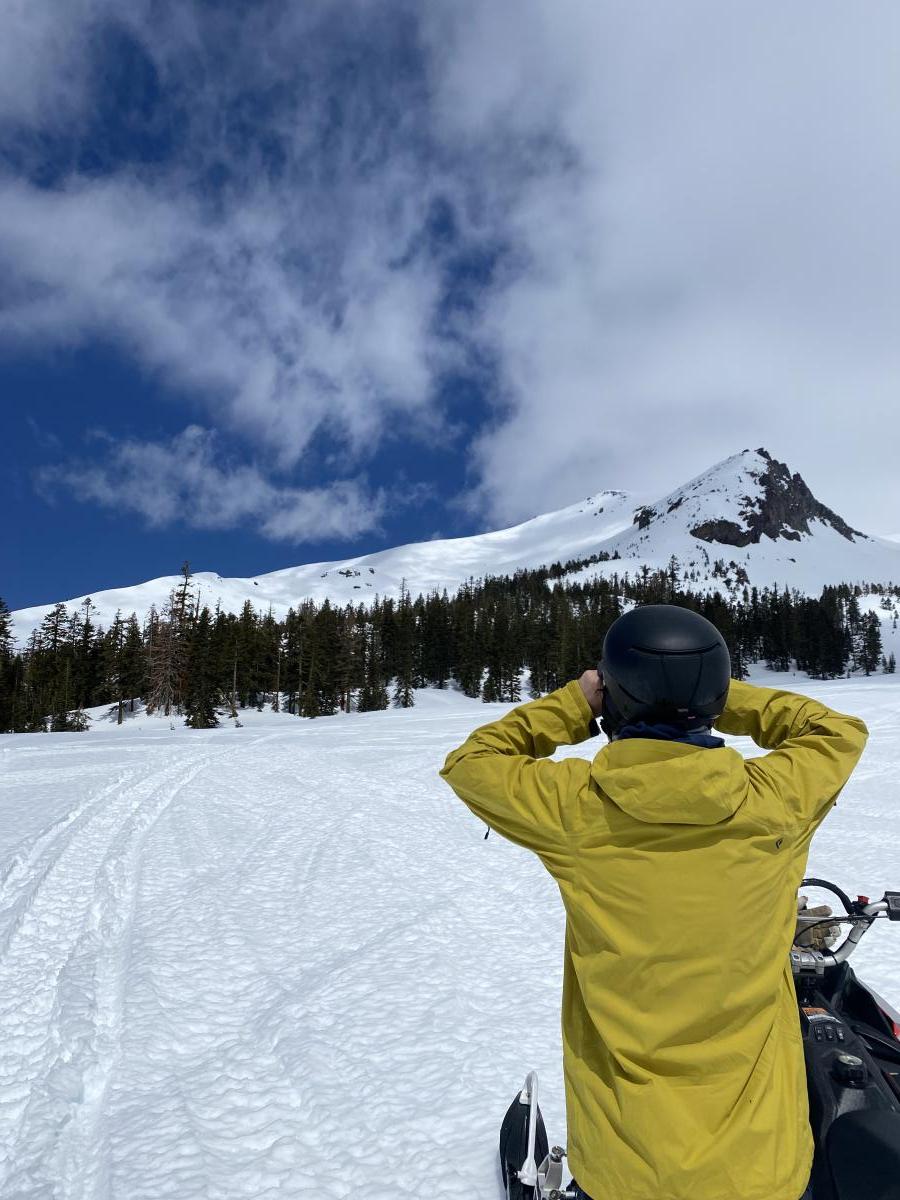 Location Name:
Old Ski Bowl
Date and time of observation:
Wed, 04/12/2023 - 11:00am
Observation made by:
Forecaster
Red Flags:
Recent avalanche activity
Rapid warming
Location Map
96067
Mount Shasta
,
CA
United States
41° 23' 6.792" N, 122° 12' 27.234" W
California US
Snowpack Observations
Details
Birds are chirping, the sun is shining, and all of a sudden everyone wants to know the conditions up high on the mountain. All of that can only mean one thing...it's almost climbing season on Mt Shasta! Today we decided to get as high as access would reasonably allow, in order to check out how things are looking for the folks planning to ascend in the near future.
On the way up, and you're going to find this shocking, the snow was extremely sun-affected. The last few days have seen springtime conditions for our forecast zone, and the snowpack has certainly taken notice. As we approached the Old Ski Bowl we started to move up into the clouds. At about 8,500 feet, there was a significant temperature inversion that persisted as far up as we explored today. The clouds lingering up on the mountain are creating a nice greenhouse effect that made things quite balmy.
Evidence of loose wet slides from the past few days was all around. Point releases can be seen from nearly every exposed rock surface with a proper slope angle. Though we saw a day of cooler weather, expect these to pick back up in the next few days.
Throughout OSB and what the clouds allowed us to see of Avalanche Gulch, uniform cornices adorn any NE-facing ridgelines. The steady SW winds of the past couple days have built these up everywhere we saw. With cornices and rising temperatures, it's not a matter of if, but when these choose to fall. The nice thing about cornices, they're relatively easy to predict which direction they're going to fall. (hint: down) Keep a watchful eye when traveling on or underneath ridgelines over the next few days, and possibly even weeks!
This Saturday, April 15th, is the Mount Shasta Avalanche Center end of season Community Appreciation Party! Join us at Spring Hill Nursery and Gardens from 4-7 pm for drinks, food, and live music. And it's free!
Observation Location: Green Butte Ridge, between OSB and Avy Gulch
Elevation: ~10,000 feet
Date: 20230412
Time: 1100 - 1330
Observer: Casey G
Sky Conditions: Overcast
Surface Penetration: Ski penetration (PS) = 0-1 in boot penetration (PF) = 1 in
24-hour New Snow Depth (HN24): 0 in)
Wind Direction: SW
Wind Speed: Light
Photos
Weather Observations
Statistics
Cloud Cover:
75% of the sky covered by clouds
Air temperature:
Above Freezing
Air temperature trend:
Warming
Wind Direction:
Southwest