You are here
Old Ski Bowl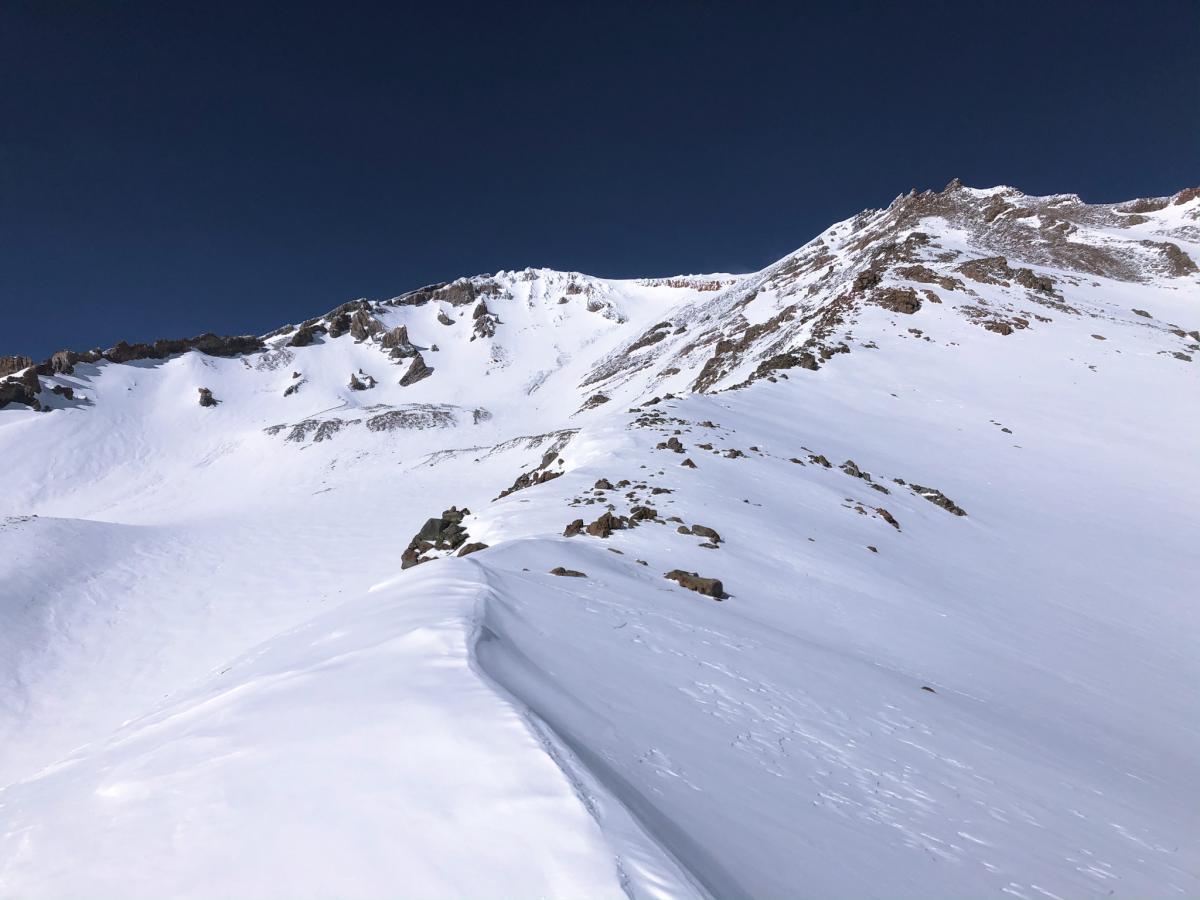 Location Name:
Old Ski Bowl
Date and time of observation:
Tue, 03/10/2020 - 4:00pm
Observation made by:
Forecaster
Location Map
96067
CA
United States
41° 22' 57.3816" N, 122° 12' 24.7392" W
California US
Snowpack Observations
Details
Conditions In Old Ski Bowl, Southside of Mount Shasta:
DATE: February 14, 2020 (20200215)
TIME: 1430 hrs
OBSERVER: Sorenson
LOCATION: Old Ski Bowl
SKY CONDITION: Clear
PRECIPITATION TYPE/RATE: None
BLOWING SNOW: None
AIR TEMPERATURE: 37 deg F
SURFACE PENETRABILITY: 2-5 inches (5-12 cm) 
WIND: Calm - Light SE at 9,600 feet
HEIGHT OF SNOWPACK (HS):

7,300 feet ~ 65 inches (165 cm) 
8,600 feet ~74 inches (190 cm)

9,600 feet ~65 inches (165 cm)
Snow surface conditions are smooth, however variable at all elevations. Below treeline snow surfaces are mostly moist and soft.  Above 9,000 feet, snow surfaces transition to a mix of breakable crusts with pockets of soft snow.  A small D1 loose wet avalanche has slid in Powder Bowl on Green Butte's southeast aspect. This natural avalanche (WL-N-R1-D1) likely released today during the warm afternoon temperatures. Intense solar radiation often will weaken snow surfaces. As we move further into spring and the sun tracks higher in the sky concern for loose wet avalanches increases. 
Photos
Weather Observations
Statistics
Air temperature:
Above Freezing
Air temperature trend:
Warming
Wind Direction:
Southeast