You are here
Old Ski Bowl and Beyond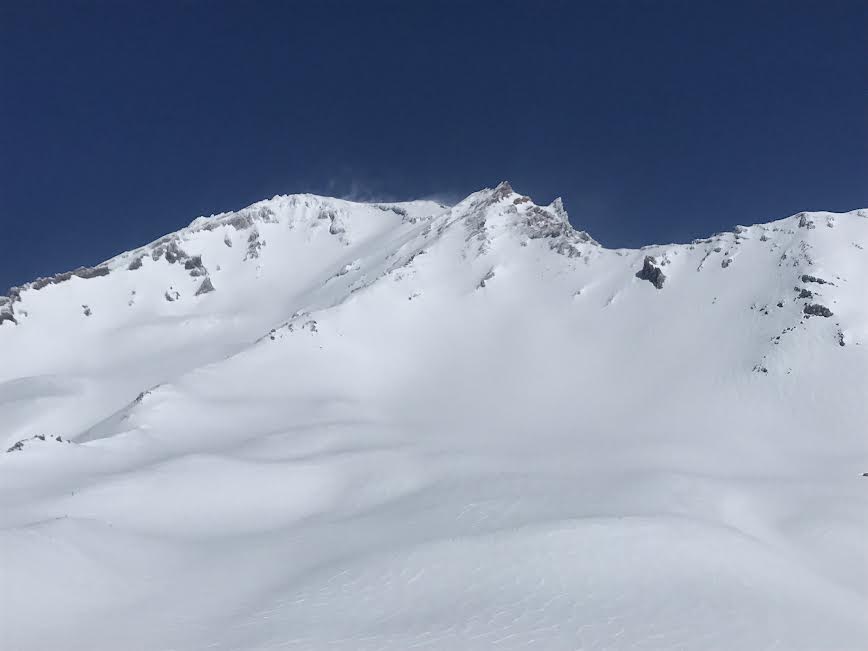 Location Name:
Old Ski Bowl
Date and time of observation:
Mon, 03/20/2023 - 12:05pm
Observation made by:
Forecaster
Red Flags:
Recent avalanche activity
Whumphing noises, shooting cracks, or collapsing
Recent loading by new snow, wind, or rain
Location Map
96067
Mount Shasta
,
CA
United States
41° 22' 21.6984" N, 122° 12' 37.26" W
California US
Snowpack Observations
Details
Today's clear skies and fair weather lead me to the Old Ski Bowl and beyond. My goal was to observe snow surfaces and conditions on the upper mountain.
Once above treeline two small storm slab avalanches were observed. The first, observed off the Saint Germane ridgeline on an east aspect. The second occurred off the south face of Green Butte. Both involved the new snow and were small in size.
Wind effects in the form of wind ripples and textured surfaces were observed on all aspects near and above treeline. A west and northwest wind blew at light to moderate speeds. Large snow plumes were seen sailing off the upper mountain for the majority of the day. The snow was wind tampered but not remarkably hard or dense. Skis and a snowmobile held purchase very well. Wind was observed blowing snow onto leeward slopes, with no direct signs or encounters of wind slabs. Beneath the snow a very supportable crust, 5 cm thick and pencil hard exists. The old snow and crust interface failed upon isolation during a CT test. This crust exists on all aspects, although it is significantly less pronounced on northerly shady aspects. In areas where the snow has been drifted or a change in micro aspect, the presence of this crust is more variable. This crust lives anywhere from 5,000 feet to 8,500 feet. Below treeline the snowpack is starting to become more homogenous. This morning the snow was frozen rock hard and by mid-day it was soft and moist. Even with the sun shinning high and bright, temperatures remained cold with a brisk wind chill. No signs of wet-loose activity or other instabilities were observed.
Observation Location: Green Butte
Elevation: 8,400 feet
Date: 203.03.20
Time: 1200
Observer: E.Falconer
Sky Conditions: Clear (CLR) | Few (FEW) 
Current Precipitation: Type - NO
Air Temperature: 30 °F
Surface Penetration: Ski penetration (PS) = [?] in ([?] cm), boot penetration (PF) = [?] in ([?] cm)
Total Snow Depth (HS): 191 in (485 cm)
Wind Direction: W, NW
Wind Speed: Light (L), 1-16 mi/hr, twigs in motion | Moderate (M), 17-25 mi/hr, small trees sway Column & Block Tests:

Slope Angle & Aspect 25º/ S-SE
CTV -↓9 in (19 cm)
Photos
Weather Observations
Statistics
Cloud Cover:
25% of the sky covered by clouds
Air temperature:
Below Freezing
Air temperature trend:
Warming
Wind Direction:
Northwest