You are here
Old Ski Bowl - Approaching Weather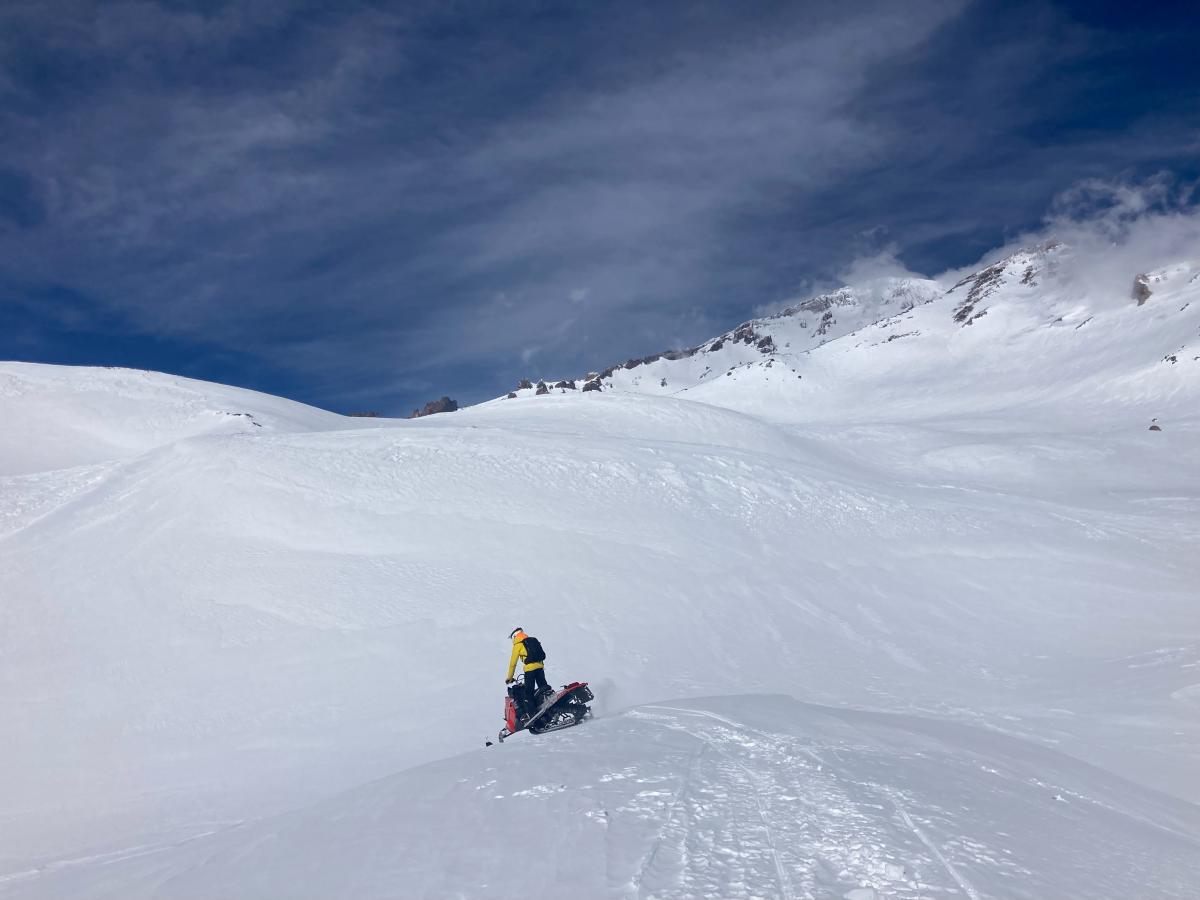 Location Name:
Old Ski Bowl
Date and time of observation:
Fri, 02/10/2023 - 1:00pm
Observation made by:
Forecaster
Location Map
96067
Mount Shasta
,
CA
United States
41° 22' 37.2216" N, 122° 12' 17.784" W
California US
Snowpack Observations
Details
With some weather expected overnight through tomorrow, Nick and I chose to assess the Old Ski Bowl for current surface and wind conditions.
Below and near treeline, wind was light to calm with no wind effect on the surface. Surprisingly soft snow could be found in the trees, while open areas had a surface sun crust.
Above treeline, surface conditions were expectedly variable. Large sections of ice, sastrugi, and wind deposited snow could be found across the upper Old Ski Bowl. Snowmobile penetration ranged from 4 inches of wind effected snow to no penetration on ice. Wind was light out of the south. 
Visibility changed quickly during the day. Clouds passed through, obscuring any visibility in the Old Ski Bowl, and later clearing to blue skys with excellent visibility of the upper mountain.
Clouds could be seen developing to the west, with some possible precipitation over the Eddy Mountains. 
No signs of snowpack instability were observed.
Observation Location: Old Ski Bowl
Elevation: 9,000 feet
Date: 20230210
Time: 1300
Observer: S. Clairmont and N. Meyers
Sky Conditions: Broken (BKN)
Current Precipitation: Type - NO
Air Temperature: 23 °F
Surface Penetration: Snowmobile penetration = 0 - 4 in (0 - 10 cm)
Total Snow Depth (HS): 129 in (328 cm)
24-hour New Snow Depth (HN24): 0 in (0 cm)
Wind Direction: SE
Wind Speed: Light (L), 1-16 mi/hr, twigs in motion
Photos
Weather Observations
Statistics
Cloud Cover:
75% of the sky covered by clouds
Air temperature:
Below Freezing
Air temperature trend:
Cooling
Wind Direction:
Southeast