You are here
Old Ski Bowl, Green Butte Ridge, Trinity Chutes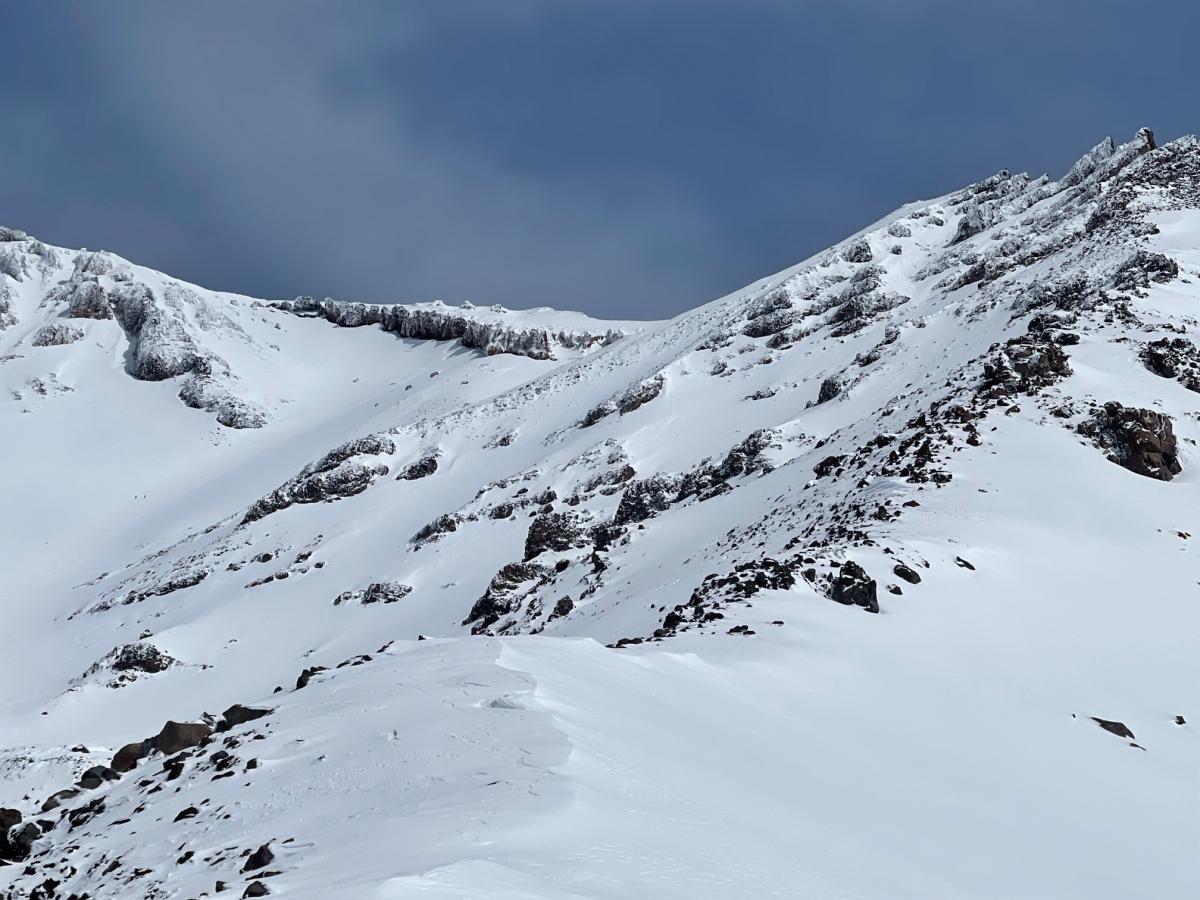 Location Name:
Mount Shasta
Date and time of observation:
Sat, 04/23/2022 - 1:30pm
Observation made by:
Climbing Ranger
Location Map
96067
Mount Shasta
,
CA
United States
41° 23' 11.0148" N, 122° 12' 23.2308" W
California US
Snowpack Observations
Details
4.23.22 @ 1700 hours

Meyers
A warm day with full sun. A crust has formed on the snowpack at lower elevations, perhaps on sunny upper elevation slopes too, by tomorrow. The crust softened eventually today, and some good skiing could be found. One will have to play the time of day and aspect game with a little more strategy from here on out, to find good snow. Coverage is great considering what we had. It's still a skiers mountain at the moment; post-holing is seriously difficult. One climbing team made it to just above Redbanks. We have not heard of anyone making it to the summit...that doesn't mean it didn't happen. It looked windy up high, blowing snow was visible from lower on the mountain. A decent boot pack is developing from the trailhead up to Horse Camp, Helen Lake and Thumb Rock. I still wouldn't count on it to keep you on top of the snow. Flotation of any kind is recommended.
Think of all the new snow as a cake. Cook that cake nice and warm, and it will consolidate fairly quickly. Cooler temps, wind, shady aspects...the snow will consolidate slower. Today was warm and a good bit of consolidation took place. That said, I was still sinking in calf to knee-deep at 10,000 feet on Green Butte Ridge. This is the case elsewhere on the mountain, too. Expect another couple of days at the least before the snow surface is even close to supportable. 
Rockfall is not an issue right now, but rime ice is plastered to Redbanks, the Trinity Chutes, etc. These chunks will flake off in the coming days, be careful, wear a helmet. 
The area has been getting a little cloud build up in the afternoon the past several days. This time of year, the weather is squirrelly as hell. We observe climbers ascend when it's clear and then get lost on the upper mountain when visibility goes away. Keep an eye to the sky, carry navigation tools and know where you are going. A little puff of clouds might not seem like a big deal, but climbers become lost and descend the wrong side of the mountain in such conditions every year.
No large avalanches have been observed or reported. A decent size natural wind slab (D2) was observed today off the east side of Green Butte, above treeline terrain, but this was a couple of days old and likely occurred during the storm last week.
Keep in mind loose wet avalanches, especially on these warm days. Large loose wets have started in the Trinity Chutes area and ran all the way down into climbers gully before. Fresh snow, warm temps, calm wind, early to mid-afternoon is a good recipe.
The mountain is looking spectacular and conditions are great, aside from the extreme soft snow for climbers without skis. Happy climbing!
Photos
Weather Observations
Details
Clear, sunny, warm, calm wind at lower elevations.
Statistics
Air temperature:
Above Freezing
Air temperature trend:
Warming