You are here
Old Ski Bowl Snowpack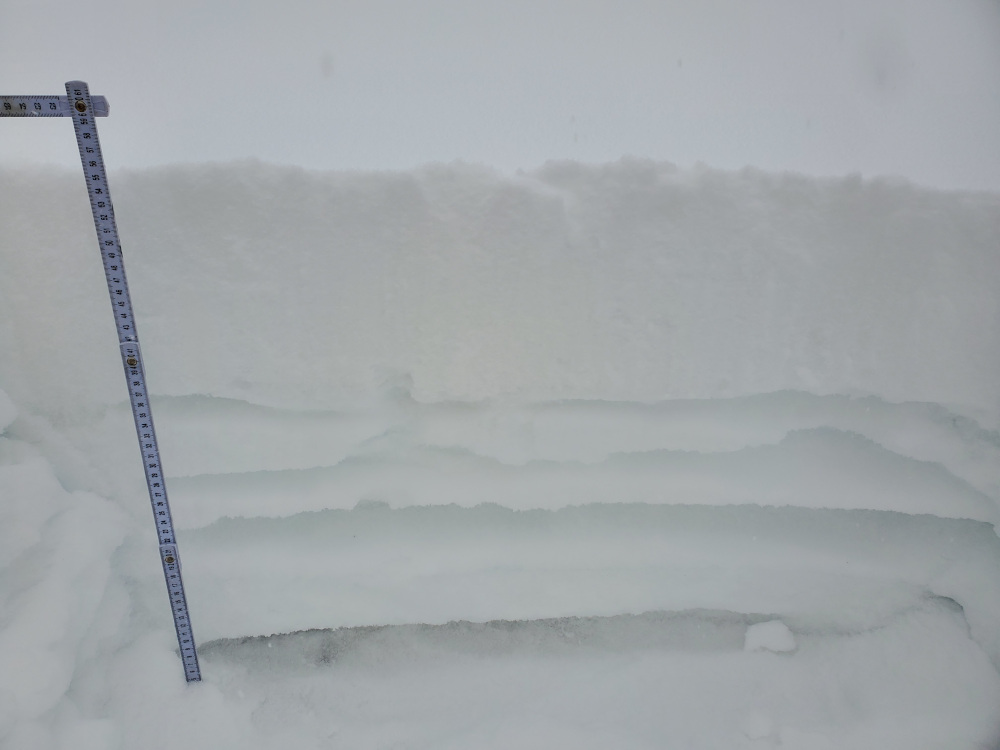 Location Name:
Old Ski Bowl
Date and time of observation:
Sun, 12/13/2020 - 2:00pm
Observation made by:
Forecaster
Location Map
96067
Mount Shasta
,
CA
United States
41° 21' 30.6972" N, 122° 12' 24.12" W
California US
Snowpack Observations
Details
Observations near the end of the storm at the base of the Old Ski Bowl:
Observation Location: Old Ski Bowl Weather Station
Elevation: 7,600 ft
Date: 20201214
Time: 1400
Observer: Aaron Beverly
Sky Conditions: Obscured (X)
Current Precipitation: Type - SN, Rate - S1
Air Temperature: 28 °F
Surface Penetration: PS - 20 cm (8 in)
Total Snow Depth (HS): 60 cm (23 in)
24-hour New Snow Depth (HN24): 15 cm (6 in)
24-hour New Snow Water Equivalent (HN24W): 0.6 in
Wind Direction: N/A
Wind Speed: Calm (C)
At the time of this observation, winds have been calm and there are no signs of wind affected snow or wind slabs, though there is around 8 inches of low density snow available for transport.
We have received around 8 inches of snow since Friday. This F hard snow sits atop the old snow pack left over from the November 17th storm. The old snow is a mix of crusts and layers of sugary faceted grains. These sugary layers will be important to monitor over the coming weeks as more weight is added to the snowpack. 
Photos
Weather Observations
Statistics
Cloud Cover:
100% of the sky covered by clouds
Accumulation rate:
Less than 1 in. per hour
Air temperature:
Below Freezing
Air temperature trend:
Static