You are here
Old Ski Bowl - Warm Up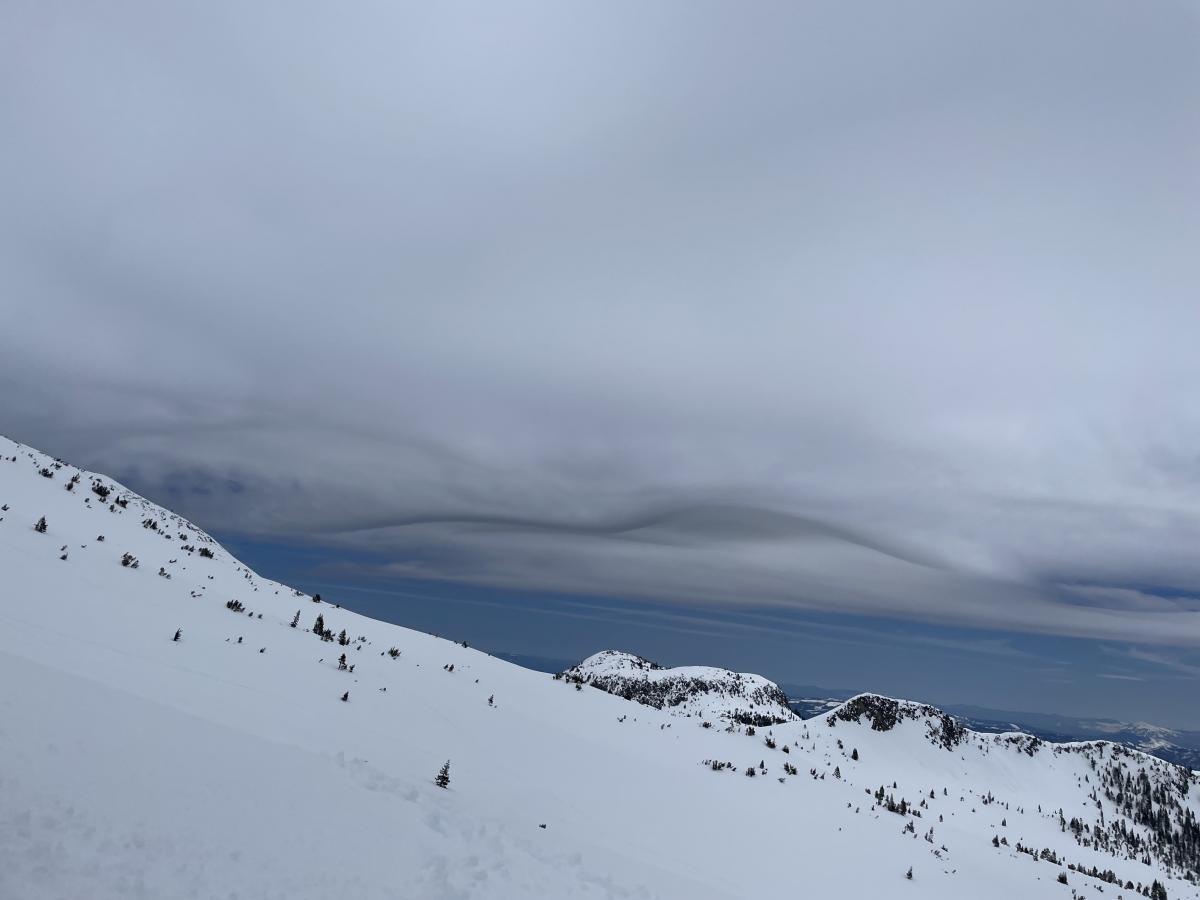 Location Name:
Old Ski Bowl
Date and time of observation:
Sun, 04/09/2023 - 2:00pm
Observation made by:
Forecaster
Location Map
96067
Mount Shasta
,
CA
United States
41° 21' 51.8976" N, 122° 11' 37.8168" W
California US
Snowpack Observations
Details
Observations from the Old Ski Bowl this afternoon

Weather Trends:
Winds remained calm to light out of the west below, near and above treeline, increasing to moderate and strong at higher elevations. Strong winds were observed above 8,500 feet. No wind transport could be seen.
The sky remained 75% obscured by clouds, with the majority of the clouds centered on Mount Shasta. Cloud level hovered around 9,000 feet. Wave clouds could be seen all around the mountain (today was a great day if you like looking at clouds). 
Temperatures were far above freezing. Gray Butte weather station recorded a temp of 46 degrees F at 2pm. 
​​Snowpack Observations:
At around 8,000 feet, boot penetration was around 30 cm. We measured about 6 inches of super saturated snow on top of 5 inches of light, and dry old snow. This all sits on top of a crust that developed prior to the April 6/7 storm.
Strong wind at higher elevations on Mount Shasta was helping to keep snow surface temps slightly cooler, resulting in a little less saturation than surrounding areas.
Roller balls were seen on all aspects in below and near treeline terrain.
A few natural wet loose avalanches were witnessed near treeline on northwest facing terrain.
A faint crown could be seen on the ridge of Powder bowl. The crown spanned the entire width of the bowl, with moderate amounts of debris in the runout. This avalanche was most likely a storm slab that released on Thursday night or Friday due to the recently fallen new snow.



 
Observation Location: Old Ski Bowl
Elevation: 8,000 feet
Date: 20230409
Time: 1400
Observer: S. Clairmont, E. Falconer
Sky Conditions: Broken (BKN)
Current Precipitation: NO
Air Temperature: 46 °F
Surface Penetration: boot penetration (PF) = 12 in (30 cm)
Total Snow Depth (HS): 200 in (508 cm)
24-hour New Snow Depth (HN24): 0 in (0 cm)
24-hour New Snow Water Equivalent (HN24W): 0 in (0 cm)
Wind Direction: W
Wind Speed: Light (L), 1-16 mi/hr, twigs in motion
Photos
Weather Observations
Statistics
Cloud Cover:
75% of the sky covered by clouds
Air temperature:
Above Freezing
Air temperature trend:
Warming