You are here
Out of Forecast Area: Mount Ashland, Old McDonald had some Facets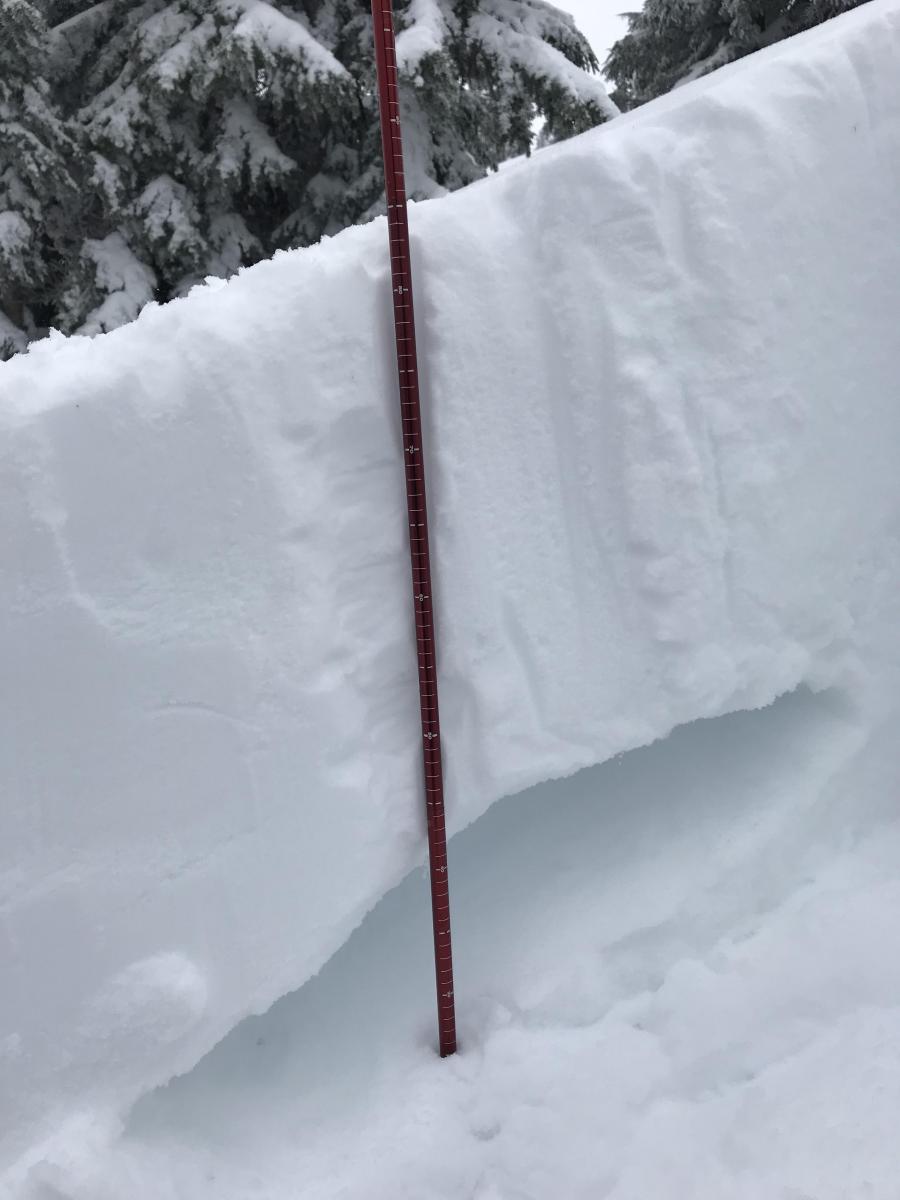 Location Name:
McDonald Peak
Region:
Outside of the Forecast Area
Date and time of observation:
Sun, 02/25/2018 - 7:11pm
Observation made by:
Public
Red Flags:
Recent loading by new snow, wind, or rain
Location Map
96067
Mount Shasta
,
CA
United States
42° 4' 59.8728" N, 122° 45' 11.772" W
California US
Snowpack Observations
Details
Prior to skiing off the summit of McDonald Peak we decided to take a look at the snowpack. At 7100' on a northeast facing slope we dug a pit and conducted a compression test. The total height of snow was 85cm. Most significant result was a CTMSCQ1 on a 15cm thick layer of facets buried by 45cm of new and wind-transported snow. We were able to dig into this layer in our observation wall with ease, pulling out handfuls of faceted snow. Unfortunately we could not conduct an ECT to test for propagation. Throughout the day we had seen no signs of recent avalanches, no whumping or shooting cracks, and no rapid warming. The wind was still light to moderate but no significant transport of snow. After discussion we decided to ski one at a time on a 28 degree slope about 30m from our pit. Another solo skier had skied a 30 degree slope in the same zone multiple times prior to our CT and yielded no results. We skied 2 laps on McDonald before departing this zone. We determined that our unseasonable shallow snowpack combined with well-below average temperatures is what drove the faceting. 
On a side note, on Saturday 2/24, Southern Oregon University's AIARE Level 1 course dug a pit on a North facing slope just west of Mount Ashland Ski Area at 7,000. The total height of snow was 140cm. We found a faceted layer at around 80cm down that yielded a CTHPCQ2. We assume that this faceted layer is the same layer we saw on McDonald.
Weather Observations
Statistics
Cloud Cover:
100% of the sky covered by clouds
Air temperature:
Below Freezing
Air temperature trend:
Static
Wind Direction:
Northwest