You are here
Parks Creek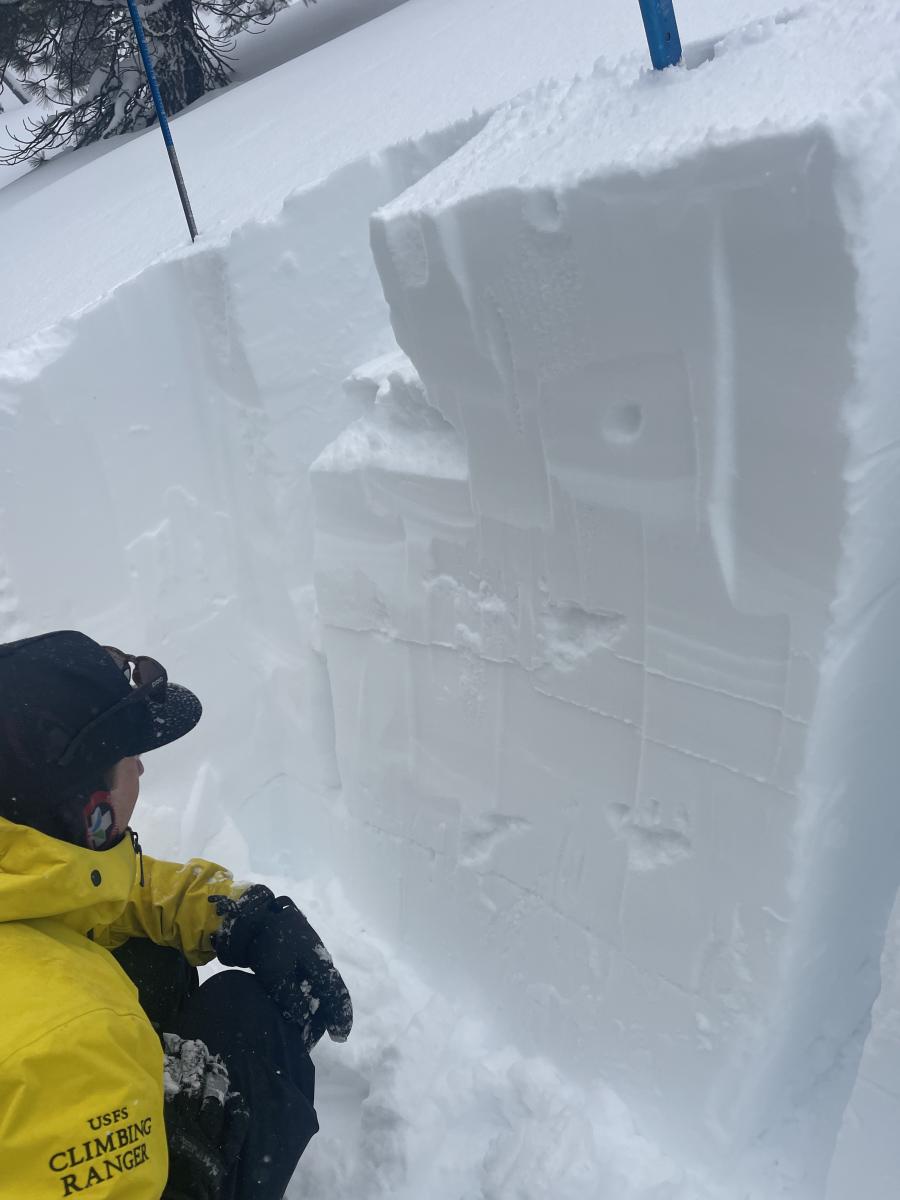 Location Name:
Eddy Mountains - Parks Creek
Date and time of observation:
Sat, 03/11/2023 - 12:00pm
Observation made by:
Forecaster
Location Map
96067
Mount Shasta
,
CA
United States
41° 20' 42.0576" N, 122° 32' 22.6176" W
California US
Snowpack Observations
Details
Observations from the Parks Creek area of the Eddy Mountains
Snow was encountered quickly, we were only able to drive about half a mile up the 17 Road.
Overall, the surface consisted of high density snow from the atmospheric river (AR) event, unlike the low density snow we've received lately. A punchable surface crust was noted at low elevations up to around 6,500 feet, where the snow begins to soften. The crust is about 2 cm thick, with small surface hoar at the very top. Below and near treeline, a sun and wind crust was found with some scabby distribution across north and east aspects. Thick, hard wind slab was present along ridges. 
Winds remained light to moderate out of the southwest, with more consistent moderate winds on exposed ridgelines. Wind transport could be seen with growing cornices on north and west aspects.
Visibility was around 300 feet near and above treeline. Visibility improved at lower elevations. 
A pit was dug at 6,700 feet, on a ENE aspect. 

The new snow from the March 8/9 atmospheric river has consolidated immensely, measuring at 21 inches (54 cm) thick. The AR snow sits on top of older snow from March 4/5 measuring at 15 inches (39 cm) thick. Both layers have become very dense: AR snow ranging from 1f to 4f hardness, and the March 4/5 snow at 1f hard. Tests resulted in an ECTN down 21 inches just below the AR snow, on a super saturated layer. Shovel shear tests exposed weak interfaces at the super saturated layer (down 21 inches) and at an old melt freeze crust from March 4th (down 36 inches). 
No avalanches were observed today.
Observation Location: Park Creek area
Elevation: 6,700 feet
Date: 20230311
Time: 1200
Observer: S. Clairmont and N. Meyers
Sky Conditions: Obscured (X)
Current Precipitation: Type - SN, Rate - S-1
Air Temperature: 24 °F
24-hour New Snow Depth (HN24): 0 in (0 cm)
24-hour New Snow Water Equivalent (HN24W): 0 in (0 cm)
Wind Direction: SW Wind Speed: Light (L), 1-16 mi/hr, twigs in motion
Column & Block Tests:

Slope Angle & Aspect (20º, NE:
ECTN down 54 cm
Photos
Weather Observations
Statistics
Cloud Cover:
100% of the sky covered by clouds
Accumulation rate:
Less than 1 in. per hour
Air temperature:
Below Freezing
Air temperature trend:
Static
Wind Direction:
Southwest