You are here
Parks Creek Snow Survey Eddy mountains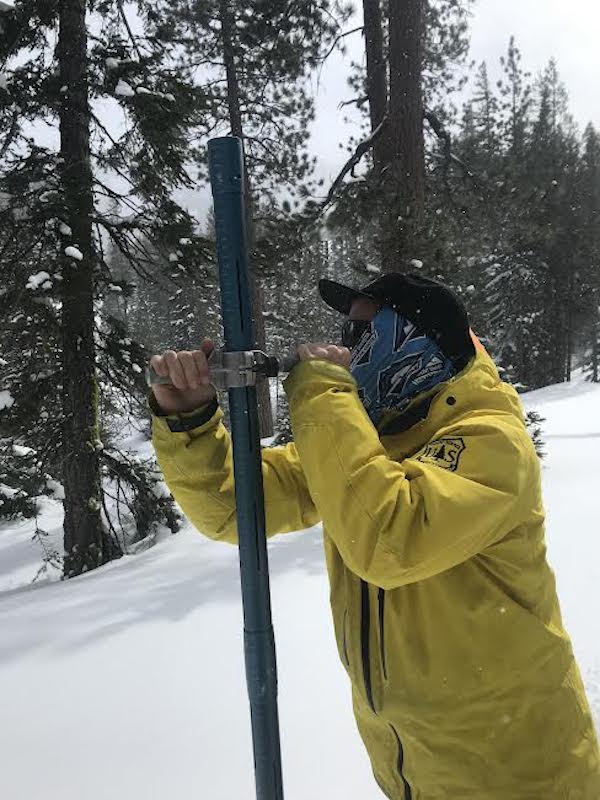 Location Name:
Parks Creek
Date and time of observation:
Mon, 03/06/2023 - 2:30pm
Observation made by:
Forecaster
Red Flags:
Recent loading by new snow, wind, or rain
Location Map
96067
Mount Shasta
,
CA
United States
41° 23' 3.2964" N, 122° 32' 17.6388" W
California US
Snowpack Observations
Details
Today Sam and I completed a snow survey in the Eddy mountains. After this, we gathered observations during a tour on a northeast aspect around 6,800 feet. The weather behavior was inconsistent and variable to say the least. Partly sunny skies and good visibility would turn to blowing snow and bad visibility in the blink of an eye. A moderate south-southeast wind near and below treeline transported snow over ridge tops, across gullies, and refilled skin tracks over a one-hour period. Apart from wind exposed areas, the snow we encountered was undisturbed and low density. A pulse of moderate snowfall lasting roughly 30 minutes began around 2 pm, delivering a mix of precipitation particles in the form of rimed stellar dendrites and graupel. A 155 cm snow pit displayed a well bonded right-side up snowpack structure. A CT test initiated a fracture in the top 20 cm of the snowpack on the March 4th and 5th graupel interface. No other test results, or signs of instabilities were observed. 
Observation Location: Eddy mountains 
Elevation: 6,700 feet
Date: 2023.03.06
Time: 1430
Observer: E.Falconer S.Clairmont 
Sky Conditions:  Few (FEW) | Scattered (SCT) | Broken (BKN) | Overcast (OVC) | Obscured (X)]
Current Precipitation: Type -  SN, Rate - S-1 
Air Temperature: 19 °F
Surface Penetration: Ski penetration (PS) = 20 in (50 cm), boot penetration (PF) = 55in (140 cm)
Total Snow Depth (HS): 61 in (155 cm)
24-hour New Snow Depth (HN24): 1.2 in (3 cm)
Wind Direction: SW, S, SE 
Wind Speed: Light (L), 1-16 mi/hr, twigs in motion | Moderate (M), 17-25 mi/hr, small trees sway 
Column & Block Tests:

Slope Angle & Aspect (28º, NE
CT10 - SC ↓ 8 in (20 cm)
ECTX
Photos
Weather Observations
Statistics
Cloud Cover:
75% of the sky covered by clouds
Accumulation rate:
Less than 1 in. per hour
Air temperature:
Below Freezing
Air temperature trend:
Cooling
Wind Direction:
Southeast