You are here
Pea Soup on Mount Shasta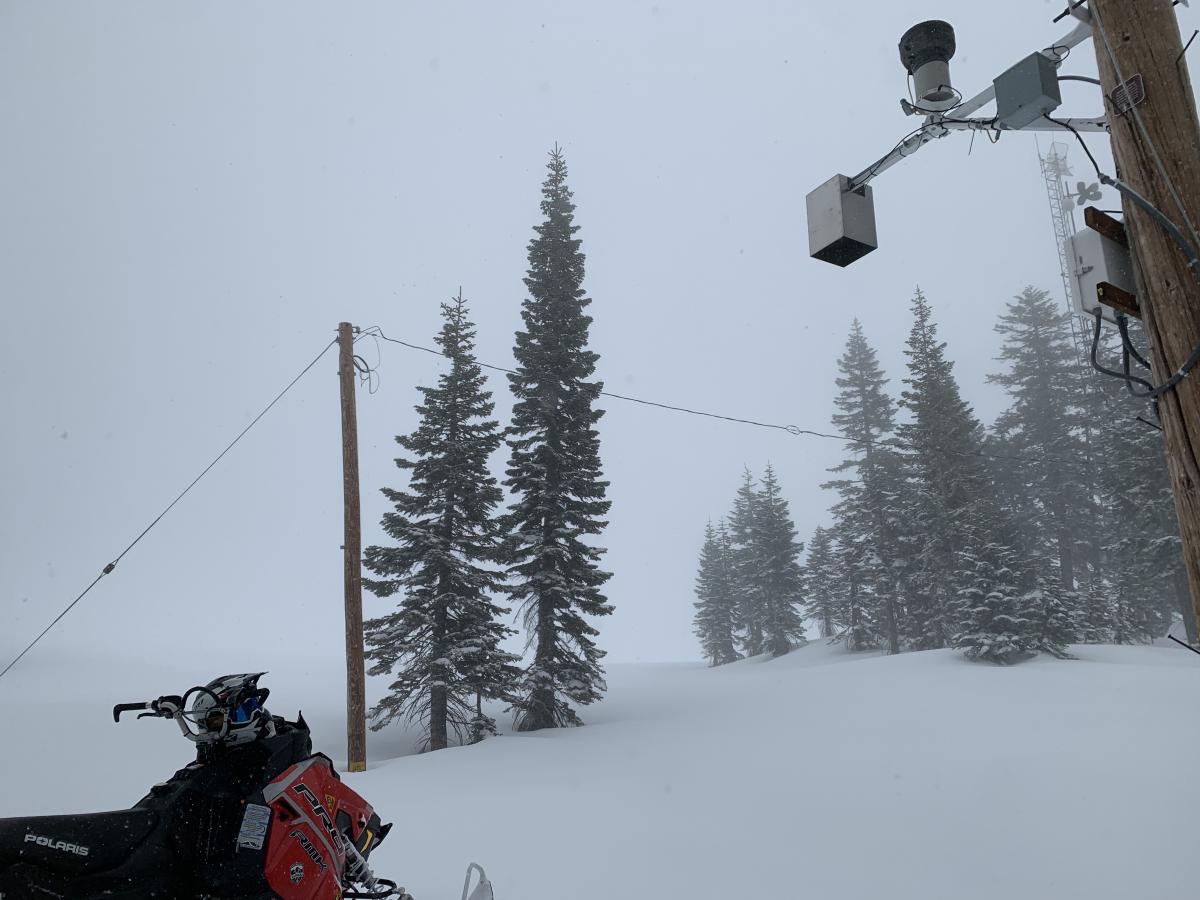 Location Name:
Mount Shasta, South Side
Date and time of observation:
Thu, 03/18/2021 - 1:30pm
Observation made by:
Forecaster
Red Flags:
Recent loading by new snow, wind, or rain
Location Map
96067
Mount Shasta
,
CA
United States
41° 22' 5.9304" N, 122° 12' 21.9024" W
California US
Snowpack Observations
Details
A moist day. Made a mission to re-set the circuit breaker on the Old Ski Bowl weather station tipping bucket (a heated instrument that measures snow/water equivalent) and poke around the south side, checking on new snow totals and wind. Precipitation was a little slow to start, but none-the-less began around 0700 hours. Snow level was near 4,000 feet. New (moist) snow totals measured 3-5 inches at Bunny Flat (6,950 ft) and 6-8 inches near and above treeline. Visibility was horrible, pea soup. Snow (precipitation) was on and off again, along with freezing mist and fog, the type that sticks to your goggles and makes any sort of skiing or riding very difficult to see. Below and near treeline, wind was calm to light and southerly. Driving up the Everitt Memorial Highway, blowing snow and small drifts were noticeable along the roadway. Once at Bunny Flat and in the field, wind transport was minimal. Above treeline on Gray Butte, south wind averaged 11 mi/hr with gusts to 43 mi/hr. I suspect it was windier over higher terrain as indicated by Gray Butte. A skier a bit west of my location noted southwest wind loading northwest slopes with small, minor cracking and propagating and slabs that didn't seem to be bonding well to the recent melt-freeze crust that formed over the past couple days. 
Observation Location: Mt Shasta, South Side, Old Ski Bowl
Elevation: 6950 to 8500 feet
Date: 20210318
Time: 1100 to 1400
Observer: N Meyers
Sky Conditions:  Obscured (X)
Current Precipitation: Type - SN , Rate - S-1 
Air Temperature: 29 °F
Surface Penetration: Ski penetration = not measured, boot penetration (PF) = 6-12 in (15-30 cm)
Total Snow Depth (HS): 94 in (240 cm)
24-hour New Snow Depth (HN24): 5-8 in (12-20 cm)
24-hour New Snow Water Equivalent (HN24W): ~ .14 (approximate)
Wind Direction: SE | S | SW 
Wind Speed: Calm to light below and near treeline, moderate to strong in exposed areas near treeline and above treeline.
Column & Block Tests:

Slope Angle & Aspect 25º, E 
ECTN24 ↓ 21 in (50 cm)
CT21 ↓ 21 in (50 cm)
New snow rests on top of thick melt freeze crust. This setup dominates most of the south side of Shasta on most aspects at lower elevations and sunny aspects and mid and upper elevations. Visibililty was very difficult and hard to get a feel for above treeline avalanche conditions. Below and near treeline, slab cohesiveness was poor and no signs of instability were observed. Column tests at pit location resulted in hard failures below the thick melt freeze crust near the top of the snowpack. A layer of sugary snow exists below a thinner crust deeper in the snowpack, but could not initiate failure on the layer. Any avalanche activity will likely be limited to new wind slabs sitting on top of the firm melt freeze crust. Some northerly slopes probably still hold soft snow, but was unable to access today.
Photos
Weather Observations
Details
The last 24 hours of weather info on Mount Shasta near treeline. The precipitation timeline data is incorrect in this table. Precip began near 0700 hours, not 1300. Water amounts are close and all other data is good.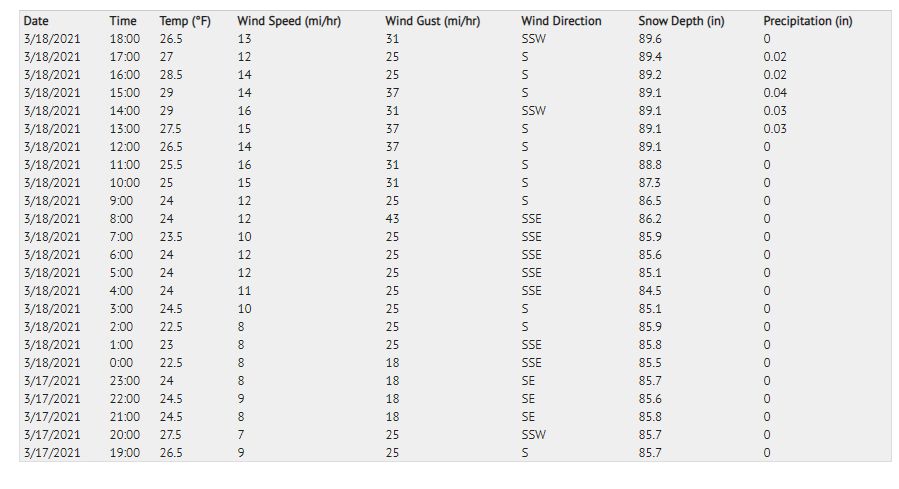 Statistics
Cloud Cover:
100% of the sky covered by clouds
Accumulation rate:
Less than 1 in. per hour
Air temperature:
Below Freezing
Air temperature trend:
Cooling