You are here
Post Atmospheric Storm Tour - Gray Butte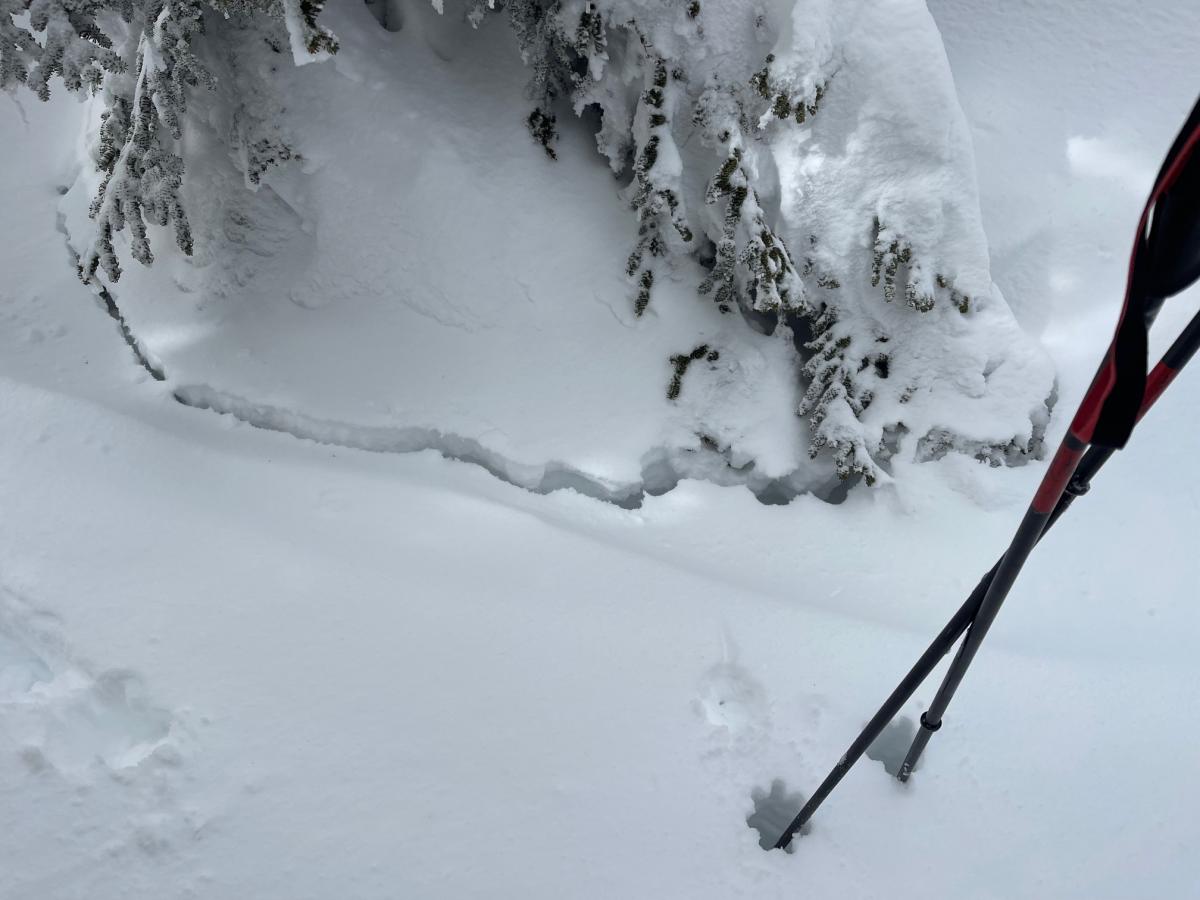 Location Name:
Gray Butte
Date and time of observation:
Fri, 03/10/2023 - 2:30pm
Observation made by:
Forecaster
Red Flags:
Recent avalanche activity
Recent loading by new snow, wind, or rain
Rapid warming
Location Map
96067
Mount Shasta
,
CA
United States
41° 20' 42.054" N, 122° 11' 43.9332" W
California US
Snowpack Observations
Details
The atmospheric river event finished off rapidly this morning, and the skies cleared much faster than expected. There were no lingering showers, clouds or wind. Clear, blue sky gradually became partly cloudy for the afternoon. The difference between cloud cover and sun shining is like night and day: hot, cold, hot, cold. The effects of the sun are instant this time of year. The 1–2 feet of heavy, new snow settled considerably. Settlement cones around trees were widespread. Due to poor visibility, we never saw Mount Shasta from our tour up Gray Butte, but got a view from Mount Shasta City with no huge avalanches visible. We did find an older natural avalanche near treeline on the west face of Gray Butte. It has previously been very windy, and thus the crown was eroded and hard to tell when it may have happened. A large natural avalanche on an easterly aspect was observed outside the forecast area, in the mountains just south of Susanville. This was an impressive one!(See photo) 

Today, the wind over the ridges was light out of the west. Approximately 40–50 inches of snow sits on top of the March 2nd crust. About 1–2 feet of snow fell out of the first wave of our atmospheric river event. Temperatures climbed to 27 degrees F with average wind speeds over the past 24 hours of 22 mi/hr with gusts to 61 mi/hr. Clouds remained socked in on Gray Butte and east of Mount Shasta for most of the day.

Snowpit tests on a wind loaded easterly aspect at 7,900 feet produced stubborn, non-planar fractures in block tests. Nothing very concerning. On leeward NE-E-SE aspects, thick, hollow wind slabs exist. While stubborn to trigger, they would be heavy hitting. Avalanche danger has dropped significantly, but continue to be cautious in very steep terrain near and above treeline. 
Observation Location: Gray Butte
Elevation: 7,900 feet
Date: 20230310
Time: 1300-1600 hours
Observer: Meyers/Clairmont
Sky Conditions: Scattered (SCT) 
Current Precipitation: Type - NO
Air Temperature:  27°F
Surface Penetration: Ski penetration (PS) = 5-10 in, boot penetration (PF) = 1-2 feet
Total Snow Depth (HS): 190 inches at treeline on Mount Shasta, 7,800 feet
24-hour New Snow Depth (HN24): 1-2 feet
24-hour New Snow Water Equivalent (HN24W): n/a
Wind Direction: W
Wind Speed: Light (L), 1-16 mi/hr, twigs in motion
Column & Block Tests:

Slope Angle & Aspect 25º, E
ECTN-Moderate ↓ 30-50 cm
CT-Moderate RP ↓ 30-50 cm
Weak layer - graupel
Photos
Weather Observations
Details
Weather data from the past 24 hours, Gray Butte/Old Ski Bowl combined, 3.10.23 @ 6:30pm: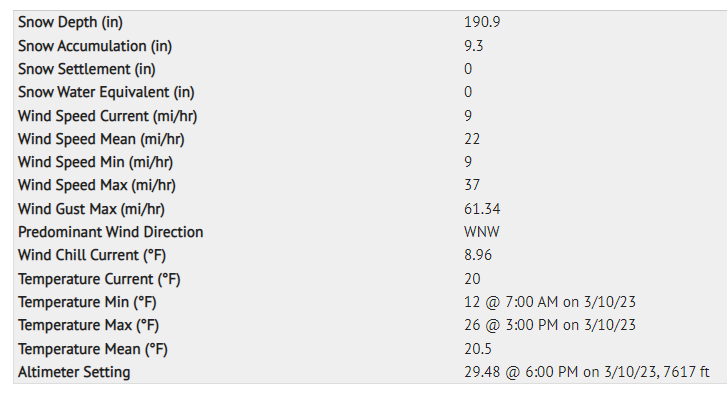 Statistics
Cloud Cover:
50% of the sky covered by clouds
Air temperature:
Below Freezing
Air temperature trend:
Warming