You are here
Powder Bowl - Mount Shasta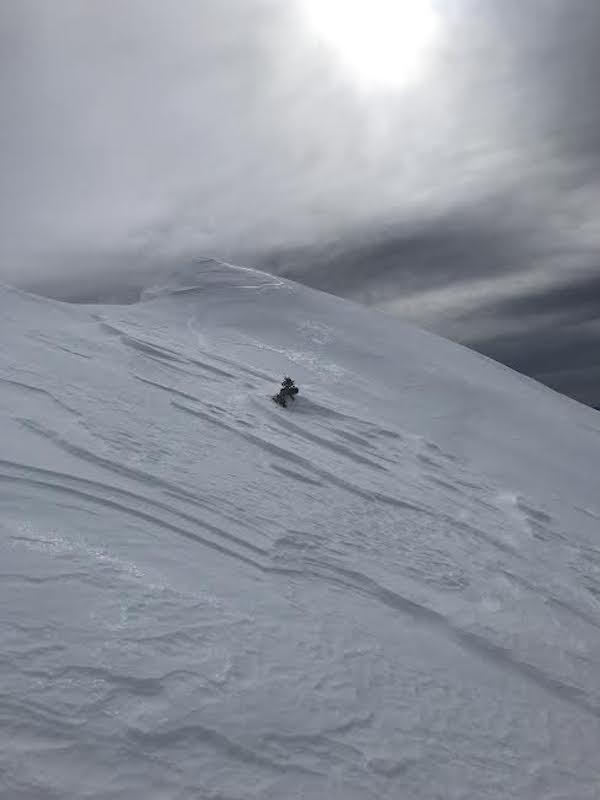 Location Name:
Powder Bowl
Date and time of observation:
Tue, 02/07/2023 - 12:00pm
Observation made by:
Forecaster
Red Flags:
Recent loading by new snow, wind, or rain
Location Map
96067
Mount Shasta
,
CA
United States
41° 22' 14.7684" N, 122° 12' 49.6116" W
California US
Snowpack Observations
Details
Today's goal was to assess the wind slab situation near and above treeline. I did not find any due to the rough wind-effected state of the snowpack, and I observed no other signs of instabilities. 

The main takeaways are listed below.
Below treeline wind was calm
Near and above treeline wind was moderate to strong with blowing snow
Below treeline soft snow exists in protected shady areas
Snow surfaces that have recently seen sun are developing a melt freeze crust
Upper elevations host a variety of wind effected surfaces including, wind buff, ice glaze, wind brick and sastrugi
In steep terrain with firm and slick surfaces, a slip and fall would be consequential. Ice axe and crampons are a must.
The upper mountain remained capped in clouds
Observation Location: Powder Bowl
Elevation: 8,000 feet 
Date: 2023.02.07
Time: 1200
Observer: E. Falconer 
Sky Conditions:  Overcast (OVC)
Current Precipitation: Type - NO 
Air Temperature: 34 °F
Surface Penetration: Ski penetration (PS) = 2 in (3.5 cm), boot penetration (PF) = 7 in (10 cm)
Total Snow Depth (HS): 39 in (97 cm)
24-hour New Snow Depth (HN24): NO
24-hour New Snow Water Equivalent (HN24W): NO
Wind Direction: NW
Wind Speed: Moderate (M), 17-25 mi/hr, small trees sway | Strong (S), 26-38 mi/hr, whole trees in motion 
Column & Block Tests:

Slope Angle & Aspect ([25]º, SW
ECTX
Photos
Weather Observations
Statistics
Cloud Cover:
75% of the sky covered by clouds
Air temperature:
Above Freezing
Air temperature trend:
Warming
Wind Direction:
Northwest