You are here
Power Lines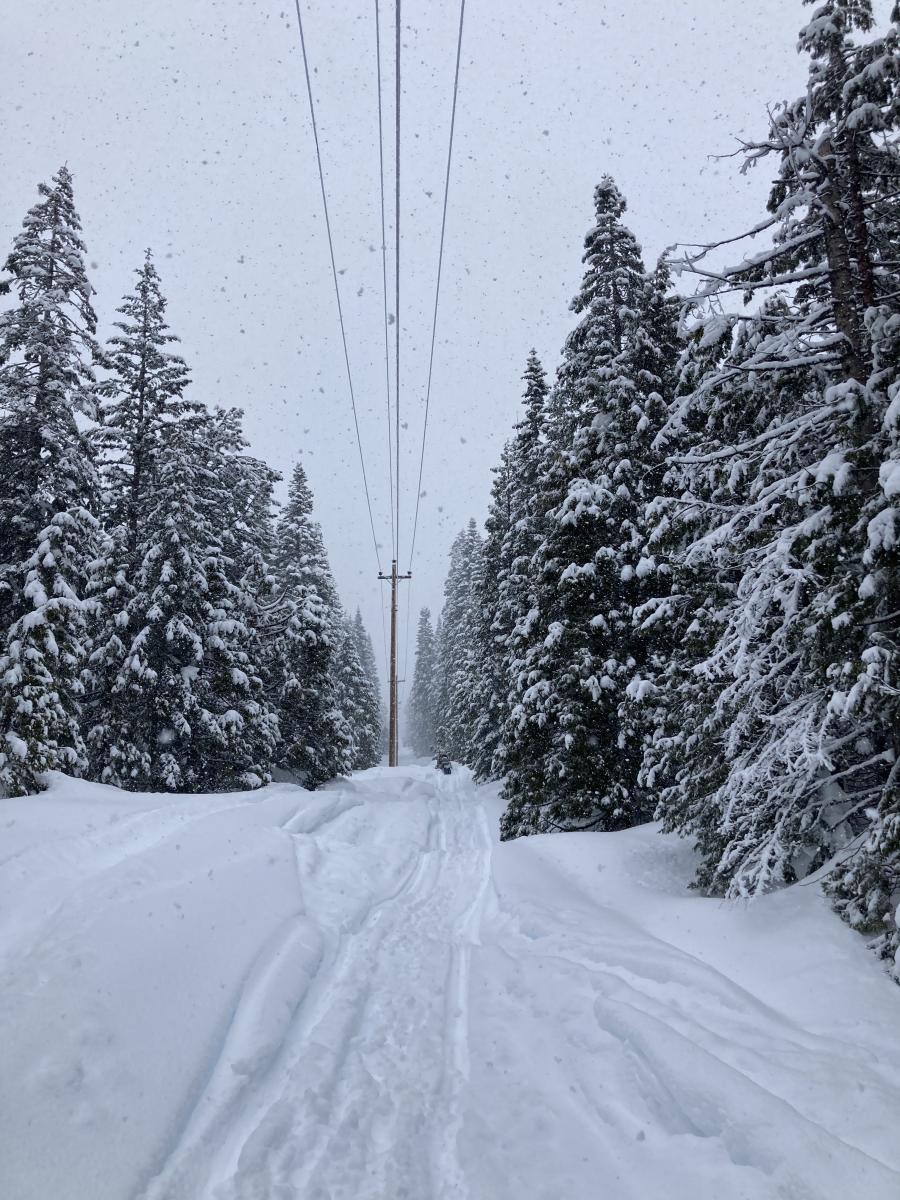 Location Name:
Power Lines
Date and time of observation:
Sun, 03/12/2023 - 12:00pm
Observation made by:
Forecaster
Red Flags:
Recent loading by new snow, wind, or rain
Location Map
96067
Mount Shasta
,
CA
United States
41° 19' 19.3332" N, 122° 14' 15.2772" W
California US
Snowpack Observations
Details
Observations from the Power Lines route via Old McCloud Road
Difficult riding was encountered on the Power Lines route. Sporadic old snowmobile tracks and deep, heavy snow made surface conditions unpredictable and difficult to maneuver.
Heavy rain was encountered until about 5,000 feet, where the rain turned to large moist snowflakes. Trees were shedding their snow with the newly added weight. 
The top few inches of snow have become very wet and heavy, sitting on top of older, low-density snow. The observed snowpack felt upside down in density. 
Below 6,000 feet, winds remained calm to light.
Visibility worsened with higher elevation. The sky remained completely obscured throughout the outing. 
Precipitation intensity increased with elevation, exceeding 1 inch/hr accumulation rates.
Considering the precipitation intensity and water weight we encountered, snowpack instability is surely on the rise at higher elevations.

​​​​​​On a different note, a couple roof avalanches were seen in town. Be careful out there!
Observation Location: Power Lines route, via Old McCloud Road
Elevation: 5,500 feet
Date: 20230312
Time: 1200
Observer: S. Clairmont and E. Falconer
Sky Conditions: Obscured (X)
Current Precipitation: Type - SN and RS, Rate - S1
Air Temperature: 32 °F
24-hour New Snow Depth (HN24): 5 in (12 cm)
Wind Direction: SW
Wind Speed: Light (L), 1-16 mi/hr, twigs in motion
Photos
Weather Observations
Statistics
Cloud Cover:
100% of the sky covered by clouds
Precipitation:
Mixed rain and snow
Accumulation rate:
Greater than 1 in. per hour
Air temperature:
Below Freezing
Air temperature trend:
Static
Wind Direction:
Southwest