You are here
Rapid Warming on Grey Butte - Northwest Side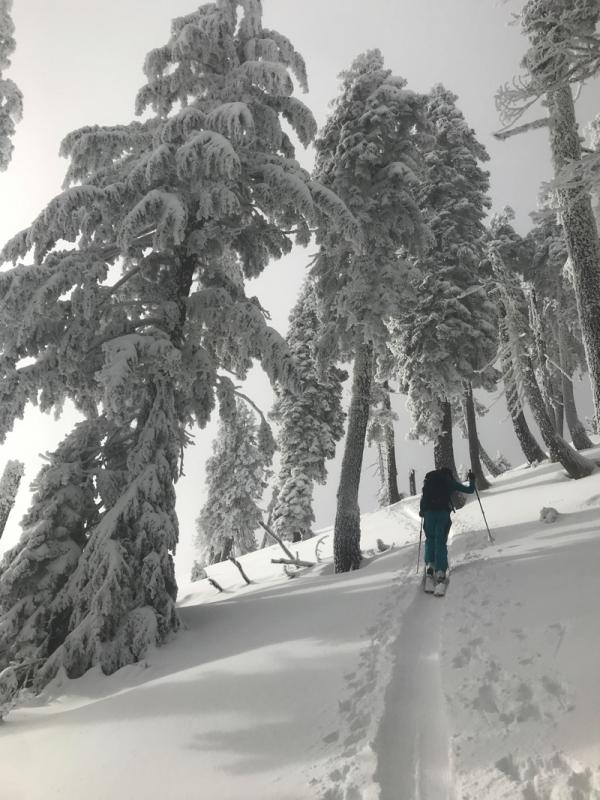 Location Name:
Rapid Warming on Grey Butte - Northwest Side
Date and time of observation:
Sat, 01/27/2018 - 11:10pm
Observation made by:
Forecaster
Location Map
96067
Mount Shasta
,
CA
United States
41° 19' 25.1472" N, 122° 11' 37.1364" W
California US
Snowpack Observations
Details
At 1510 hrs this afternoon on a NW aspect of Grey Butte, 7 - 8,000 feet, a rapid warming took place. Trees poured rain onto a dry snowpack. Numerous pinwheels and roller balls were easily triggered on relatively low angle terrain. We were unable to see any other stepper terrain. Below 7,000 feet, the snow remain cold. Incoming warm air has rolled over the top of existing colder air already in the area. Low clouds/fog could be seen below 6,500 feet. Upper level clouds began near 9,000 feet on Mount Shasta, viewed from Grey Butte. Strong westerly winds were felt above 7,600 feet.

The skin up Grey Butte, all trees held their snow. Within 5 minutes of pulling skins and beginning our decent, trees began their meltdown. It was quite a natural spectacle. It sounded like a down pour. Existing dry snow soaked it up quickly. I could hear water slapping the tips of my skis as I attempted to ski through very thick, heavy, sticky mush. Once back into the Pumkin Patch (7,000 ft), the snow conditions turned dry. 
Photos
Videos
Weather Observations
Details
Incoming warm front
Low clouds/fog
Windy
Statistics
Cloud Cover:
75% of the sky covered by clouds
Air temperature:
Above Freezing
Air temperature trend:
Warming