You are here
Sargent's Ridge, South Gate Meadows, Red Butte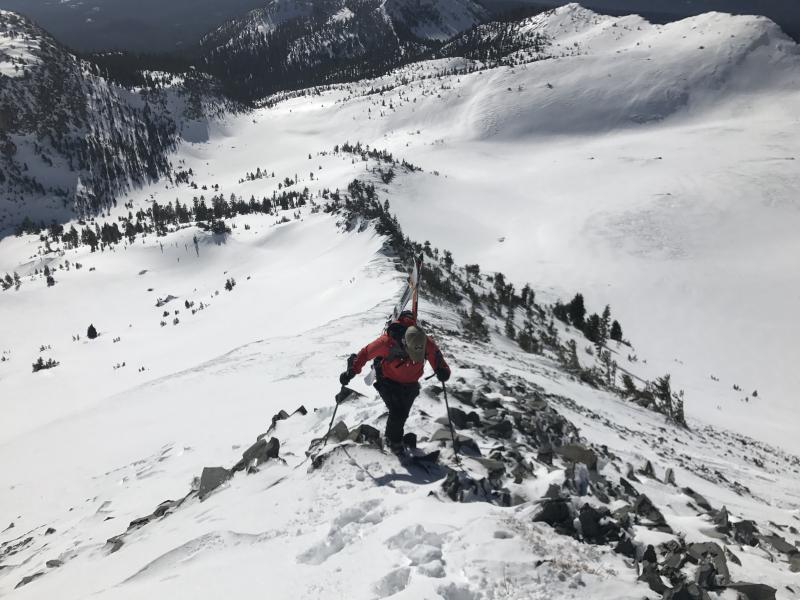 Location Name:
Sargent's Ridge, South Gate Meadows, Red Butte
Date and time of observation:
Sun, 01/28/2018 - 10:00pm
Observation made by:
Forecaster
Red Flags:
Recent avalanche activityRecent loading by new snow, wind, or rainRapid warming
Location Map
96067
Mount Shasta
,
CA
United States
41° 22' 48.5688" N, 122° 11' 22.8624" W
California US
Snowpack Observations
Details
Recent natural and human triggered wind slab avalanches were observed in the Old Ski Bowl, St. Germaine's Bowl, and in Shastarama Bowl. All of them occurred above 8,500 ft on east or southeast aspects.
Wind slabs were observed above treeline on SE-E-NE aspects. Wind slabs above treeline appear stubborn to trigger, while near treeline they are unreactive.
A test pit was dug on a previously wind loaded north aspect at 7,900 ft below Red Butte in The Gate. The height of snow was around 200cm, with boot penetration of 40cm. In this location, the top meter of the snowpack presented poor structure that has not been found anywhere else in the advisory area. Stability tests revealed a layer of fist-hard rounding facets 70cm down from the surface sitting below a knife-hard melt-freeze crust. This layer produced sudden collapse fractures in compression tests and inconsistent propagation in large column tests (CT23 down 70cm SC, ECTX, ECTP down 70cm with extra taps outside of the test parameters, and PST 35/100 end). It is worthwhile to investigate this layer on north and east aspects near treeline.
Variable snow surfaces were encountered between 7,000 - 10,000 ft.. Below treeline, a breakable melt freeze crust was widespread up to 8,000 ft – on open sunny slopes the crust broke down throughout the day and made for sloppy damp powder skiing. Above 8,000 ft, creamy damp powder, chalky dry powder, supportable and breakable wind crusts, breakable melt-freeze crusts and rock hard icy snow surface were found yesterday.
Photos
Weather Observations
Details
Clear and sunny. Light northwest winds with strong gusts.
Statistics
Air temperature:
Above Freezing
Air temperature trend:
Warming
Wind Direction:
Northwest