You are here
Sensitive Wind Slabs Above Treeline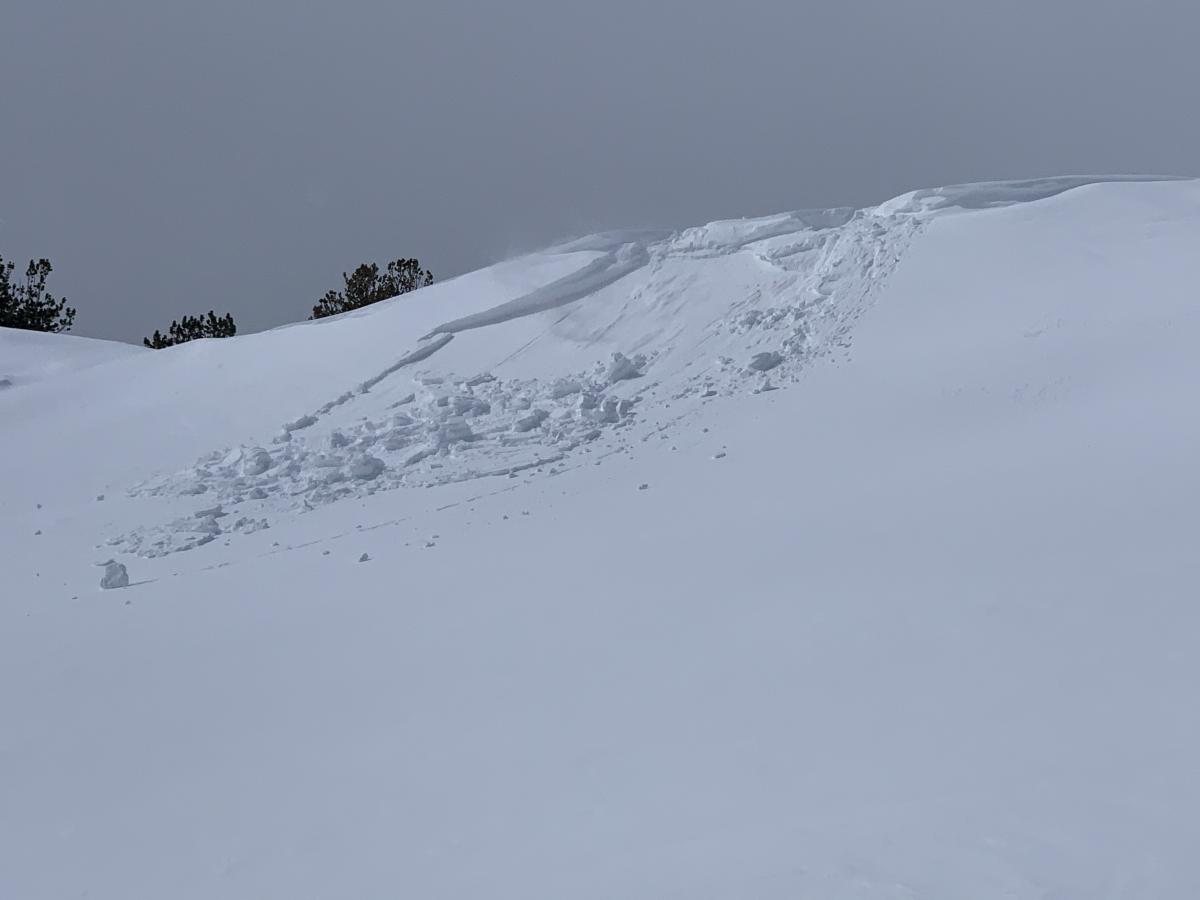 Location Name:
Old Ski Bowl
Date and time of observation:
Fri, 02/12/2021 - 11:30am
Observation made by:
Forecaster
Red Flags:
Whumphing noises, shooting cracks, or collapsing
Recent loading by new snow, wind, or rain
Location Map
96067
Mount Shasta
,
CA
United States
41° 22' 6.7836" N, 122° 11' 58.776" W
California US
Snowpack Observations
Details
A wide-ranging snowmobile tour of the Panther/Gray Butte basin and Old Ski Bowl. The day began mostly clear on the mountain with some low, valley fog and clouds. West/Southwest winds swung around to W/NW around midnight last night and have crescendoed into this afternoon. Above treeline, strong winds were very effective at transporting the 3-6 inches of new snow onto E/SE facing slopes. Warm temperatures into the high twenties and low thirties resulted in prime slab formation on those leeward aspects. Cornices were easily kicked off onto small test slopes, triggering small wind slabs. The structure of the fresh snow near and above treeline is not good for additional snow load. The classic upside down cake is in effect: A couple inch, one finger hardness slab sits on top of soft, fist to 4 finger snow below. (See photo illustration) Old, existing snow surfaces below are smooth and firm.
Observation Location: Panther/Gray Butte Basin/Old Ski Bowl
Elevation: 6,950 to 10,000 feet
Date: 20210212
Time: Mid-day
Observer: N Meyers
Sky Conditions: Clear in the morning, increasing clouds and fog into the afternoon. 
Current Precipitation: NO
Air Temperature: 33°F high temp at 1300 and 1400 hrs
Surface Penetration: Boot penetration (PF) = 5-10 in (12-25 cm)
Total Snow Depth (HS): [?] in ([?] cm)
24-hour New Snow Depth (HN24): 3-6 in (7-15 cm)
24-hour New Snow Water Equivalent (HN24W): 0.52 in 
Wind Direction: West/Northwest
Wind Speed: Below treeline - Calm / Near Treeline - Breezy / Above Treeline - Strong
Photos
Weather Observations
Details
From town, all the way to Bunny Flat, one could have been easily fooled by conditions on the mountain. What seemed like a rather tranquil day quickly turned nasty as elevation was gained. By 9,000 feet, strong W/NW wind was the nature of the beast. High whispy clouds and low cumulous/fog made for a mysterious day of sun, quickly followed by flat light and near whiteout conditions. Below is the last 24 hour weather station info from Old Ski Bowl/Gray Butte, a good snapshot of weather conditions up there.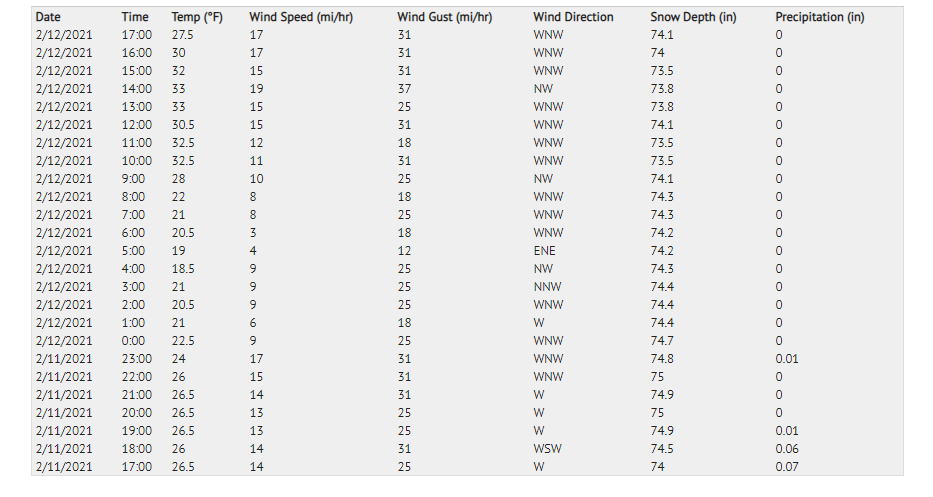 Statistics
Cloud Cover:
50% of the sky covered by clouds
Air temperature:
Below Freezing
Air temperature trend:
Cooling
Wind Direction:
Northwest