You are here
Shastina and Diller Canyon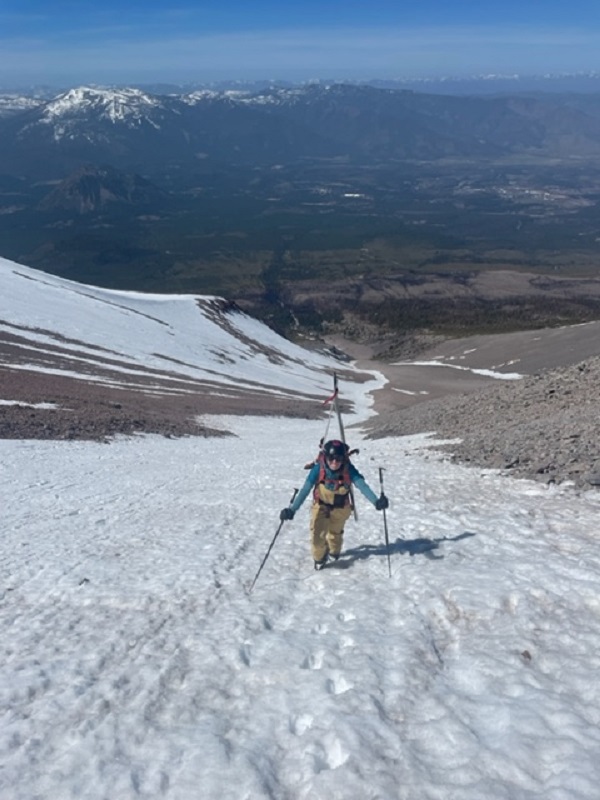 Location Name:
Mount Shasta
Date and time of observation:
Fri, 04/08/2022 - 11:30am
Observation made by:
Public
Location Map
96067
Mount Shasta
,
CA
United States
41° 24' 34.902" N, 122° 14' 9.6288" W
California US
Snowpack Observations
Details
Climbed and skied Diller Canyon off the summit of Shastina on Thursday (4/8). We were able to drive all the way to the end of the road (41N86) at 7100' with no issue, and the flagged approach trail to the canyon was dry. We started running into snow patches on the climber's right side wall pretty early on, but kept street shoes on for about an hour to 8500' or so. Walking on the snow in the gut of the canyons was quite easy, with plenty of dirt and rocks on the snow providing good friction. We put skis on at 8500' and were able to skin with ski crampons up to about 10500'. There were plenty of rocks on the snow surface, and we had about a half dozen instances of rockfall, although nothing major. The snow surface was mostly smooth and consistent, and we boot packed from 10.5k to the top of the canyon. The last 500' or so to the plateau are quite thin, and involved some sidestepping rocks on the way down. We were able to continue on snow all the way to the summit,of Shastina, heading up the climber's left most snowfield around the towers. We stayed on the summit for quite a while, and dropped into the line at around 2:45 pm. Snow conditions were excellent on the way down, and magically, we were able to ski continuous snow all the way to about 8000'. From there, we crossed a short rock patch on the skier's left wall, and then linked snow patches all the way to about 7200', having to only walk about 5 minutes on dirt back to the car. Ultimately, the line is melting out fast, and will not last through many more sunny days, but we had an incredible day out.
Photos
Weather Observations
Statistics
Air temperature:
Above Freezing
Air temperature trend:
Static
Wind Direction:
Northwest