You are here
Skies clear for the afternoon on Mt Shasta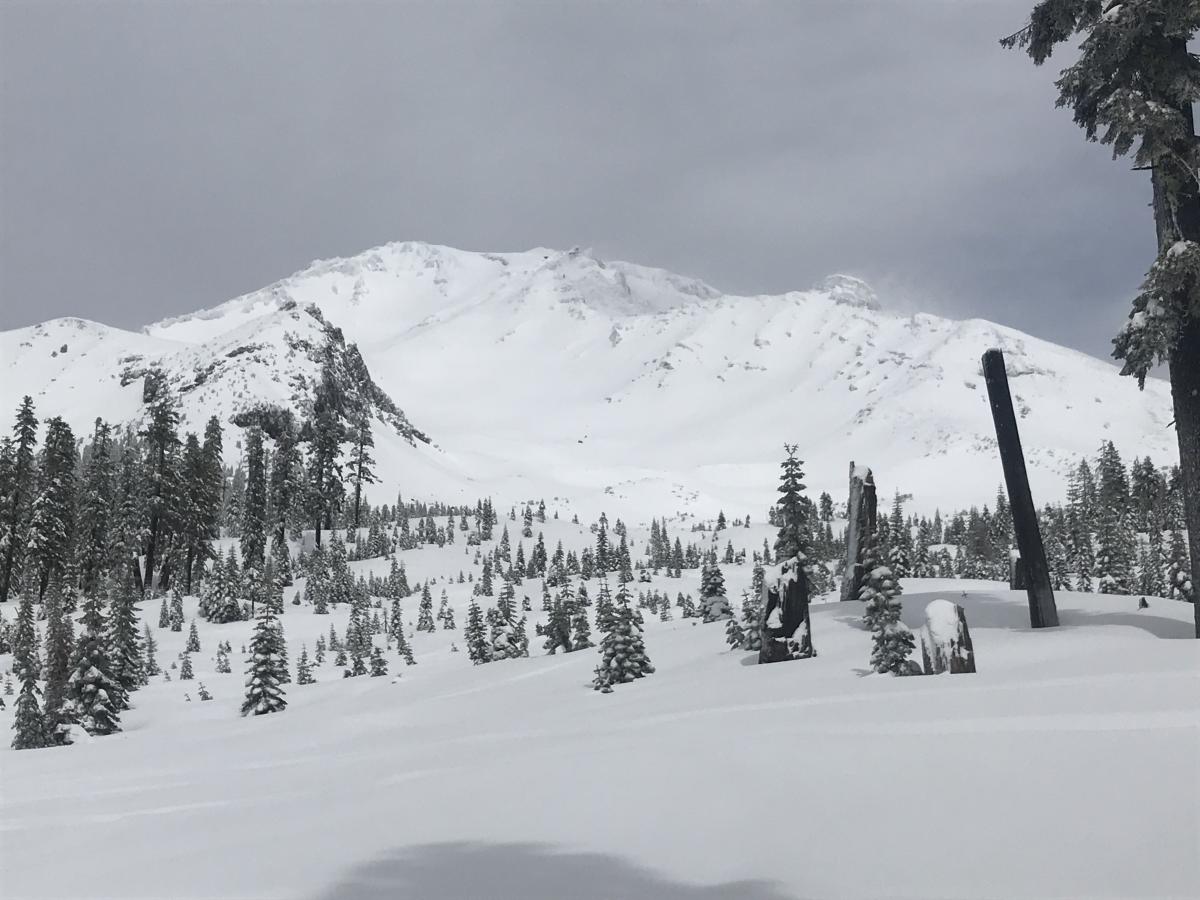 Location Name:
Skies clear for the afternoon on Mt Shasta
Date and time of observation:
Thu, 03/22/2018 - 8:30pm
Observation made by:
Forecaster
Red Flags:
Recent loading by new snow, wind, or rain
Location Map
96067
Mount Shasta
,
CA
United States
41° 22' 13.2852" N, 122° 12' 3.9276" W
California US
Snowpack Observations
Details
The day began with widespread rain and clouds with an obscured Mount Shasta. Gradually the precipitation diminished and clouds lifted. A hazy sky finally gave way to blue ski by afternoon and even some alpen glow on the mountain at sunset. This brief break in our "Pineapple Express" allowed observations at all three elevation bands on the south side of the mountain from Bunny Flat.

BELOW TREELINE:

All areas below treeline received rain on snow from this past warm bout of weather. This was evident from the widespread rain runnels observed (see photos). Further, previously covered and/or bent over/squished manzanita bushes were beginning to spring through the surface of the snowpack. The storm of days past finished off with about .5-1 inch of dryer snow, providing the surface of the snowpack a slight refresh, but overall the snow was funky and breakable. No recent avalanche activity or red flags were observed.
NEAR TREELINE:

Snow remained on the trees from about 6,900 feet and higher. A transitional zone ran up to treeline where rain runnels dissipated and storm snow became measureable. About 4 inches new, moist snow was observed in most near treeline areas, on top of a supportable crust that capped off last weeks storm snow (sunny aspects). Wind was still calm until 7,500 feet. No recent avalanches or signs of instability were observed.
ABOVE TREELINE:
Above treeline was wintery and full value. While seemingly Spring-like in town, this was not the case on the mountain. Modest snow surface texturing was noticeable at 7,500 feet, as was blowing snow. Once reaching the 8,000 foot mark, winds picked up considerably. Wild, erratic and gusty winds blew out of the W/NW. Blowing snow was widespread and wind loading was occurring on southerly and easterly slopes. (See video) Some areas of higher wind speeds, snow was either sublimating or blowing down onto mid-slope or gully bottoms. Giant plumes of blowing snow were visible on the upper mountain. Overall, snow surfaces were rather smooth with minimal sastrugi features. About 6-10 inches of recent, well consolidated storm snow sat on top of existing storm snow from last week. These two layers are separated by a crust. One density change about 4 inches down in new snow was reactive in pit tests, though this layers propensity to propagate in long column test was stubborn. Despite the dense new snow from the past two days, wind loading was widespread and continues into the night! No recent avalanches were observed.











 
Photos
Videos
Weather Observations
Details
Obscured sky for first part of the day
Gradual clearing
Blue sky by late afternoon
Howling winds above treeline (>8,000 ft) out of the W/NW
Rain and snow this morning diminished by mid-morning
Temperature trend cooling
Statistics
Cloud Cover:
25% of the sky covered by clouds
Air temperature:
Below Freezing
Air temperature trend:
Cooling